Much like how a Supreme Court justice once said he couldn't define pornography but he knew it when he saw it, you pretty much can't miss a stock photo when you see one.
And, also like porn, stock photos seem to follow the rule that if you can think of something, you can almost certainly find stock photos depicting it — meaning there are some really bizarre and dark ones out there.
Need a photo of a man kissing his watermelon wife? Consider it done. How about a blissed-out guy flaunting a toilet paper roll? Take your pick.
Stock photos are basically an endless supply of blank canvases just waiting to be memed. They've given us old-school meme classics from Hide The Pain Harold to women laughing alone with salad to an entire blog of Pornhub comments on stock photos.
While popular on Reddit and Tumblr for years, they've had a recent resurgence on a larger scale through the Twitter account @DarkStockPhotos.
"They're so on the nose," Andy Kelly, the UK journalist who started @DarkStockPhotos, told BuzzFeed News of his inspiration. "It's like, how do we illustrate seasonal depression? Let's put a guy in front of a Christmas tree with a gun."
Since he started the account in June, @DarkStockPhotos has crept up to more than 140,000 followers. Finding new photos for the feed is a pretty straightforward process, he said.
"I just think of the worst stuff possible," Kelly said. "It's amazing how thorough these sites are with having photos for every imaginable combination of things."
So, who actually takes these bizarre images, and what inspires them to take such odd photos?
BuzzFeed News talked to a few of the masterminds behind some of the strangest, most famous stock photos to ask the oft-asked question: "Why does that stock photo even exist?"
These pictures of a crying young boy holding a gun went viral after they were posted to Shutterstock.
They've shot to the top of Reddit, been featured on CollegeHumor, and appeared in several viral tweets.
The Russian stock photographer behind the images, Sergey Komisar, took these photos of his son three years ago. But he didn't expect people to find them funny.
In fact, until BuzzFeed News recently contacted him, he had no idea they'd become some of the most recognizable stock images online. The photos have been downloaded fewer than 20 times on Shutterstock, he estimated.
The backstory is a lot less dark than you'd expect for photos of an armed, weeping toddler.
Komisar told BuzzFeed News the photos were taken when, Roman, his then-3-year-old son, had gotten cranky at the end of a photo shoot. While holding his toy gun (yes, it was a toy), he started to cry.
"It was a sweet moment, and one I didn't want to miss. So I asked him to pose as he was," Komisar told BuzzFeed News. "After five minutes of posing, he stopped crying and went back to laughing."
What about these 40-plus photos of some guy in a horse mask? They are the work of Rich Ellgen, whose creative work lives on the stock-photo site iStock.
"When I started doing iStock, I had the most mind-numbing job doing customer service at a call center," the California-based photographer told BuzzFeed News. "So I would sketch out ideas as a creative outlet."
His brother gave him the horse mask a few years ago, and he got such a kick out of it he started incorporating it into his work. He or his wife don it in the photos, and they just try and come up with more and more things "the horse" can do.
"One time, my wife wore the horse mask and we put out a plate with flowers on it," he said. "Then I was like what else can I do? Well, the horse can drink too much and pass out at the table."
The BoJack Horseman-esque photo series has been "very successful," he said.
Now, Ellgen works full time as a youth pastor but takes stock photos as something of a "money-making hobby." Because photos have to be of a high enough quality to get accepted to iStock, Ellgen takes note whether they get accepted or not and uses that as feedback on his work.
"I have this belief...that if something is well made, its applications are endless," he said. "So I try to produce well-made images that can be taken in a number of different ways."
For images of a shirtless Santa passionately pinching his own nipples, look no further than the work of Tracy King — both the photographer and the model behind the iconic photo series.
"It's not like me. I'm shy, modest, don't like lots of attention, and [I'm] uncomfortable with being fat," King told BuzzFeed News. "Figured, well, let's push it a little. Have a moment of fun. Nobody will find the picture anyway."
People found the picture anyway. In fact, it wound up spreading far and wide across the weirder corners of the internet, and currently serves as the avatar of the Twitter account @DarkStockPhotos.
"Doing something uncomfortable [helped crack] my shell and open up a little, as nobody was supposed to buy it," he said. "It was the first image I took like that."
Since then (in addition to a number of "normal" stock photos), King has posted a number of weird stock-photo self-portraits: himself about to eat a wad of toilet paper while sitting on the toilet, sleeping with a hand down his pants, stuff like that.
"If they sell, I'm happy because more money always makes me happy," he said. "But if they don't, I pay nothing to take these images, so the risk is minimal financially at least."
But King definitely makes money off of his stranger creations. He estimates he's made about $750 off the Santa photo, and "weird stock photography" has become a whole side business.
"Nobody in the stock game seems to think these sell, as they don't have any commercial use," he said. "I mean, it's not some generic dude in a generic suit with a generic pose of reaching out to shake your hand that can be used for thousands of different things. It's fat guy grabbing his nips."
His bizarre photography is also motivated by curiosity — can someone actually find a use for these images?
"I do Google Image searches to see if I can find them later down the road," he said. "It's funny finding these images and the stories people use them for, or the memes that people generate using my images."
And King is definitely in on the joke. He loves when "creative people" turn his photos into memes, he said.
"When they get the image and modify it, put their own words to it, whatever they need to do, it's wonderful," he said. "Who doesn't love memes?"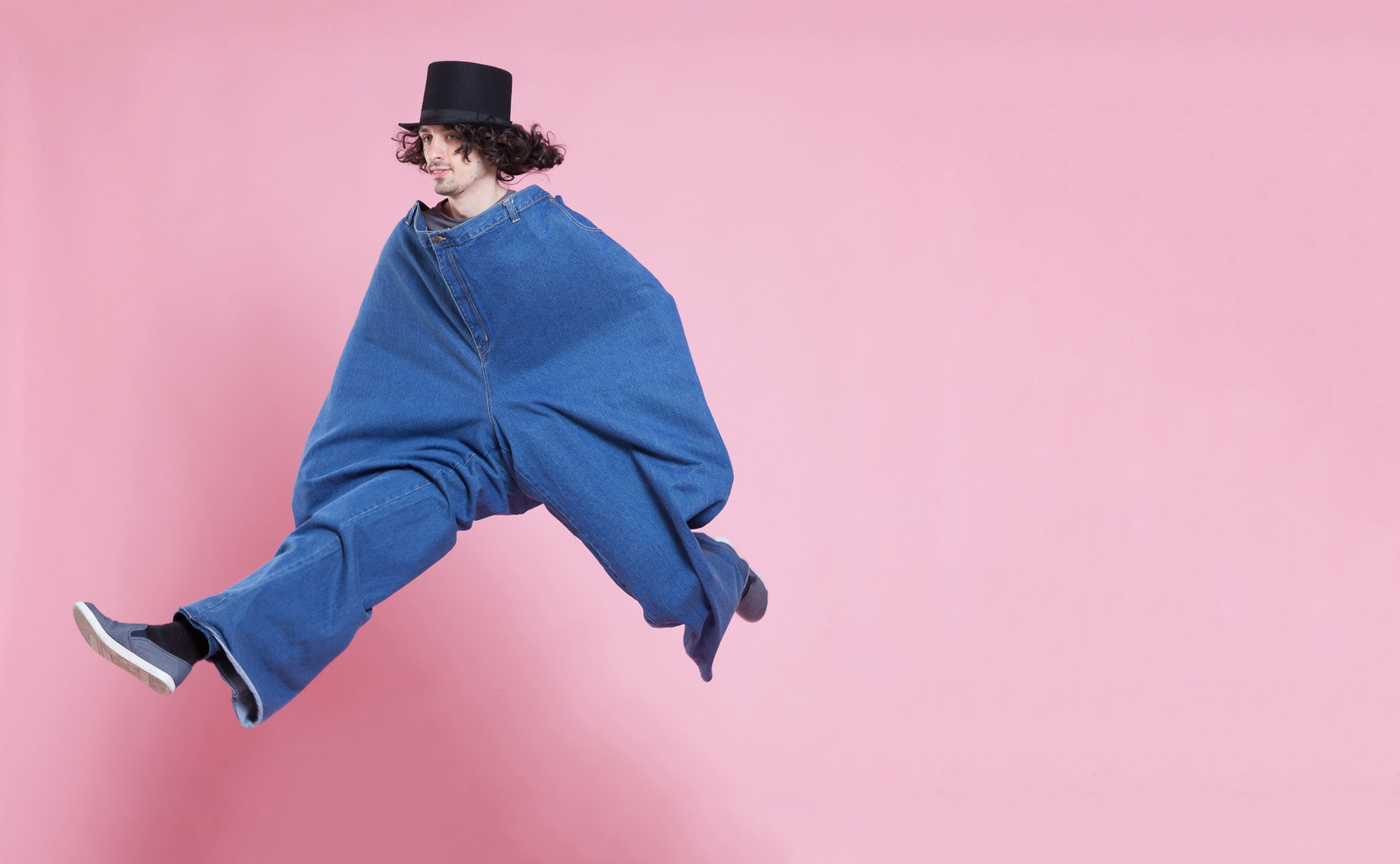 If you're ever in need of a photo of a guy soaring through the air in giant pants, Mihai Blanaru, a photographer in Romania, has you covered.
Blanaru is a full-time IT specialist for Hewlett-Packard. As a hobby, he does stock photography, as well as photography of events, families, fashion, and portraits.
The image is actually part of a larger stock photo shoot that Blanaru took of his friends in 2015.
"It all started when I saw a couple of colored wigs, and this was paired with some carnival accessories. Then I realized that I can have some candies big enough, and many other funny accessories," he said. "Thinking about bringing something big to the shoot, I saw an XXXL-clothes shop, and this was the funniest part."
His longtime friend, Alex Marcu, wound up wearing it for the truly iconic photo.
"I remember that I had to take a five minute break after each ten minutes of shooting because I was actually laughing with tears all during that session," he said.
In all, the entire shoot brought him around $800 — including $200 just from the pants photo.
He also hadn't been aware of his photo's popularity online, and was "surprised and excited" to discover that.
"I think that people loved those pictures because it was something new, original, but also because Alex was very spontaneous, funny, authentic, and relaxed, and that could be easily observed by many people," he said.
At Shutterstock, a leading stock photo company, the goal is to make sure there's a broad range of content fulfilling every possible customer need — no matter how weird, Paul Brennan, Shutterstock's VP of Content, told BuzzFeed News.
"It's very much marketplace-driven and customer-driven," Brennan said.
While many stock photo sites offer loose guidance as to what kinds of photos they need, the onus is on the photographers to decide what they shoot and post.
To become a Shutterstock contributor, you have to submit 10 pieces of your work for review. Once your first of those images is approved, your account is activated and you can start uploading photos.
All photos are reviewed before posting for technical quality, legal compliance (for example, it doesn't infringe on any copyrights and models have signed releases), and relevance of metadata (meaning it follows the guidelines for titles and keywords).
Once the stock photos are uploaded to the sites, they're available for any and all customer use. Customers buy the photos through the site, and photographers rarely learn what their photos wind up being used for.
Of course, the rise of stock photos as memes has led to a lot of these photos being stolen through screenshotting and circulated widely.
Brennan said Shutterstock takes protecting its content "very, very seriously."
"That's always going to be our priority, and in any circumstance where we discover [a photo] has been misused, we will investigate to make sure the contributor is getting the fair value for their content," Brennan said.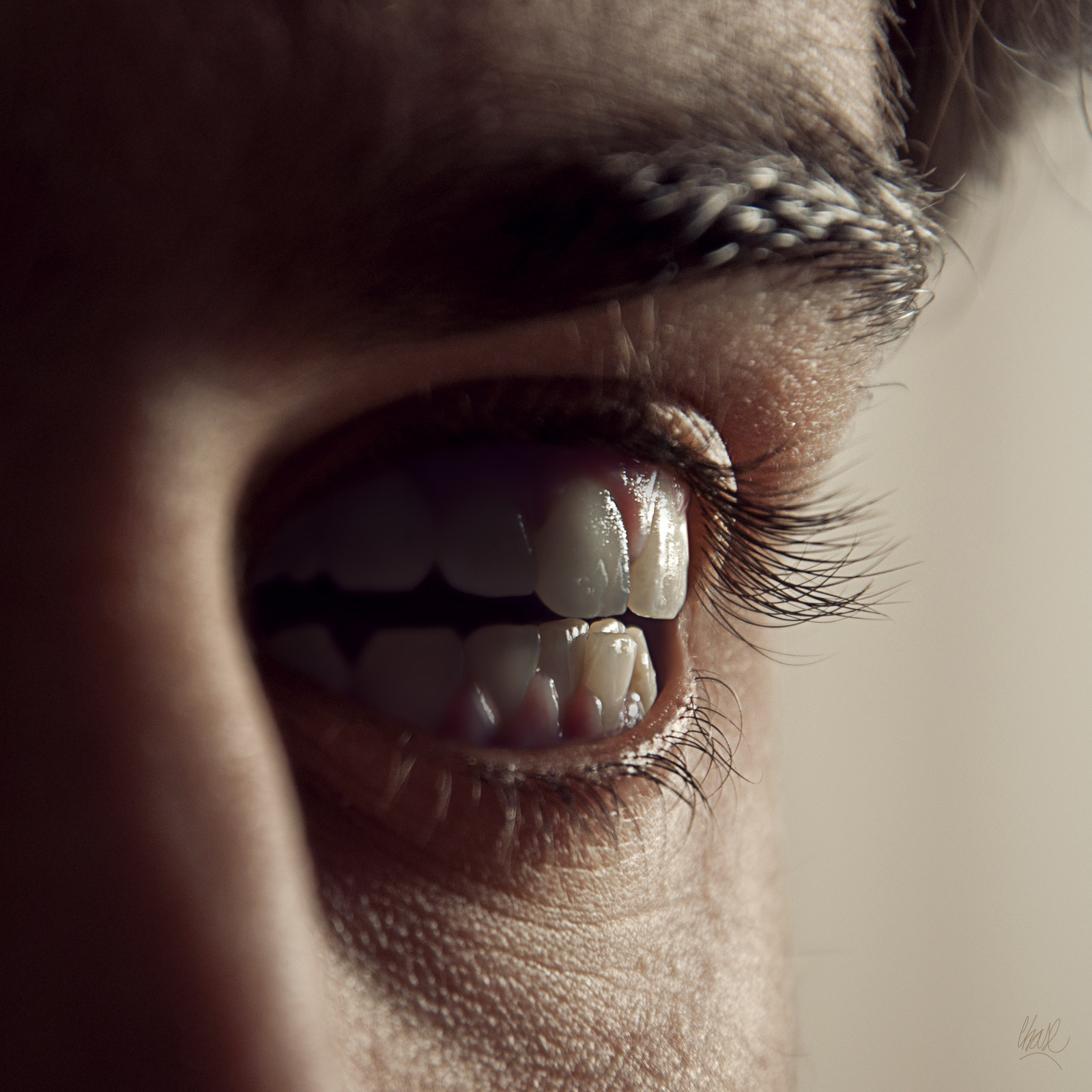 While many photographers have been excited to see their work go viral, even when it's through illegal posting, not everyone is so thrilled — such as Rubén Carbó, a photographer and retoucher in Spain.
"When I first started with photography, I was bad at it. Like really, really bad," he said. "So I tried to 'force' the images to be weird, creating impossible things, for the audience to go like, 'I can't stop looking at this.'"
Carbó's work improved over time, but that concept stuck. In 2013, during college finals, he created the above photo of teeth inside an eye socket.
"The only thing I was doing was studying, with no time for other things. And when I'm stressed, I eat. A lot. Even when I'm not hungry," he said.
"The thing is, here in Spain there is a saying that goes like, 'Estás comiendo más con los ojos que con el estómago,' that translates into, 'You're eating more with your eyes than with your stomach.' I tried to make it literal."
The photo has been sold 12 times, earning Carbó $87.19 total. One time, the photo sold for $60, but usually, the amounts are far smaller, he said.
Even so, the photo — as well as a few of his others — has circulated on Reddit and Twitter.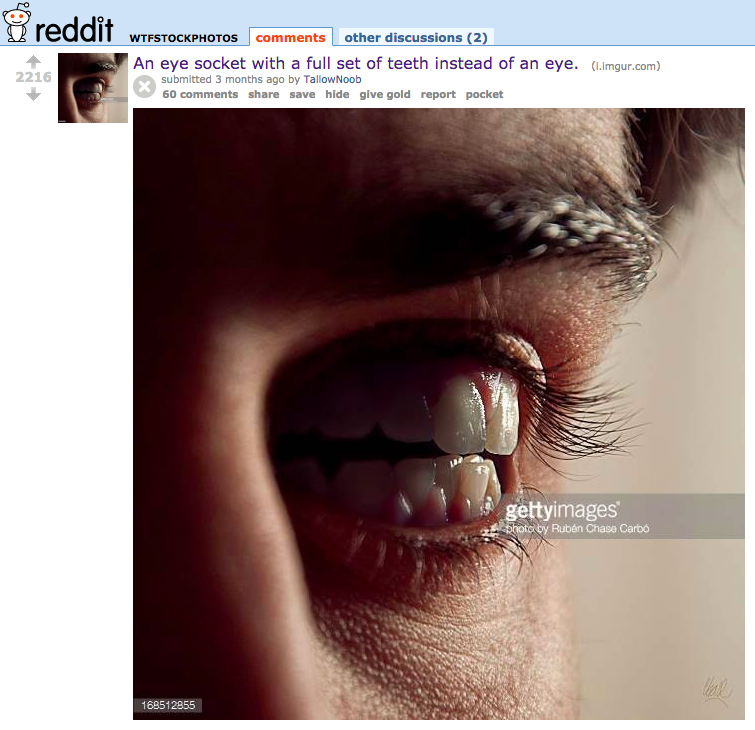 This makes Carbó "kind of sad," he said, since it means he gets no money or credit for his work. If a company stole his photos he could sue them, but on social media, there's not as much you can do.
"I mean, it's great when people see your job and say 'Hey, that's nice, more people should see it,'" he said. "The problem is when people see some artist's work and say, 'Hey, that's nice, I will reupload it to my personal page, gain followers and likes, and possibly money with it, without even crediting the original author.'"
"What if...in all of the accounts, [they had] my name on it? With a share from my page instead of a re-upload?" he said. "Maybe things would be different. Maybe, just maybe, I would have had a few more sells. Or a few more projects from people who have seen me online."
Still, Carbó loves being a part of the "weird stock photography" community.
"When the smiling doctors and the perfect sunsets can't do anything, here we are!" he said. "The…weird people."