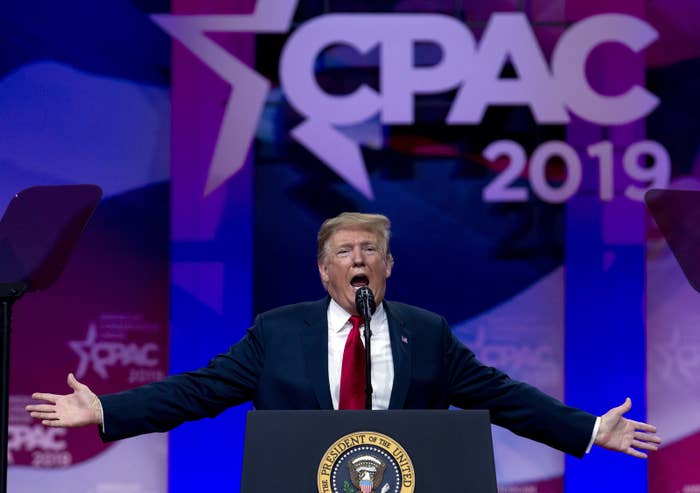 In rambling, two-hour speech at the Conservative Political Action Conference on Saturday, President Trump mocked immigrant members of Congress and said some of them hate the United States.
"We have people in Congress right now, we have people in Congress that hate our country," Trump told the audience during a segment of his speech on immigration. "And you know that, and we can name every one of them if they want. They hate our country."
The rowdy crowd booed the unnamed members of Congress, with some shouting the name of Minnesota Rep. Ilhan Omar, who immigrated to the US as a teenage refugee from Somalia.

The president said these members of Congress, whom he didn't name, made "very sad" comments about the United States.
"How did they do in their country?" he continued. "Just ask them. How did they do? Did they do well? Were they succeeding? Just ask that question."
"Somebody would say, 'Oh, that's terrible that he brings that up.' But that's OK. I don't mind. I'll bring it up."

"How did they do in their country? Not so good. Not so good."
According to the Pew Research Center, there are currently 13 foreign-born members of the House and just one in the Senate. All are Democrats.

Representatives for the White House and Speaker Nancy Pelosi, the leader of the Democrats in the House of Representatives, didn't immediately respond to requests for comment.
Trump's rollicking, off-script speech at Maryland's Gaylord National Resort and Convention Center lasted over two hours, which several news outlets said was his longest ever as president.

The president also used his remarks to attack Democrats and those investigating him as part of the Russia probe, saying his enemies are "trying to take [him] out with bullshit!"
The crowd erupted at that line, clapping and chanting, "Bullshit! Bullshit! Bullshit!"
In January, the president castigated Rep. Rashida Tlaib for her "disgraceful" language when she told a crowd of supporters she would "impeach the motherfucker."
In an extensive airing of grievances, Trump also relitigated old arguments over his crowd sizes, while simultaneously mocking a journalist for not "flying private."
He criticized Washington Post reporter Dave Weigel, who in December 2017 tweeted a photo of a scant crowd in an arena where Trump was having a rally.
Weigel deleted the tweet after learning the venue had not yet filled up, but Trump responded at the time by demanding an apology and for Weigel to be fired.
"He got there four or five hours early, because he doesn't fly private, you know...The place hadn't started taking in people," Trump told the crowd.
In yet another return to the size of his inauguration crowd, Trump falsely claimed the media had compared his crowd to the inauguration of Barack Obama in 2009 by using photos of his 2017 inauguration "taken hours before."
"I saw pictures that there were no people," Trump said. "Those pictures were taken hours before, right?"
Trump has previously accused the media of altering photos of his inauguration crowd size, but official photos released by the National Park Service clearly show that the crowd at Obama's inauguration was far bigger.