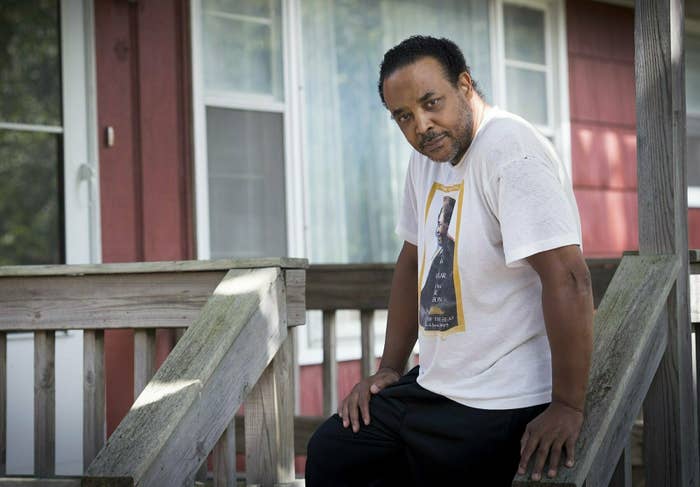 After a black man was handcuffed by police while moving into his own home in August, the American Civil Liberties Union is now calling upon the Kansas attorney general to investigate.
Karle Robinson, a 61-year-old Marine veteran, had bought a new home the previous month in Tonganoxie, Kansas, and had been steadily moving in his belongings since then.
While he was driving to the house that night, a police officer briefly stopped Robinson, according to the Kansas ACLU. Once he got to the house around midnight and began moving things in from a U-Haul, a police officer drove past "between five and six times."
Around 2:30 a.m., when Robinson was finally moving in the last item, a television, police officer Brady Adams drew his gun and demanded he put down the television.
"I just bought this house," Robinson told the officer, according to bodycam footage viewed by BuzzFeed News.

"You just bought this house, and you're moving in at 4 in the morning?" Adams replied.

In an interview with BuzzFeed News, Robinson said his back had been turned when the cop approached him, and he didn't initially realize who was behind him.
"I thought I was being robbed," Robinson said. "So I thought, 'Damn, man, I just moved, I'm already getting robbed?'"
After informing Adams he had paperwork proving he was the homeowner, the officer made him put his hands up against the house and then cuffed him.
"I was wondering, 'Why is he stopping me?'" Robinson said. "And then I thought, 'Okay, here we go, racial profiling.'"
Adams said this was being done because there had been a string of break-ins in the neighborhood. However, Robinson said neighbors later told him they were unaware of any recent burglaries in the area.
Robinson was released from the handcuffs after two more officers, who were called for backup, located the paperwork inside Robinson's home.
"Do you understand why I did that?" Adams asked Robinson. "I understand it's not comfortable, but given that we had all those break-ins and whatnot recently. ... Just last weekend we had a whole bunch."
Adams told Robinson he was sorry, "but if you look at the situation, I think you get it."
After Robinson asked, the officers then helped him move his TV inside.
But following the incident, according to the ACLU and Robinson, police would park their cars across the street from his home most nights and frequently patrolled his block. Two days after Robinson's detainment, an officer followed him from his home to the highway for more than five minutes.
In October, Robinson attempted to file a written complaint about the detainment and the "ensuing weeks of police surveillance." Instead, the police chief met with him in person and did not allow him to submit a complaint, he said.
"Each of these incidents would be concerning had they been alleged independently," the ACLU wrote in the letter to the Kansas attorney general. "Together they suggest a pervasive culture of racial bias and systemic process failure within the Tonganoxie Police Department."

According to the ACLU, police chief Greg Lawson told Robinson that Adams had acted appropriately and without racial bias because he "feared for his life."
"He said he was afraid for his life," Robinson said. "Now isn't that something? He had the drop on me."
The surveillance only stopped after Robinson told his story to the Kansas City Star in October, he said.
In a statement to BuzzFeed News, Lawson said the police department is cooperating with the ACLU investigation, but that police believe the ACLU's report "contains multiple accusations that are inaccurate."
Lawson did not immediately respond when asked what accusations police believe to be inaccurate.
"The safety of our citizens and visitors continues to be of the highest importance to the Tonganoxie Police Department," Lawson said in the statement. "The members of this agency have pledged to serve the community with honor, and the highest degree of professionalism."

A spokesperson for the Kansas Attorney General's office told BuzzFeed News they "have reviewed and forwarded it to the Kansas Commission on Peace Officers Standards and Training" in accordance with state law.
Despite the unnerving police encounter, Robinson said he's "not worried" for his future safety in the town.
"I can handle anything," he said. "I've been in the military, war zones, so I'll handle it just like anything else."
Still, he said, he wants the three cops who were there that night and the police chief to lose their jobs and be replaced with a more diverse police force.
"I want a new force in here that represents the diversity of the town," he said. "We have blacks, we have Hispanics, we have Asians, we have Muslims, we have African people here. It's not just lily-white anymore, and the police officers are all white."