Imagine this: You are a teenage girl in the year 2015. You wake up, swipe on your EOS lip balm, and pull a wad of Silly Bandz onto your wrists. While waiting in line at Starbucks for a Frappuccino — the pink one, obvi — you Snapchat your BFF a few dog filter selfies and text your crush a string of "🙈🙈🙈🙈." A copy of The Fault in Our Stars is in your bag and Obama is in the White House.
This is the highly specific year that teens who run Instagram meme accounts have been hit with a wave of nostalgia over.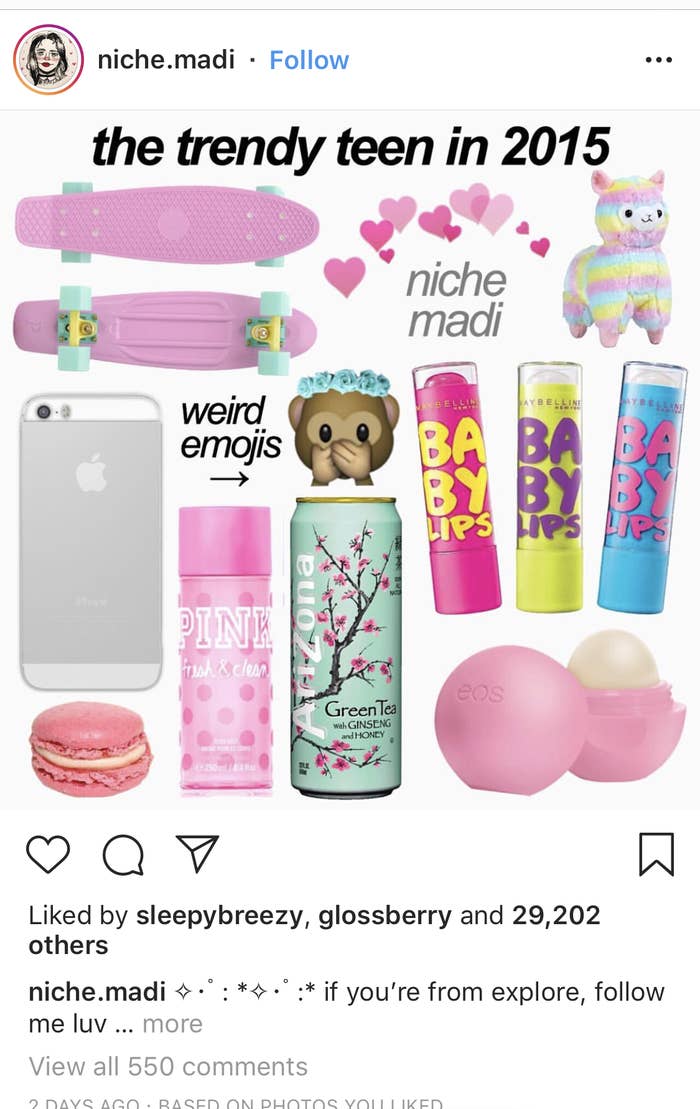 "2015 memes" have been popping up lately on niche meme Instagram accounts. This popular genre of memes — easily recognizable by their pastel colors, WordArt-like text, and collage aesthetic — was called the "secret clip art diaries" of teenage girls by the Daily Beast.

Yes, 2015 was not that long ago. But most of these memers are teenage girls currently in high school. These were their formative preteen years.
A teen who runs the account @glossberry told BuzzFeed News she thinks 2015 nostalgia has gotten big "because it is a relatable time for everyone" and "it's not so far away that people don't remember it."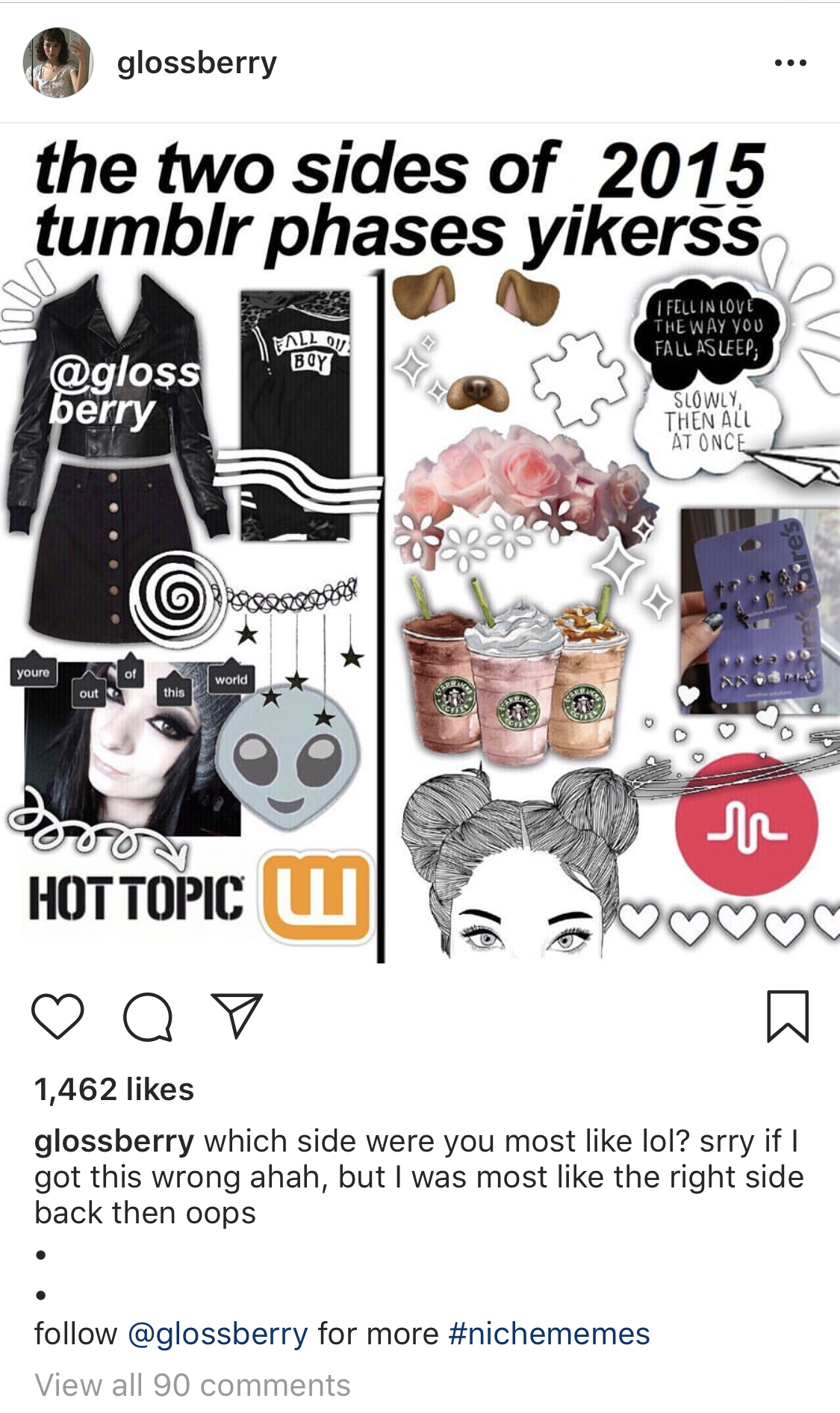 "There were really two main phases: the emo Hot Topic phase and the Tumblr-dog-filter-flower-crown phase," said @glossberry. "Since they are such relatable phases that nearly everyone has gone through, niche meme accounts love to share their experience with it."
And "relatable" they most certainly are.

"THE RIGHT SIDE WAS TOTALLY ME!" one person commented on the above meme.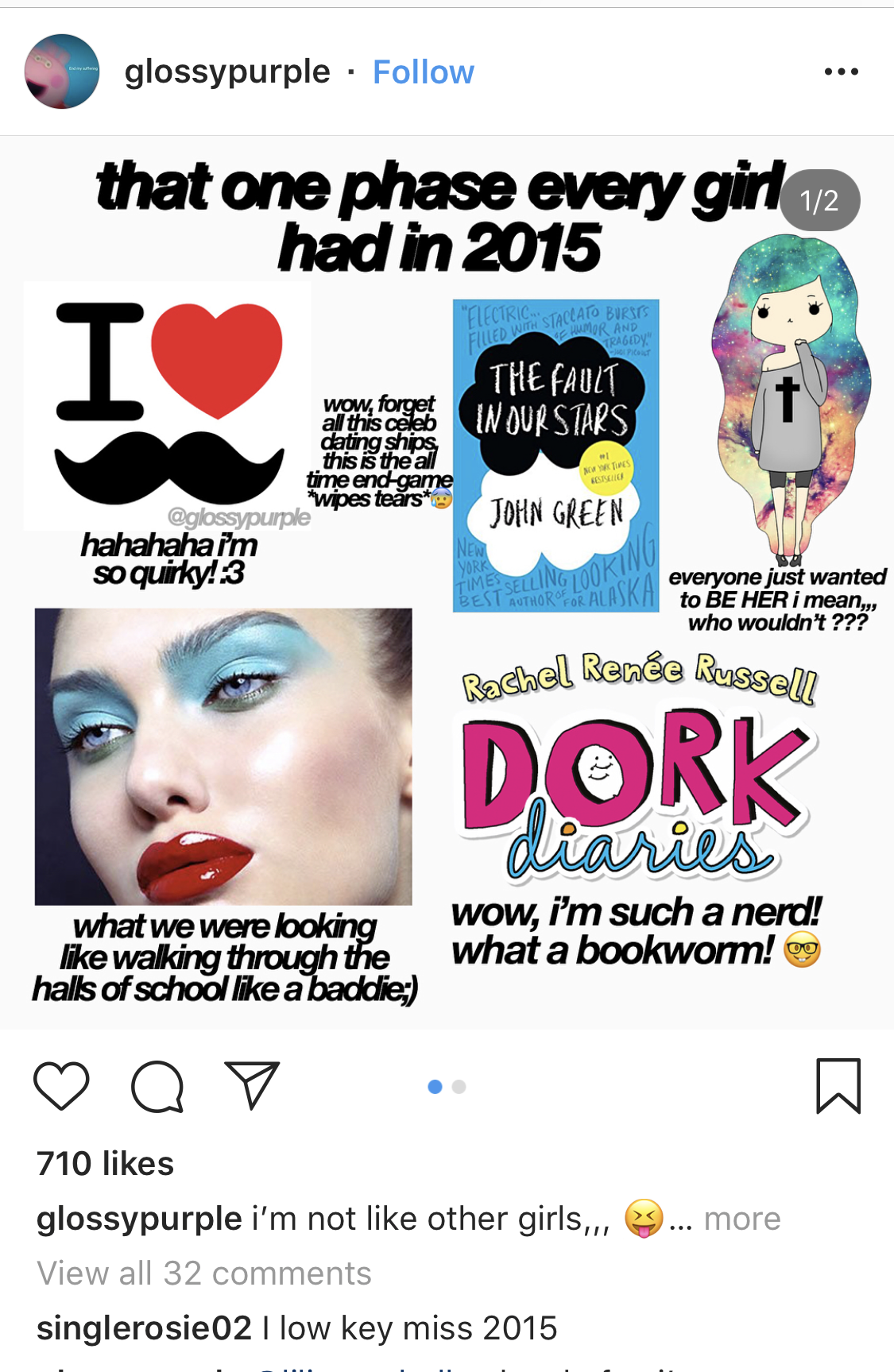 "This makes me emotional," said another.

Some of the niche memers remember shopping at Justice, writing fan fiction on Wattpad, "girly teenage posts," and listening to Halsey. The "soft grunge" aesthetic was in full force, and everyone was wearing tattoo chokers, galaxy prints, matte lipstick, and flower crowns.

Sarah, a 19-year-old in California who runs the account @niche.sarah, said she traces the connection between niche meme accounts and 2015 nostalgia to the rise of the conceptually similar "starter pack" memes, which took off at the end of 2014, according to Know Your Meme.

"I was starting high school," said Sarah. "It was a time when 'basic' meant Pumpkin Spice Lattes, Ugg boots, and infinity scarves."

Sarah makes a lot of nostalgia memes about a variety of eras, but said 2015 has been the predominant year across the meme accounts.
"A lot of niche memers also like the '90s aesthetic, but they weren't alive then," Sarah said.

Of course, a lot would change between 2015 and 2016 — namely who was president. Many niche memers said their nostalgia had a lot to do with how different the world would become a year later.
"The political climate was less tense" in 2015 and "a lot of niche memers dislike the current presidential era," said Sarah.
"2015 was a time before elections, the crazy clown stuff," said niche memer @nonrelatablememe. "These past couple years have been traumatic. Celebrities dropping left and right. It's weird."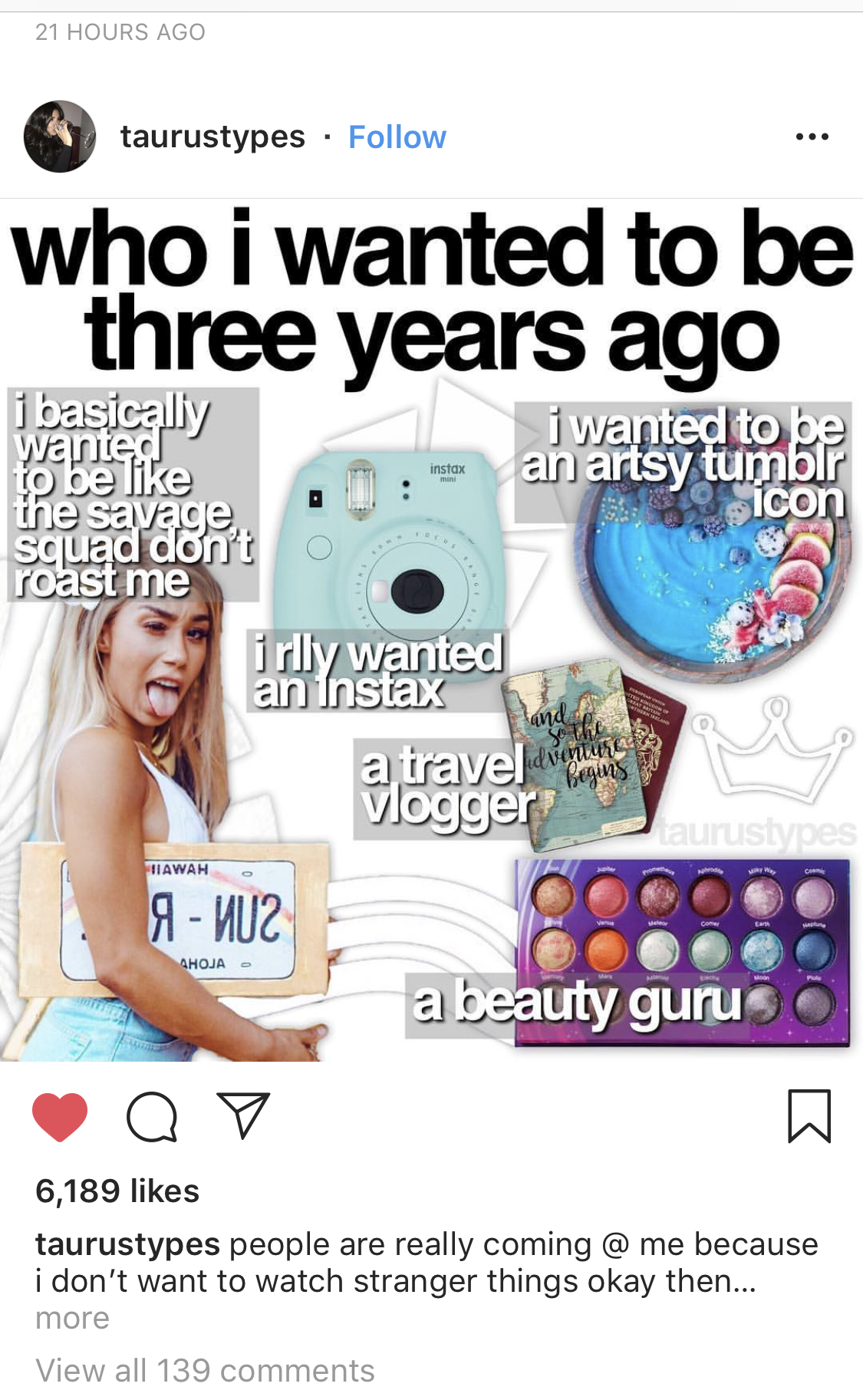 Krystine Batcho, a professor of psychology at Le Moyne College, told BuzzFeed News that "nostalgia serves to support us during times of stress, adversity, and substantial change. That can include political change.
"Since 2015, society has been experiencing tremendous, internal discord and conflict," said Batcho. "Teens aren't the only age group longing nostalgically for the simpler time before 2016, when society relied on more civil discourse to discuss differences of opinion. These are times of change with the future appearing to be less certain than it once seemed.
"Facing an uncertain future is a powerful trigger for nostalgia, and teens are especially affected, given that they are poised to enter that future for the first time as adults," said Batcho. "They will soon be inheriting the challenges and responsibilities of shifts in social values, customs, and policies."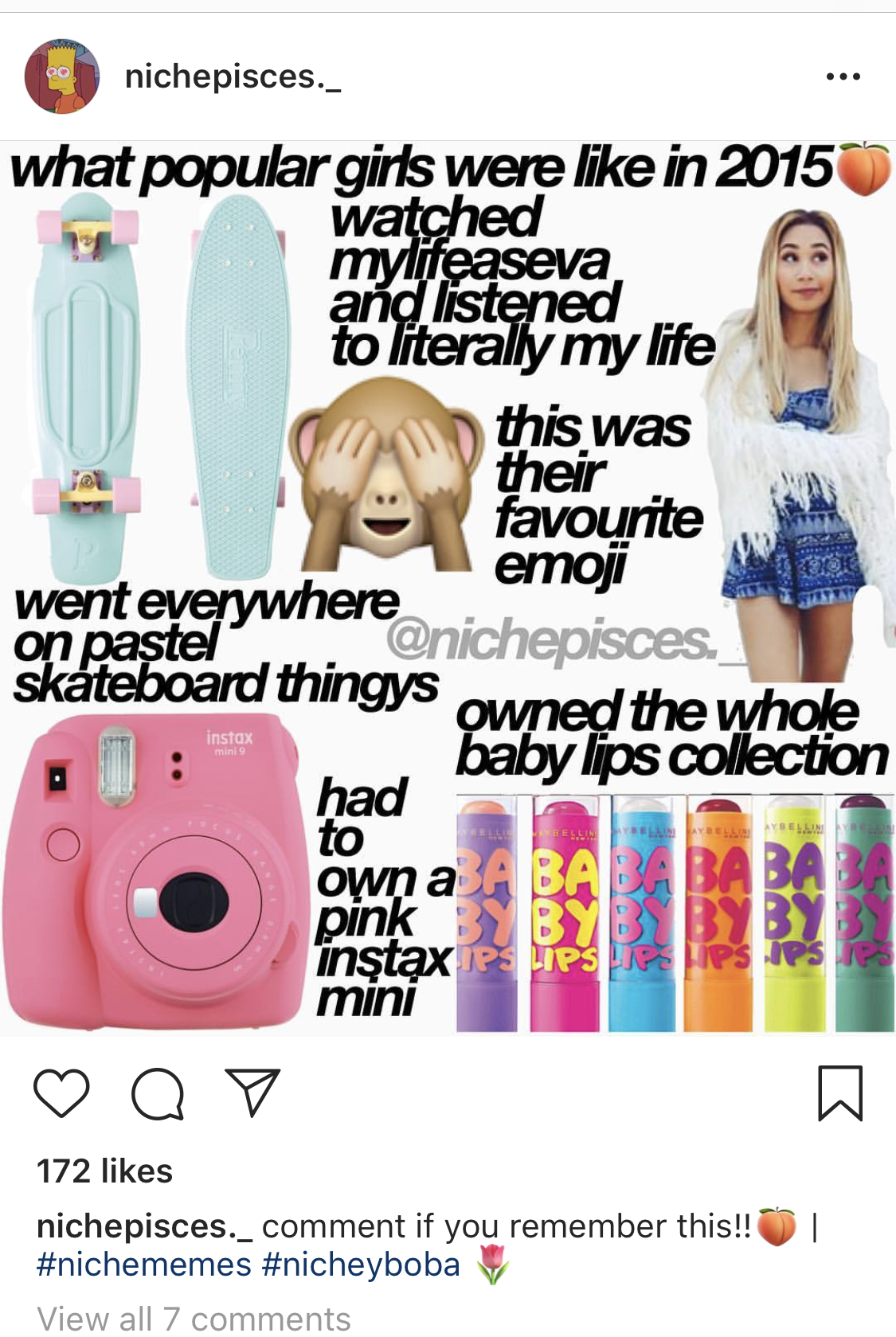 Many of the memers look back on 2015 as a better time — especially for those who began experiencing mental health problems as they got older.

"2015 was the time right before my depression hit me," said Sarah.
"I was 14 in 2015, and it was just a weird time in my life where I was still kinda going through puberty," said @nonrelatablememe. "Teens miss being younger since a lot have depression or other mental illnesses. It was a happier time, I suppose."
Clay Routledge, a psychology professor at North Dakota State University, added that nostalgia is often "motivated by uncertainty, anxiety, and the longing for a simpler time. She said it "provide[s] psychological comfort."
"And there is evidence that teens are increasingly anxious and lonely, which are triggers of nostalgia," said Routledge.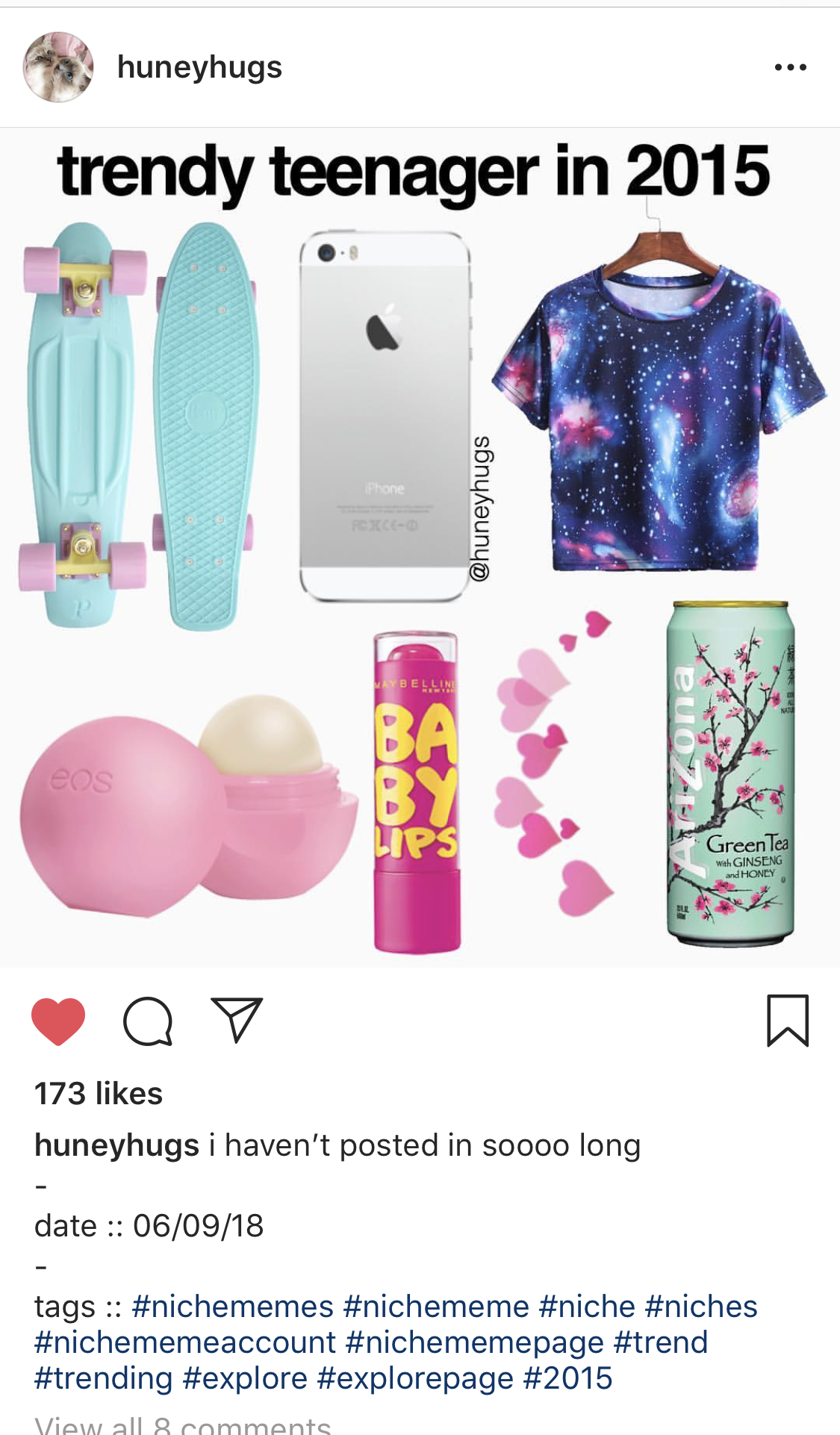 It may seem odd to feel such a deep longing for a time so recent, but to many of these teens, 2015 is a mental balm that's almost mythic in stature.

"I was telling my mom, and she was like, 'Is that even nostalgia? It's too recent,'" said Sarah.
But Abby, a 15-year-old in Florida who runs @glossypurple, said things feel really different in teenagers' lives just three years later.

"Every time I think about those days, a small part of me wants to go back," said Abby. "It's a lot harder now than it was three years ago."