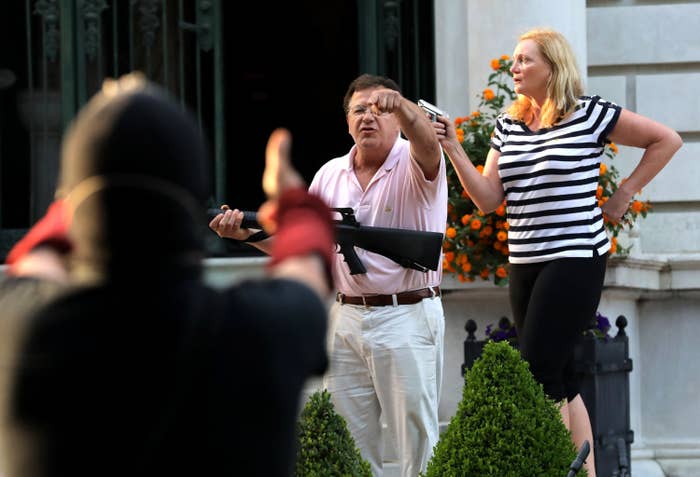 A middle-aged white couple pointed guns at protesters Sunday evening outside their home in St. Louis, video of the incident shows.
The protesters were marching toward the home of Mayor Lyda Krewson and calling for her to resign after she publicly identified activists' names and addresses in a Facebook Live video on Friday.
In video of Sunday's incident, the couple can be seen standing outside their mansion. The man, identified by police as being 63 years old, is wearing a pink polo and khaki pants and carrying an assault rifle. The woman, a 61-year-old in a striped T-shirt and capris, holds up a handgun.
The couple can be seen yelling at protesters and pointing their guns at them, occasionally appearing to unintentionally point them at each other. In photos, the woman's finger can be seen on the trigger.
Local news outlets identified the couple as Mark and Patricia McCloskey. In an interview with KSDK, Mark McCloskey said he and his wife were sitting down for dinner on their patio when they heard the protesters coming down the street.

"Somebody forced the gate, and I stood up and announced that this is private property. Go back," McCloskey said. According to KSDK, the neighborhood is privately owned and managed, meaning that the street is considered private property.
He said he then went inside to get his rifle and then went back outside and told the protesters, "This is private property. Go back. Private property. Leave now."
McCloskey told the local TV station that, "At that point, everybody got enraged," saying that people were wearing body armor and that one person had pulled out a loaded pistol.

"We were threatened with our lives, threatened with a house being burned down, my office building being burned down, even our dog's life being threatened," he said. "I really thought it was storming the Bastille, that we would be dead and the house would be burned and there was nothing we could do about it."
He described the crowd as being "huge and frightening," claiming that they were "coming at" him and his wife.
The St. Louis Metropolitan Police Department identified the couple as victims in a report obtained by BuzzFeed News. The police report states that the couple contacted police "when they heard a loud commotion coming from the street" and "observed a large group of subjects forcefully break an iron gate marked with 'No Trespassing' and 'Private Street' signs."

Police said the couple claimed protesters were "yelling obscenities and threats of harm to both victims" and that they brought out their guns when they "observed multiple subjects who were armed."
Police did not say whether there is evidence any protesters threatened or aimed guns at the couple, and the St. Louis Circuit Attorney's office did not immediately respond to a request for comment.
Mayor Krewson did not immediately respond to a request for comment on the incident.
Missouri has extremely permissive gun laws, with people being allowed to carry concealed weapons without background checks or permits.
Nico Bocour, a spokesperson for Gabby Giffords' gun violence prevention organization, told BuzzFeed News that Sunday's incident was "yet another episode in a troubling trend of individuals using intimidation and outright violence against lawful protesters."
"The right to bear arms does not give anyone the right to harass, intimidate, and point guns at Americans they disagree with," Bocour said. "This is shameful and the type of irresponsible gun ownership that leads to so many deaths in this country."

Krewson had appeared in a now-deleted Facebook Live video on Friday, where she discussed the rising calls to defund the police, saying she did not support doing so, according to KSDK News.
While reading off suggestions on how to better spend the city's funds, Krewson reportedly shared activists' full names and addresses.
Later that day, she apologized for publicly identifying them.
"Never did I intend to harm anyone or cause distress," Krewson tweeted. "The update is removed and again, I apologize."
Local leaders, organizations, and individuals denounced Krewson's actions, which some described as doxing, and called for her to step down.
More than 45,000 people have signed a petition demanding her resignation, calling her "a risk for the safety and well being of the general St. Louis population."
The ACLU of Missouri called Krewson's naming of the protesters "shocking and misguided," adding that "it serves no apparent purpose beyond intimidation."
"The chilling of debate should bother everyone, no matter whether they agree or disagree with the mayor on this particular issue," the ACLU said.
Megan Ellyia Green, a local councilmember running for state senate, called "doxx[ing] my constituents" a "move designed to silence dissent."

Another councilmember, Cara Spencer, tweeted a condemnation of the mayor's actions.
"No leader should resort to intimidation of the residents they were elected to represent," Spencer said. "Period."
A spokesperson for Krewson did not immediately respond to a request for comment from BuzzFeed News, but told CNN she would not resign.
"Mayor has apologized, acknowledged the mistake and that there was absolutely no malicious intent, and took down the video," Krewson's communications director, Jacob Long, said. "She won't be resigning."