In a Vogue cover story released Wednesday, Serena Williams revealed she had a terrifying health scare after giving birth to her daughter Olympia in September — which hospital workers initially ignored.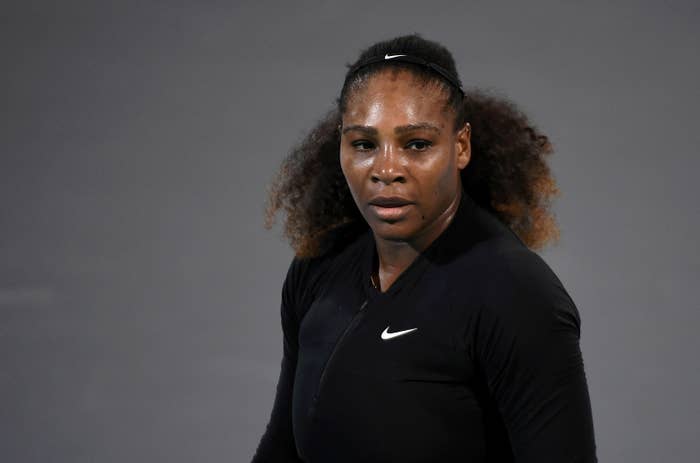 After her heart rate took a dip during labor, Williams said she had an emergency C-section. Fortunately, the surgery went smoothly, and Olympia even stopped crying the moment she was laid down atop her mother.
"That was an amazing feeling," Williams told Vogue. "And then everything went bad."
The next day, Williams said she felt short of breath and grew concerned she might be having a pulmonary embolism. Williams said she regularly takes blood thinners due to her history of blood clots, one of which she nearly died from in 2011.
Williams said she told a nurse she needed a CT scan and a blood thinner immediately, but the nurse thought the pain medicine had left her confused. When Williams further insisted on treatment, a doctor instead performed an ultrasound of her legs.
"I was like, a Doppler? I told you, I need a CT scan and a heparin drip," Williams said she told the medical team.
The hospital workers performed a CT scan after the ultrasound revealed nothing. Indeed, they found several small blood clots in her lungs and treated her with blood thinners.
"I was like, listen to Dr. Williams!" she said.
Her health complications didn't end there. Her C-section wound opened due to coughing caused by the embolism, doctors found a large hematoma in her abdomen during surgery, and she wound up bedridden for six weeks after giving birth.
Williams' harrowing childbirth story has ignited a conversation about the high rates of maternal mortality and birth complications in the United States, which black women face at an alarmingly disproportionate rate.
About 700 women in the United States die each year as a result of pregnancy or delivery complications, according to the CDC.
And, according to a recent report by ProPublica, black women are three or four times more likely than white women to die during childbirth.
People are pointing out that, despite her wealth and fame, Williams still had to self-diagnose.
"If Serena Williams with all her money, power, access, and reach had her voice IGNORED," asked activist Leslie Mac, "What do you think happens to poor, immigrant black women?"
"This is how you know that racism in medicine can impact anyone at any income level," writer Mikki Kendall said.
One person, a registered nurse named Jo from Denver, tweeted a thread sharing a story of one patient she cared for — a black woman who'd had abdominal surgery — whose severe pain went ignored by multiple doctors for hours.
"I wish I could say that Mary was the only Black patient I'd met that had problems with pain medication but that was not the case," Jo tweeted. "I've seen so many excuses for not giving post op patients adequate pain control, even though many of them are recovering from cancer."
Read the full thread here.
Many are saying doctors and nurses "need to do better" at listening to the black women they have as patients.
"The medical community does not take our pain seriously," said writer Britt Julious.
"If you are feeling severe pain/discomfort don't let the medical staff gaslight/strongarm you into being silent," one person said. "Stand your ground, because you just might save your own life."
"I didn't expect that sharing our family's story of Olympia's birth and all of complications after giving birth would start such an outpouring of discussion from women — especially black women — who have faced similar complications and women whose problems go unaddressed," she said. "We have a lot of work to do as a nation and I hope my story can inspire a conversation that gets us to close this gap."