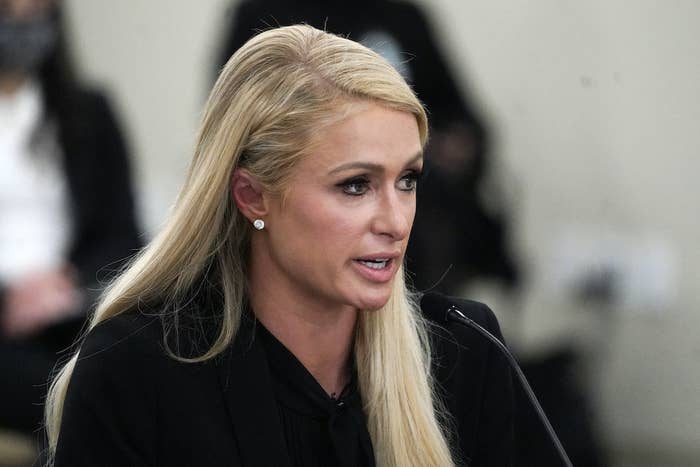 Paris Hilton on Monday told Utah lawmakers about the abuse she suffered at multiple treatment centers for troubled teens while urging them to pass legislation requiring more regulation of the programs.
Hilton, 39, spent time in three of the facilities as a teen, including nearly a year at Provo Canyon School, where she said she was "verbally, mentally, and physically abused on a daily basis" when she was 16.
"Although Provo Canyon School marketed itself as a premier treatment center, it was as if hell itself was on Earth," Hilton said. "I cried myself to sleep every single night, praying I would wake up from this nightmare."
Provo Canyon School, which remains open, has faced widespread accusations of mistreatment, including beating, drugging, and sexually abusing clients, and cutting them off from their families so they can't get help.
Hilton broke her silence about the trauma she experienced in her documentary This Is Paris, and in October led a protest calling for the school to be shut down.
In her testimony, Hilton said the traumas Provo Canyon School inflicted upon her started immediately upon entering the program and disturb her to this day.
"For the past 20 years, I've had a recurring nightmare where I'm kidnapped in the middle of the night by two strangers, strip-searched, and locked in a facility," she said. "I wish I could tell you this haunting nightmare was just a dream, but it is not."
"When I was 16, two transporters woke me up in the middle of the night with handcuffs," she continued. "They asked me if I wanted to go the easy way or the hard way. They carried me out of my home as I screamed at the top of my lungs for my parents' help."
Hilton had previously attended two similar "troubled teen industry" programs, and was abused at both, including being strangled by a staff member, she said.
At Provo Canyon School, Hilton said she "didn't breathe fresh air or see the sunlight for 11 months" and was "forced to consume medication that made me feel numb and exhausted." At least once, she was put in solitary confinement "for no reason."
"One day in isolation felt like a week," she said. "That small room covered in scratch marks and smeared blood with no bathroom is one of the most vivid and traumatizing memories I've ever experienced in my entire life."
The staff at the facility were "evil and sadistic and seemed to enjoy their power in being able to abuse children," she said. She recalled regularly seeing children being beaten, restrained, thrown at walls, strangled, and even sexually abused.
"There was zero privacy — every time I would use the bathroom or take a shower, it was monitored," she said. "At 16 years old, as a child, I felt their piercing eyes staring at my naked body. I was just a kid and felt violated every single day."
Hilton added that communication with family members was censored, so she couldn't report what was happening.
Tim Marshall, a spokesperson for Universal Health Services and associate administrator of the school, told BuzzFeed News the school supports the Utah bill.

Marshall said the school "eliminated the use of seclusion or isolation some time ago," and does not use mechanical restraints, solitary confinement, or drugging as discipline.

"We are supportive of the additional transparency the legislation requires," Marshall said. "As always, our singular goal is patient safety. As a matter of policy and procedure, we have always operated within the requirements of our reporting obligations."
But some staff members from before the school was sold remained employed under its new owners, Hilton said, noting how one employee who "would brag to other students that she was the one who broke Paris Hilton" was only let go in October after her documentary aired.
Universal Health Services is a massive psychiatric hospital chain that was the subject of a BuzzFeed News investigation, which revealed series of allegations, including fraud, abuse, and locking patients up for longer than medically necessary.
After Utah lawmakers passed the bill, state Sen. Mike McKell, who sponsored the legislation, applauded Hilton in a tweet for speaking out on the issue.
"I am grateful for survivors like Paris Hilton who are using their platform and voice to bring attention to an industry that desperately needs reform," McKell said. "As a state, we will take the necessary steps to increase transparency and safety to prevent further abuse."
Hilton said opening up publicly about what she endured has been hard, but she hopes doing so can spark change to help children still housed in Provo Canyon School and the many centers like it.
"I'm going to be honest — talking about something so personal was, and is still, terrifying," she said. "But I cannot go to sleep at night knowing that there are children that are enduring the same abuse that I and so many others went through, and neither should you."
"I don't know if my nightmares will ever go away, but I do know that there are hundreds of thousands of kids going through this right now," Hilton said. "And maybe if I stop their nightmares, it will stop mine too."