Letters written by a young Barack Obama to his college girlfriend are being made public for the first time by Emory University.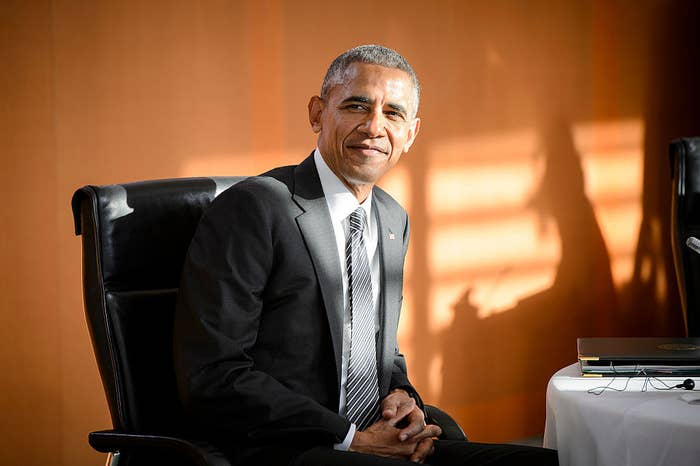 The letters were written between 1982 and 1984 to then-girlfriend Alexandra McNear, after he transferred from their shared school of Occidental College to Columbia University.
Rosemary Magee, the library director at Emory, said the letters "reveal the search of a young man for meaning and identity."
"While intimate in a philosophical way, they reflect primarily a college student coming to terms with himself and others," said Magee.
In a September 1982 letter, the beginning of Obama's senior year, he wrote about feelings of isolation while "drinking V8 juice and listening to a badly scratched opera being broadcast."
I must admit large dollops of envy for both groups, my American friends consuming their life in the comfortable mainstream, the foreign friends in the international business world. Caught without a class, a structure, or a tradition to support me, in a sense the choice to take a different path is made for me.

The only way to assuage my feelings of isolation are to absorb all the traditions, classes, make them mine, me theirs. Taken separately, they're unacceptable and untenable.
In June 1983, Obama visited his childhood home of Indonesia and wrote about feeling like he no longer fit there.
I can't speak the language well anymore. I'm treated with a mixture of puzzlement, deference and scorn because I'm American, my money and my plane ticket back to the U.S. overriding my blackness. I see old dim roads, rickety homes winding back towards the fields, old routes of mine, routes I no longer have access to.
Around this time, Obama and McNear's romance began drawing to an end, which he referenced in the same 1983 letter. The two would remain friends and continue to write one another.
I think of you often, though I stay confused about my feelings. It seems we will ever want what we cannot have; that's what binds us; that's what keeps us apart.
The following September, Obama wrote of their relationship again.
I am not so naïve as to believe that a distinct line exists between romantic love and the more quotidian, but perhaps finer bonds of friendship, but I can feel the progression from one to the other (in my mind).
The final letters were written after Obama had graduated college and began working. In a November 1983 letter, he wrote about struggling to make ends meet in New York City.
Salaries in the community organizations are too low to survive on right now, so I hope to work in some more conventional capacity for a year, allowing me to store up enough nuts to pursue those interests next.
The following April, he wrote his final letter.
My ideas aren't as crystallized as they were while in school, but they have an immediacy and weight that may be more useful if and when I'm less observer and more participant.