In 2012, then–88-year-old Marilyn Hagerty of Grand Forks, North Dakota, wrote arguably the most viral restaurant review ever written. It was for Olive Garden.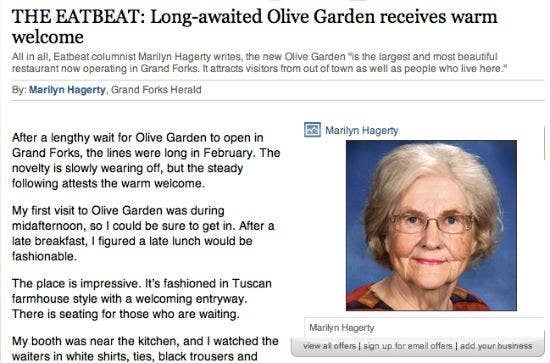 Hagerty, a food columnist for the local Grand Forks Herald, dubbed it "the largest and most beautiful restaurant now operating in Grand Forks."
"The chicken Alfredo ($10.95) was warm and comforting on a cold day. The portion was generous. My server was ready with Parmesan cheese," she wrote.
It was an instant viral sensation, with tons of people cracking sarcastic jokes about the octogenarian's earnest review. It even got a write-up on Gawker.
Despite the roasting, the review found her at least one big fan: Anthony Bourdain.
Bourdain defended Hagerty, celebrating her "triumph over the snarkologists" when the review went viral.
"Marilyn Hagerty's years of reviews to be a history of dining in the America too few of us from the coasts have seen. We need to see," he tweeted.
As a result of her online fame, Hagerty wound up flying to New York to do the media rounds, including a hot dog review for the New York Times.
While there, she and Bourdain met for coffee — and she wound up getting a book deal because of it.
In the foreword, Bourdain praised Hagerty as a hard-working, quick-witted food writer with deep knowledge of her community.
"She is never mean — even when circumstances would clearly excuse a sharp elbow, a cruel remark," he wrote. "In fact, watching Marilyn struggle to find something nice to say about a place she clearly loathes is part of the fun. She is, unfailingly, a good neighbor and good citizen first — and entertainer second."
Bourdain added that the book "kills snark dead."
"This is a straightforward account of what people have been eating — still ARE eating — in much of America," he wrote. "As related by a kind, good-hearted reporter looking to pass along as much useful information as she can — while hurting no one."
In an interview with BuzzFeed News on Friday, Hagerty remembered how Bourdain celebrated her work, rather than mock it.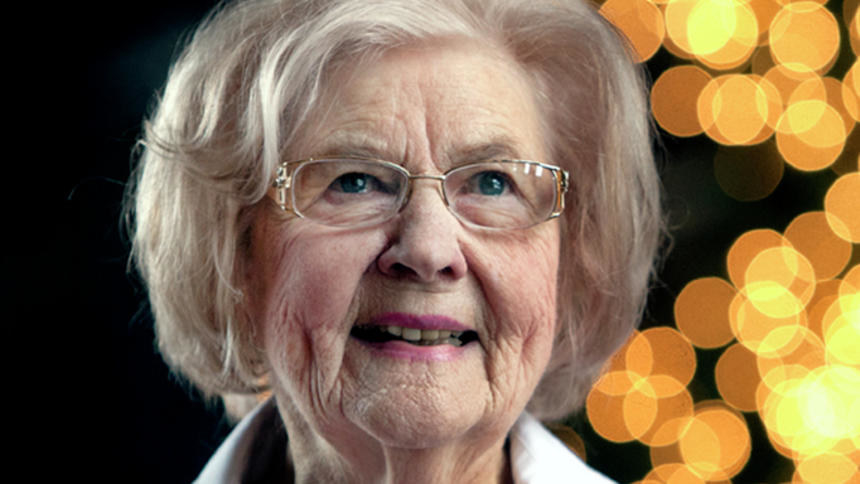 She said she heard about Bourdain's death Friday morning when her son sent her an article about it. She called it "sad, shocking news."
"Anthony Bourdain spoke up for me at a time when people all over the country were making great fun of the column I write," Hagerty told BuzzFeed News. "To have a man of his stature rise up and befriend me, it meant a lot to me."
Bourdain had also laughed when he first read the review, but dropped the snark when he realized how her columns represented her community, she said.
"He told me he felt the same way when he first read it, but that he changed his way of thinking," she said. "He decided I was writing about food in America and the way people eat in the middle of the country."
Their coffee meeting in New York was the only time they ever met, and Hagerty said she still thinks about it fondly.
"You know, sometimes you go through life and...you think about all the wonderful things that happened to you," she said. "And one of the wonderful things that happened to me was when Anthony Bourdain spoke up for me and wanted to publish my columns in a book."
The National Suicide Prevention Lifeline is 1-800-273-8255. Other international suicide helplines can be found at befrienders.org.