A Middle School Boy Is Speaking Out After Being Forced To Change Out Of An Elsa Costume
The boy's mom says school officials told her "It is not okay for boys to dress like girls or girls to dress like boys."
Austin Lacey, a 13-year-old student in Menifee, California, recently dressed up as Elsa from Frozen for his middle school's "Disney Day."
"I wore it for fun because I'm just one of those people, I like to go all out," Lacey told KTLA.
His classmates loved the costume and asked to take selfies with him.
But school officials were not fans.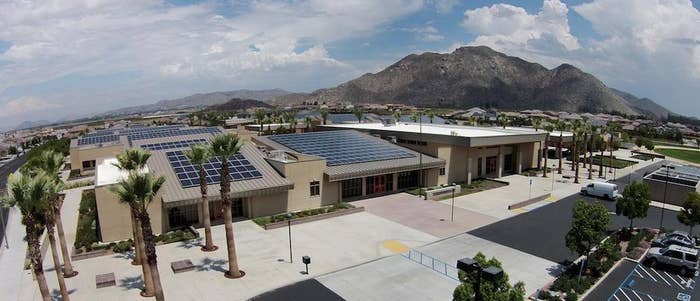 BuzzFeed has contacted the school and Francev for comment, but on Facebook she said she met with the principal, who allegedly told her he confiscated the costume as it was a "distraction" and even "dangerous."
"The statement made to me was, 'It is not okay for boys to dress like girls or girls to dress like boys,'" Francev wrote.
The school district's superintendent, Dr. Julie Vitale, issued the following statement:
"This action was taken in accordance with district policies. At no time was there an indication that the student was expressing any particular message. The Principal's action was based upon the need to stop a general disruption to the school environment. The Romoland School District prides itself on having policies and practices that support all students regardless of gender identity or gender expression."
In protest, and to support the LGBT community, Lacey's classmates plan to wear clothing that breaks gender stereotypes all next week, according to a picture of a flyer that Francev posted on Facebook.
"My son, personally, he's not a transgender student," Francev told KTLA. "But through this, he's really taken a stand on the rights that all people have. Equal rights."