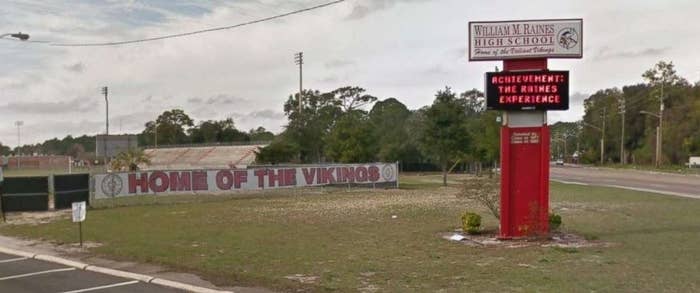 One person is dead and two are injured after a triple shooting at a high school football game Friday night in Jacksonville, Florida.
The shooting occurred just outside the stadium at William M. Raines High School as people were leaving the game, the Jacksonville Sheriff's Office said.
Two teenagers, one male and one female, were wounded and are now "stable at the hospital and being treated," Director Ron Lendvay with the sheriff's office said in a news conference.
The third victim, who was described as a "young adult male," died at the scene.
Identities of the three victims have so far not been made public.
The suspect, who has not yet been caught, was described as "a single black male shooter." It's "too early to say" if he attended the game, Lendvay said.
The motive for the shooting is not currently known, but Lendvay said police would investigate whether "some disturbances, some fights that took place" at the end of the game played a role.
Video from earlier in the game showed players lying on the field during some sort of disturbance that briefly halted play. It is not yet clear if this was related to the shooting.
Footage recorded later shows police arriving on the scene, as well as a woman wailing on the sidelines of the field.
"Somebody got shot in the face up there! At the gate!" another woman says in the video.
About 4,000 people attended the football game, and the sheriff's office is asking witnesses to the shooting to come forward with any information they may have.
"I would hope that everybody would understand that when a tragedy like this happens, that that individual is somebody's son, somebody's significant other," said Lendvay. "And if you think about the people in your life, in your family, and what you would want as far as justice for your loved one," he said, "I would hope that would compel folks to come forward and help us find justice for this family."
Duval County Public Schools Superintendent Dr. Diana Greene, who attended the game with her husband, told Action News Jax it was a "troubling reflection of what's happening in our community."
The school district said it will meet on Saturday "to determine if further safety precautions need to be taken at future games or events to deter potential incidents of violence."