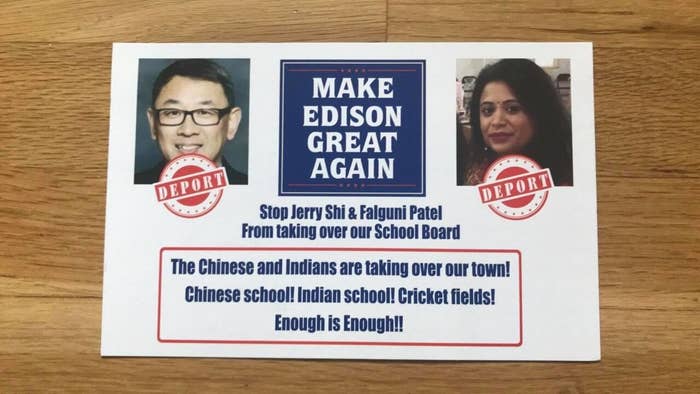 On Wednesday, residents of Edison, New Jersey, got flyers in the mail that targeted two Asian candidates for school board with racist messages.
The anonymously mailed flyers said "Make Edison great again," and featured photos of candidates Jerry Shi and Falguni Patel with red "deport" stamps on them.
"The Chinese and Indians are taking over our town! Chinese school! Indian school! Cricket fields! Enough is Enough!!" read the flyer, a copy of which was provided to BuzzFeed News by an anonymous recipient.
The back of the flyer called for an end to "overcrowding," "taking over our sports fields," "McMansions," "multiple families living in the same house," "wasting school holidays," and "the outsiders."
"Let's take back our Edison," it said.
The flyer was mailed anonymously, and no person or group has claimed credit for sending it.
It also doesn't disclose who paid for them, which violates New Jersey election law.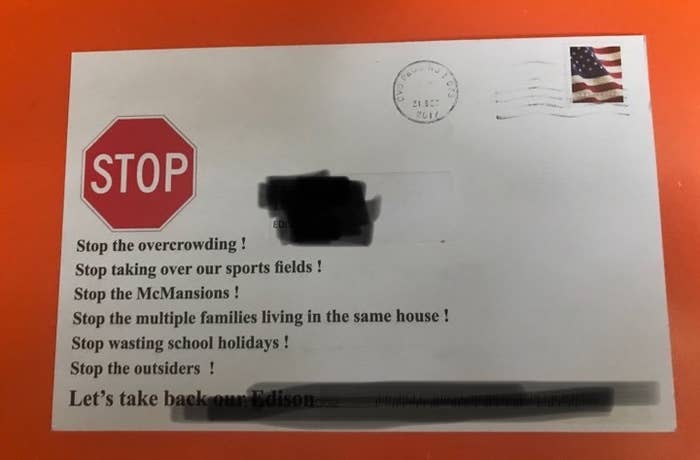 Edison has a huge population of Asian residents, with nearly a third identifying as Indian in 2010, according to the 2010 census. That number is now estimated to be almost half.
In a joint statement, Patel and Shi told BuzzFeed News said they would not bow to racist attacks and vowed to move forward with their campaigns:
We decided to run for the Edison Board of Education so we can improve educational opportunities for all the students of Edison, this is the only reason we got involved. Edison is a wonderful community full of amazing people of all backgrounds, this is our strength. So, we will not be distracted by these unfortunate attacks. They are un-American and not the Edison we know. Those who are responsible for these actions should be held accountable.

When our naysayers go low, we will go high and double our efforts to build a better future together. We will continue to focus on our campaign and work for the students and taxpayers of this town that we love.
Patel is a Democratic committeewoman and an immigration lawyer, and is running for a position on the school board for the first time.
Shi was appointed to the school board in 2014, and is now running for reelection.
School board president Frank Heelan decried the flyer and said town residents are "proud of all our ethnic groups in Edison, and cherish our Asian-Americans as good neighbors and leaders for today and tomorrow."
In a Facebook post Thursday, town mayor Tom Lankey, a Democrat, denounced the mailer and said he would investigate where it came from.
"It has become a sad reality that in our polarized political atmosphere, some people suddenly feel empowered to publicly express these vile nativist ideas," said Lankey.
Lankey's Republican challenger for mayor, Keith Hahn, called the flyers "disgraceful and unacceptable" and also vowed to investigate the "anonymous cowards" who sent it.