The true icon of summer 2018 has been found, and it is this bear that was recently spotted taking a dip in a Jacuzzi, drinking a margarita, and then passing out for a two-hour nap in a tree.
video-player.buzzfeed.com
Mark Hough, who spotted the bear in his backyard in California Friday afternoon, told BuzzFeed News that he and his wife had just sat down outside for a drink when the bear showed up.
"My wife came home from work and requested a margarita, so we made a couple margaritas and went out to the pool to relax in the sun," said Hough. "Then, I heard some crackling of branches coming from my neighbor's side of the property."
When the crackling got louder, Hough walked over to investigate.
"I realized, 'Oh my, there's a bear coming into our yard!'" said Hough. "So, I yelled to my wife to grab the dogs because they'd been laying out in the sun, and we hightailed it down to our house."
After a few minutes, he ventured back outside to see if the bear had left. He didn't see it at first — but then he looked to his right.
"And lo and behold, he was in my Jacuzzi," Hough said.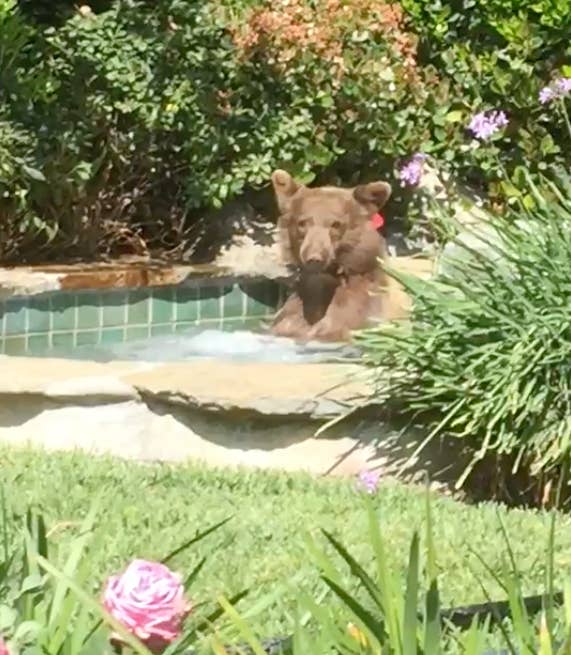 Hough said the bear was "bobbling away having fun, playing with the chlorinator and the thermometer, and grabbing the string of the thermometer and throwing it up in the air."
He stood "about 15 feet away" and started filming.
The bear was "playful" and "kinda cute, even though he's huge," Hough said.
Eventually, the bear got out of the Jacuzzi and headed toward Hough's abandoned margarita (his wife had grabbed hers when they first ran inside because priorities).
video-player.buzzfeed.com
"So the bear goes straight over, knocks it over, and laps it up," said Hough.
The bear, presumably wasted, then decided it was time to pass the fuck out.
"It walks around the yard a little bit, and eventually, climbs up a tree and takes a two-hour nap," said Hough.
The bear woke up and left shortly after that.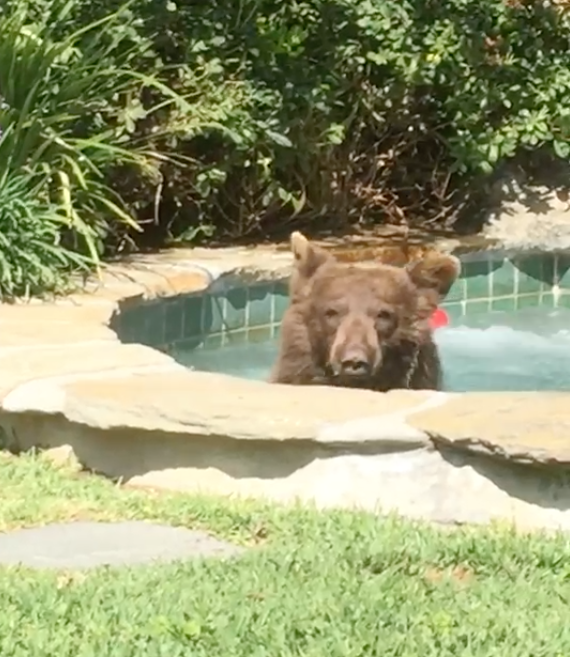 Hough never saw the bear again, but he said it was spotted in the neighborhood a few days later.
Los Angeles County Sheriff's Deputy Joana Warren told the Associated Press that there were six calls about bear sightings on Friday, but that the department was unable to locate the bear.
Police did not immediately respond to a request for comment from BuzzFeed News.
It wasn't until later that it dawned on Hough that the situation had actually been quite dangerous, he said.
"I wasn't really afraid," said Hough. "He seemed pretty calm so I stayed calm. It wasn't til a couple hours later I thought, 'Oh boy, what was I doing?'"