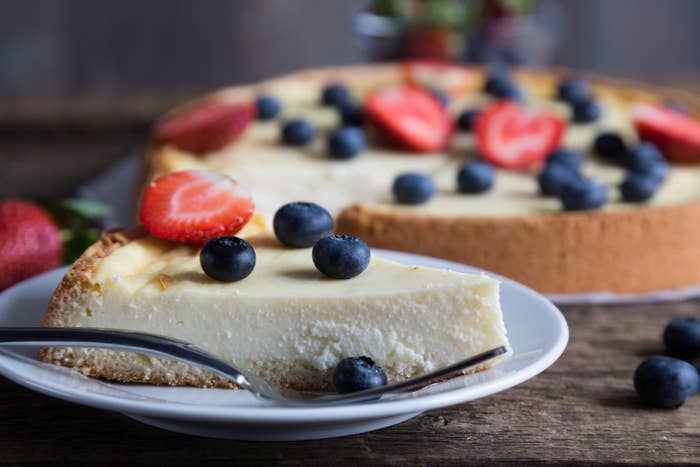 A Russian woman living in Brooklyn was indicted Thursday for attempted murder after allegedly poisoning her doppelgänger with a cheesecake and stealing her identity.
Viktoria Nasyrova, 42, who is already serving a prison sentence at Rikers Island, faces additional prison time if convicted for this crime.
Nasyrova allegedly visited the then-35-year-old victim's house in Queens in August 2016 and presented her with a cheesecake as a gift.
The public defender's office, which is representing Nasyrova, didn't return a request for comment.
The two women look alike, both with dark hair and the same skin complexion, according to the indictment. Both also speak Russian.
After eating the cheesecake, the victim felt ill, laid down, and passed out. The last thing she says she remembers is Nasyrova sitting beside her.
The victim survived. She was found by a friend the following day, in bed wearing lingerie and surrounded by pills — a scene that made it look like she had attempted suicide. She was then taken to the hospital to be treated.
When she returned from the hospital, the victim discovered her passport and employment card were missing, as well as cash and a gold ring, law enforcement officials said.
Police tested the remaining pieces of the cheesecake, which were left in its container, and found that they were laced with phenazepam, a narcotic made in Russia. The pills that had been left around the victim were determined to be the same drug.
Nasyrova was arrested in Brooklyn in March 2017, and police found the victim's ring, passport, and employment card.
"This is a bizarre and twisted crime that could have resulted in the death of a Queens woman, whose only fault was that she shared similar features with the defendant," Queens District Attorney Richard A. Brown said.
Nasyrova has previously been accused of murdering a woman in Russia and reportedly fled to Brooklyn, where she worked as a dominatrix.
There, she was accused of meeting men on dating sites, drugging them, and robbing them while they were passed out, which she was eventually arrested for and charged with grand larceny.