A program called "#StopWhitePeople2k16," which was offered at Binghamton University as part of RA training, is drawing controversy because some people are calling it "anti-white."
The class, which was optional and developed by students, was intended "to facilitate a discussion among the RAs that would improve their ability to handle conflicts among residents around issues of diversity," Vice President for Student Affairs Brian Rose said in a statement.
An op-ed in the Binghamton Review, the university's "student-run periodical of libertarian and conservative thought," denounced the course and described it as "promoting prejudices."
Opponents of the course flooded Binghamton's Facebook page with comments, many from alumni saying they hope the school gets shut down.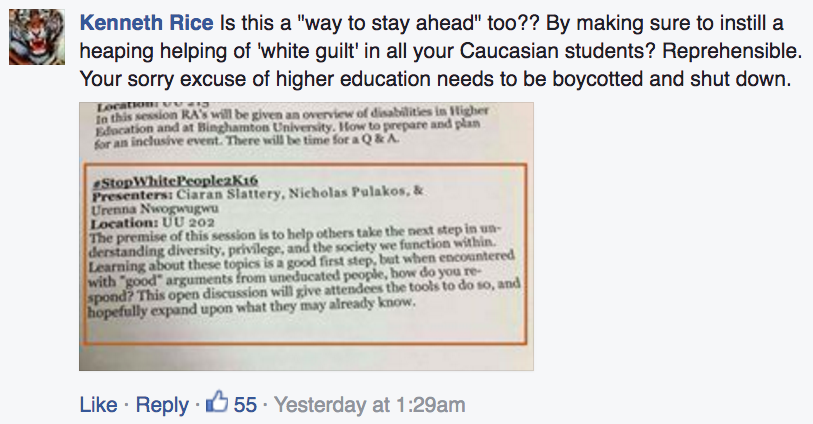 Others expressed their support for the course.
The student affairs office reviewed the program after hearing of concerns and "verified that the actual program content was not 'anti-white,'" Rose said.
He also noted that the hashtag "#StopWhitePeople2k16" was not invented by program leaders and "is commonly used ironically."
"As the senior student affairs officer on campus, I'm supportive of the students' efforts to facilitate dialogue around a challenging set of topics," Rose said. "I have no indication that this particular program was inconsistent with the respectful environment we hope to support and sustain."