A number of unidentified chickens in Brooklyn did not succeed in crossing the road Friday morning.

Cullen Camic, who filmed the video of a mysterious sea of raw chicken covering the street, told BuzzFeed News he has no idea what happened, but "it was fowl."

He first came upon the clucky catastrophe early Friday morning near Wyckoff Street and Bond Street, likely shortly after it was dumped, because the chicken was still in a relatively neat pile. He filmed the video about an hour later, after a number of vehicles had run over it and spread it along the road.
"When I first saw it, it was just like a white mound, much more cohesive than in the video," he said.
Camic said the original chicken mound was about a foot high and covered "the whole street."
"It was a large amount of chicken," he said.
Camic sent his girlfriend the video, who passed it on to writer Sara Vilkomerson. "Does anyone know what the hell kind of chicken massacre happened in Boerum Hill?" she tweeted.
The chicken didn't smell as bad as it looked because it seemed "pretty fresh," Camic said.
"It was clean chicken, probably headed to Popeye's or something," Camic said. "It looked like some weird piece of abstract art."
Popeye's — which just emerged from an internet-fueled craze over its fried chicken sandwiches and coincidentally has a location just a few blocks away from the scene of this plucky crime — told BuzzFeed News on Tuesday they were not responsible for the mysterious chicken mess.
It made for treacherous walking, Camic said.
"I almost slipped when I was taking [the video] because I stepped on a piece of chicken fat. Nearly took a header," he explained.
The Department of Sanitation arrived somewhat quickly and "scooped it all up in a frontloader," Camic said.
A spokesperson for the Department of Sanitation confirmed the cleanup to BuzzFeed News, and said they are now investigating the origins of the poultry disaster.
"A DSNY mechanical broom addressed the condition at 10:00 a.m. A flusher (truck with water) is on the way to address any remaining street residue," the spokesperson said.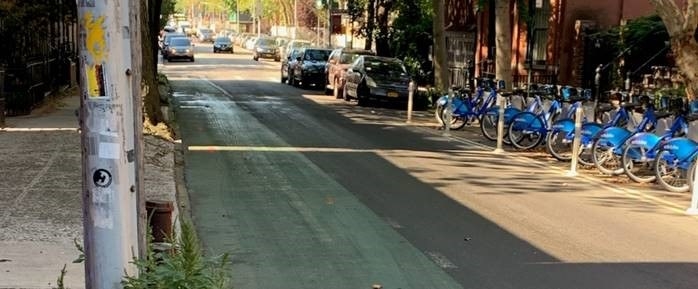 Police told BuzzFeed News they responded to a 911 call about the incident.
"Upon arrival officers observed employees of the Department of Sanitation cleaning up raw chicken parts on the road," police said.
Though it is not yet known where the chicken came from — or where it was going — at least one person out there has answers.
"Someone was driving behind that car," Camic said.
This is a developing story. Check back for updates and follow BuzzFeed News on Twitter to stay abreast of this situation. 🐔