Nyansapo is a black feminist festival due to take place in July. The event was announced in early April and organized by the Mwasi group, a collective of black women and people of African descent.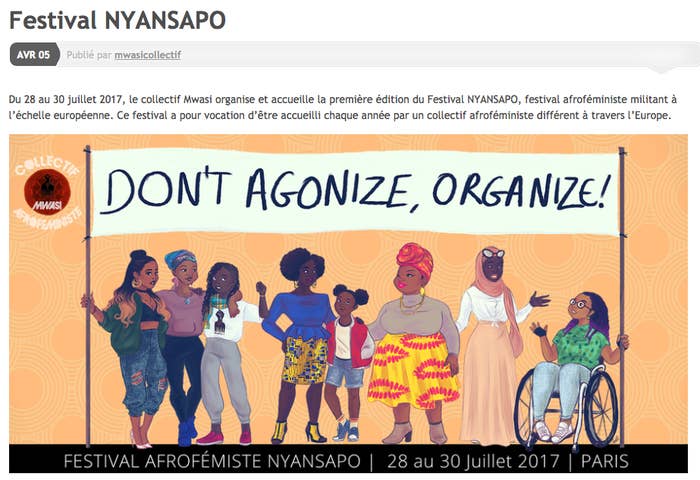 However, last Thursday, Pierre Sautarel, a blogger associated with the far-right news site Fdesouche, tweeted a link to an Fdesouche post about the festival. The article claims that the festival was "forbidden to whites."
The official Nyansapo festival website says certain number of spaces have been reserved for black women, some for black women and men, and others for "racialized" women.

Soon after the article was published, user GeorgeOrwell2 brought up the topic on gaming forum Jeuxvideo. The thread has since been deleted.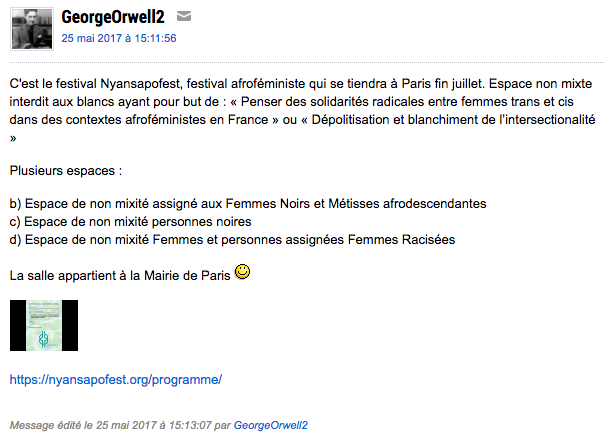 At about the same time, journalists began asking Mwasi about Sautarel's claims.
Aurélien Legrand, of the National Front's Île-de-France branch, then tweeted about the article and mentioned the mayor of Paris, Anne Hidalgo.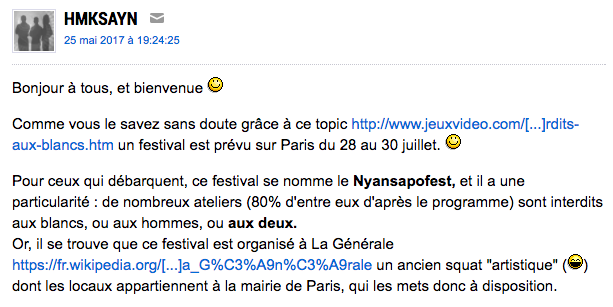 Meanwhile, things started picking up steam on jeuxvideo.com. A thread with the subject, "[PROJECT] to denounce the racism of the festival forbidden to whites", was created early in the evening. The user suggested spamming the festival's official hashtags with hate.
Several people tweeted Anne Hidalgo.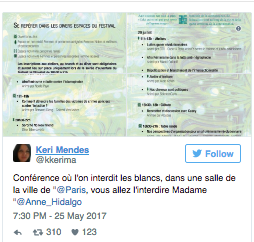 On Friday, the president of the National Front group at the Île-de-France regional council, Wallerand de Saint-Just, asked Hidalgo to "explain."
Then LICRA, the International League Against Racism and Anti-Semitism, also picked up Sautarel's story, condeming the festival.
On jeuxvideo.com, users were delighted to see LICRA join them in their fight.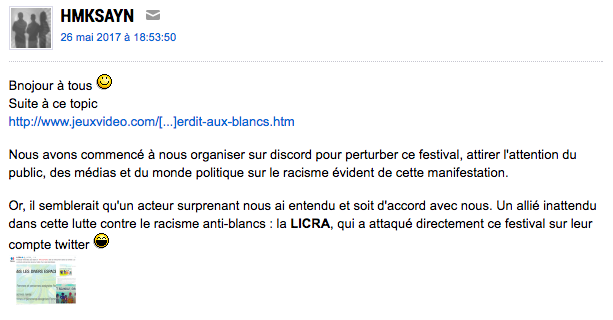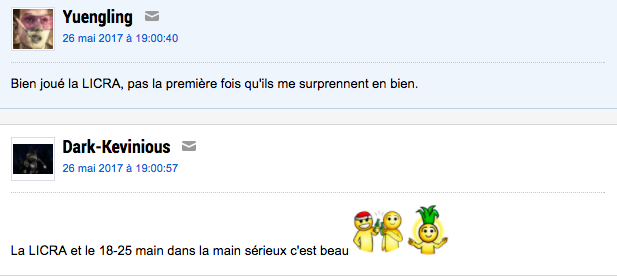 Sautarel was also very pleased with LICRA's stance.
On Sunday, Hidalgo finally spoke on the matter, condemning the organization of the event.
Immediately after the mayor of Paris weighed in, SOS Racisme, a group of NGOs, also condemned the festival.
The Mwasi collective announced on Monday its desire to go ahead with the festival and assured that neither the Paris City Hall nor the police could ban it.
Hidalgo tweeted on Monday that she had spoken to festival organizers, and that any parts of the festival happening in a public space would be open to all. Private workshops would be held in private spaces.

According to Mwasi, this had always been the case. This was disputed by Hidalgo's press adviser.
The actions of Hidalgo and the festival's opponents provoked outrage on Twitter.
Supporters used the hashtag #JeSoutiensMwasi ("I support Mwasi") to express their anger.
BuzzFeed News has contacted Mwasi for comment.