Children In Germany Are Not Being Forced To Recite Muslim Prayers
A prayer was read by two Muslim students, explained the school, in the context of a religious service led by a priest and a pastor.
This week, some international news outlets reported that children at a school in Bavaria had been "forced" to chant "Allahu Akhbar" and "there is no God but Allah" as part of a prayer.
An unnamed father of a pupil at a school in Garmisch-Partenkirchen, Bavaria, was said to be outraged at the prayer, which apparently happened during a school ethics lesson.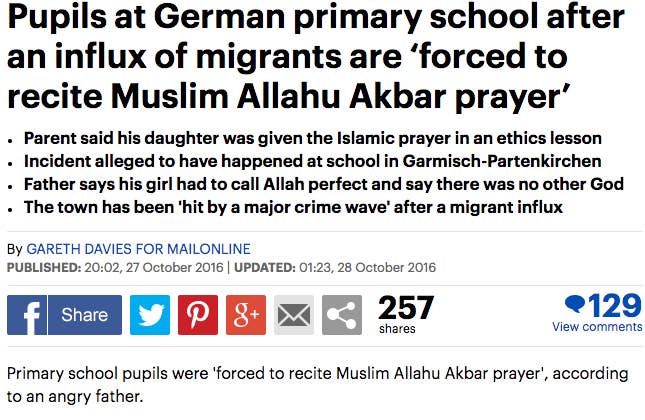 The story appears to have originated from the Facebook page of an extreme right group in Germany called the Bündis Deutscher Patrioten. Here is what the nationalist group claims:
A disgusted father came to see us, because his daughter, in Grade 1, had to learn a passage from the Qur'an by heart. The students had to read, line after line during the ecumenical service, the surahs!"
The group is also sharing a document which had been distributed to the students. It says: "Thank you for letting two students read the lines in Arabic and in German alternatively."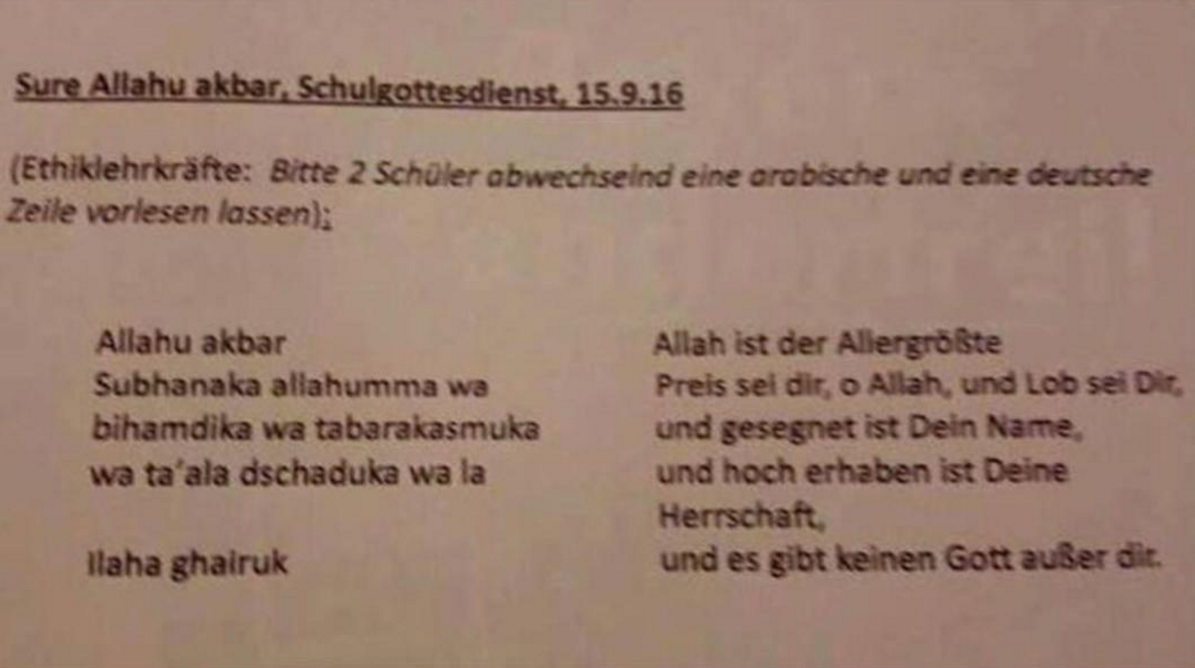 However, in a statement published on October 24th, the educational authority of the Garmisch-Partenkirchen borough — the equivalent of a rectorship — explained that only two students read the Qur'anic prayers, after all students present read the "Our Father".
These prayers were held during the ecumenical service of the start of the school year on Sept. 15 last year.
In an article for Munich-based publication Münchner Merkur, Rev. Thomas Schmit, one of the religious figures involved in the service, said the prayer was optional for students so they could learn how prayers from different religions "sound."
The article also states that the school has received numerous threats because of the controversy.
This is not the first time the town of Garmisch-Partenkirchen has had stories about the town misreported in the international press.
Earlier this month, several places reported that the town has been hit by a "explosive refugee crime wave." Libération published a piece shortly after stating that a lot of these claims had been exaggerated.
BuzzFeed News has reached out to all the publications cited in this post for comment.