Shotgun-Wielding Militiamen Mistake Bat Researchers For Illegal Border Crossers
The militia members stopped a group of scientists who were counting bats in a cave near the border in southern Arizona.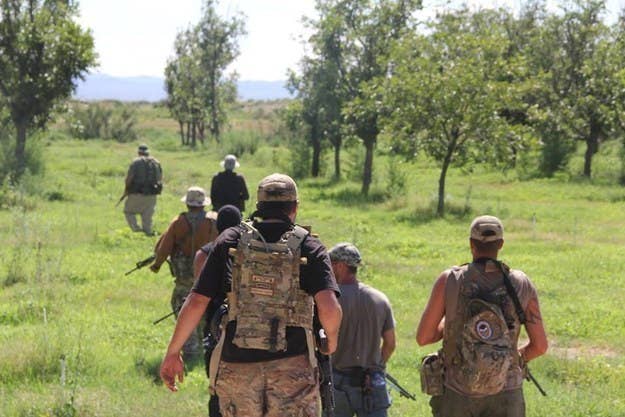 Three scientists who were studying bats in a cave near the U.S.-Mexico border in southern Arizona were confronted by heavily armed militiamen who mistook them for illegal border-crossers or smugglers.
The incident is the latest in a series of mishaps reported over the past few weeks involving militia groups who flocked to the border in response to a surge in the number of Central American immigrant children and families crossing the border in the Rio Grande Valley.
The Arizona researchers reportedly told a sheriff's deputy they were walking back to their campsite on Aug. 23 when a group of men who later identified themselves as a militia group shone a spotlight and started shouting at them in Spanish, the Nogales International reported.
The scientists identified themselves and continued on their way, but the militiamen — dressed in camouflage clothing and carrying a shotgun — later apologetically approached the scientists again at their campsite, leading to another "aggressive" encounter. The militiamen did not threaten or point their guns at the researchers, but one scientist said he was concerned for the safety of others who were camping in the area.
Border Patrol and the Santa Cruz County Sheriff's Office, who both responded to the calls on the incident, did not identify the persons involved.
A spokesperson for a hotline that helps organize militia groups has said there are at least 10 groups operating near the border in Texas, Arizona, and California.
In another encounter in South Texas last month, Border Patrol agents attempting to apprehend a group of immigrants in a canal near the Rio Grande confused a group of camouflage-clad militia members for a tactical unit from the Texas Department of Public Safety. Nobody was physically hurt and the immigrants were detained, but the incident prompted Border Patrol to circulate an "issue paper" warning other agents, the Associated Press reported.
Just last week, a Border Patrol agent fired several shots at an armed man who reportedly identified himself as a member of a militia group while agents were pursuing a group of immigrants in an wooded area also near the Rio Grande, the AP reported.