ACLU And Immigrant Rights Groups Accuse Border Patrol Of "Widespread" Child Abuse
Children and teenagers were kicked, yelled at, forced to drink from toilets, and denied food and medical care, according to a complaint filed today.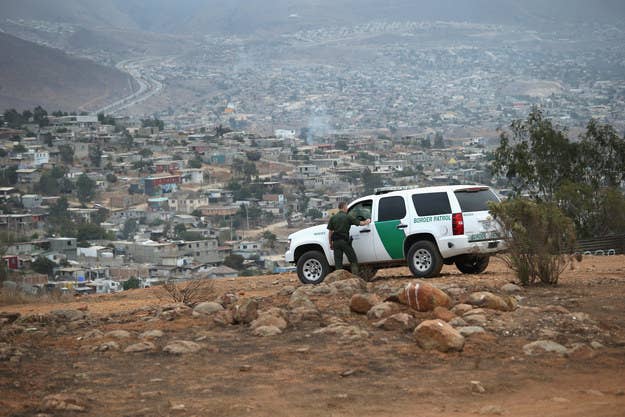 LOS ANGELES — The American Civil Liberties Union and a coalition of immigrant rights organizations are accusing U.S. Customs and Border Protection of systemic physical abuse and mistreatment of unaccompanied immigrant children in its custody, according to a complaint filed Wednesday.
In graphic detail, the document describes children and teenagers being shackled in stress positions, kicked, yelled at, forced to drink from toilets, denied food and medical care, and otherwise abused and threatened. It was lodged with the civil rights office of the Department of Homeland Security and the agency's inspector general.
"Children are being abused on a massive and widespread scale," said James Lyall, a border litigation attorney at the ACLU in Arizona. "This is an urgent crisis that needs to be addressed immediately … These children's stories are horrific."
In a statement, Customs and Border Protection (CBP) says it "strives to protect unaccompanied children with special procedures and safeguards." It said that nutritional and hygienic needs are met and "mistreatment or misconduct is not tolerated."
The allegations come as federal officials have in recent weeks been overwhelmed by a surge of thousands of unaccompanied children who have flooded across the border, many of them fleeing violence and poverty in Central America. The government has opened up military bases to house the children temporarily.
Border patrol officials in a statement Wednesday said they have "taken extraordinary measures to care for these children while in custody and to maintain security in overcrowded facilities."
Even before the recent surge, however, the ACLU complaint alleges that the government was holding children for days at a time in crowded, unsafe, and freezing-cold detention cells, and often meting out physical and verbal abuse along with rotten food.
A 13-year-old boy picked up near Brownsville, Texas, said that Border Patrol agents allowed their service dog to scratch his face, then denied him medical treatment for the bleeding wound and impaired vision that resulted. They put him in shackles that were too tight and hurt him, according to the complaint.
A 16-year-old girl traveling with her 2-year-old son said she was put into a freezing-cold holding cell with 30 other people, and not given any blankets. On the third day, the girl realized her son was feverish. One official gave her a wet towel to try to reduce the baby's fever, but her pleas for additional medical assistance fell on deaf ears.
A 17-year-old-girl cut her hand on a fence while trying to cross the border, but instead of giving her medical assistance, the Border Patrol agent who apprehended her "squeezed the wound, causing her great pain," the complaint says. Then he reportedly told her, "It's good that you are hurt, you deserve to be hurt for coming to the U.S."
"Border Patrol agents are committing appalling abuses of children all along the border," said Ashley Huebner, managing attorney of the Immigrant Children's Protection Project at the National Immigrant Justice Center. "Even worse, Border Patrol has been committing these abuses for years, and our organizations have notified the agency numerous times, yet nothing has changed. The recent increase in arrivals of young people at the border makes it especially urgent that CBP ensure all children in their custody are treated safely and humanely."
The minors included in the complaint, who are identified only by their initials, range in age from 5 to 17 years old. They were interviewed this spring about their experiences in Border Patrol custody, and most of the alleged abuses took place within the last year, according to Erika Pinheiro, directing attorney for community education programs at Esperanza Immigrant Rights Project.
All told, about a quarter of the minors claim they were physically abused. More than half said they were verbally abused and denied medical care, including a child whose asthma medication was seized even as she suffered multiple asthma attacks.
The complaint was filed by the American Civil Liberties Union, the National Immigrant Justice Center, the Esperanza Immigrant Rights Project, the Florence Immigrant and Refugee Rights Project, and Americans for Immigrant Justice. It calls upon the government to conduct a "prompt and thorough investigation into each of these allegations, and to take swift action … to fully address the systemic problems at CBP."
It also asks the government to improve its detention standards, make provisions to care for unaccompanied children, and develop procedures to immediately transfer children suffering from medical conditions to safer places.
The complaint echoes the results of other investigations into alleged mistreatment of immigrants by Border Patrol agents, including a report from the American Immigration Council last month that found that CBP took no action in 97% of abuse allegations.
Earlier this week, amid such criticisms, the head of internal affairs for CBP was removed from his post.