Yahoo And Tumblr Make It Official
"We promise not to screw it up." There's even a GIF.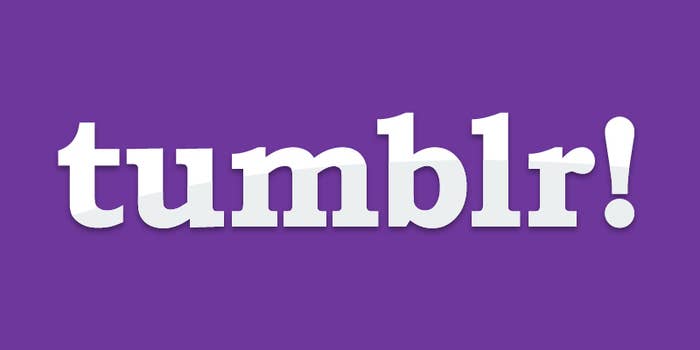 It was essentially a done deal after Sunday's news that Yahoo's board was offering to purchase Tumblr for $1.1 billion, but the two companies made it official Monday morning with a joint announcement. Yahoo CEO Marissa Mayer will hold a news conference Monday at 5 p.m. EST. The sale, according to Yahoo's press release, is expected to close later this year.
The Yahoo! press release:
Yahoo! Inc. (YHOO) and Tumblr announced today that they have reached a definitive agreement for Yahoo! to acquire Tumblr.

Per the agreement and our promise not to screw it up, Tumblr will be independently operated as a separate business. David Karp will remain CEO. The product, service and brand will continue to be defined and developed separately with the same Tumblr irreverence, wit, and commitment to empower creators.

With more than 300 million monthly unique visitors and 120,000 signups every day, Tumblr is one of the fastest-growing media networks in the world. Tumblr sees 900 posts per second (!) and 24 billion minutes spent on site each month. On mobile, more than half of Tumblr's users are using the mobile app and do an average of 7 sessions per day. Its tremendous popularity and engagement among creators, curators and audiences of all ages brings a significant new community of users to the Yahoo! network. The combination of Tumblr+Yahoo! is expected to grow Yahoo!'s audience by 50 percent to more than a billion monthly visitors, and to grow traffic by approximately 20 percent.

...
The Tumblr announcement:
Everyone, I'm elated to tell you that Tumblr will be joining Yahoo.

Before touching on how awesome this is, let me try to allay any concerns: We're not turning purple. Our headquarters isn't moving. Our team isn't changing. Our roadmap isn't changing. And our mission – to empower creators to make their best work and get it in front of the audience they deserve – certainly isn't changing.

So what's new? Simply, Tumblr gets better faster. The work ahead of us remains the same – and we still have a long way to go! – but with more resources to draw from.

Yahoo is the original Internet company, and Marissa and her team share our dream to make the Internet the ultimate creative canvas. I couldn't be more excited to have her help. We also share a vision for Tumblr's business that doesn't compromise the community and product we love. Plus both our logos end with punctuation!

As always, everything that Tumblr is, we owe to this unbelievable community. We won't let you down.

Fuck yeah,
David
And the GIF, courtesy of Yahoo CEO Marissa Mayer: