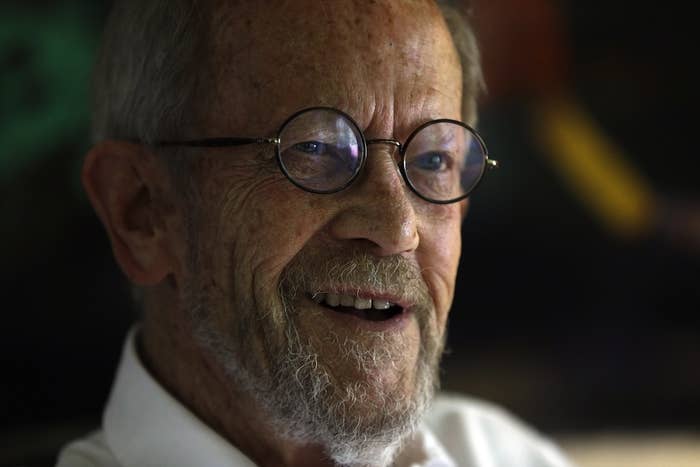 Crime writer Elmore Leonard died Tuesday morning at age 87, his longtime researcher Gregg Sutter announced on Facebook.
"The post I dreaded to write, and you dreaded to read. Elmore passed away at 7:15 this morning from complications from his stroke. He was at home surrounded by his loving family. More to follow."
On Aug. 6, Sutter told the Associated Press that Leonard's family was "guardedly optimistic" after he suffered a stroke and was recovering at a Michigan hospital.
The "Dickens of Detroit" penned more than 45 novels, including Hombre, which was adapted for the 1967 film; Get Shorty, adapted for the 1995 film; Out of Sight, adapted for the 1998 film; and Rum Punch, adapted for 1997's Jackie Brown. He also wrote the 1953 story Three-Ten to Yuma, adapted for film twice.
Leonard, nicknamed "Dutch," had lived in Detroit since he was 10. He served in the Navy during World War II and studied English at the University of Detroit. But Leonard, today considered among the 20th century's most successful crime writers, didn't have an easy start as a novelist, his AP obituary notes. His 1969 book The Big Bounce was rejected 84 times before it was published; he didn't have a best seller until he was 60.
In 2011, Leonard, then 85, accepted a Peabody Award along with Justified's executive producer Graham Yost and actor Timothy Olyphant. Leonard wrote 2001's Fire in the Hole, on which Justified was based, and 2012's Raylan, which was inspired by the television show. Last November, he also accepted the National Book Foundation's Medal for Distinguished Contribution to American Letters.
Leonard's 1978 novel The Switch was recently adapted into Life of Crime, a film directed by Daniel Schecter and starring Jennifer Aniston set to premiere at the Toronto International Film Festival.
Schechter tweeted about Leonard's passing on Tuesday: