Wendy Davis Is Definitely Maybe Running For Texas Governor
Politico and the Associated Press cite sources close to the state legislator. Davis, famous for her failed filibuster of an abortion restrictions bill in June, hasn't yet made the announcement.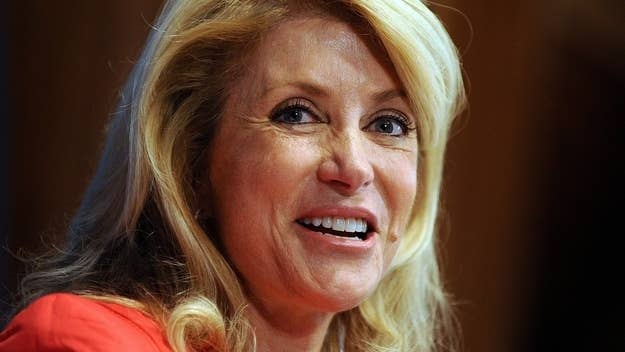 Democratic state Sen. Wendy Davis is running for Texas governor in 2014, according to a Politico report citing "sources familiar with Davis's conversations."
Two hours after Politico broke the news, the AP confirmed the report, citing "two people with knowledge of the decision."
Two Democrats spoke to AP on condition of anonymity because they did not want to pre-empt her formal announcement scheduled for next week.
The stories confirm what many have long guessed: that Davis — nearly a household name after her 13-hour filibuster against a sweeping abortion bill — will ride her social media-fueled momentum to the seat vacated by Republican Gov. Rick Perry.
Davis is expected to make the announcement next week.
Republican Greg Abbott announced in July he was running to fill Perry's spot. A month later, the state attorney general came under fire for tweeting thanks to someone on Twitter who had called Wendy Davis a "retard Barbie."
"I thank supporters on Twitter, but I don't endorse anyone's offensive language," Abbott later tweeted. "Stay positive."