The Youngest And Oldest Marchers At The DC Women's March
BuzzFeed News interviewed marchers under 21 and over 50 about the equal rights fight in Trump's new America. Hundreds of thousands of demonstrators came from all over the country to Washington, DC, for the Women's March on Saturday.
Sandra Baskin, "I'm a fine senior," Illinois (left), and Isa Boix, 13, Pennsylvania (right)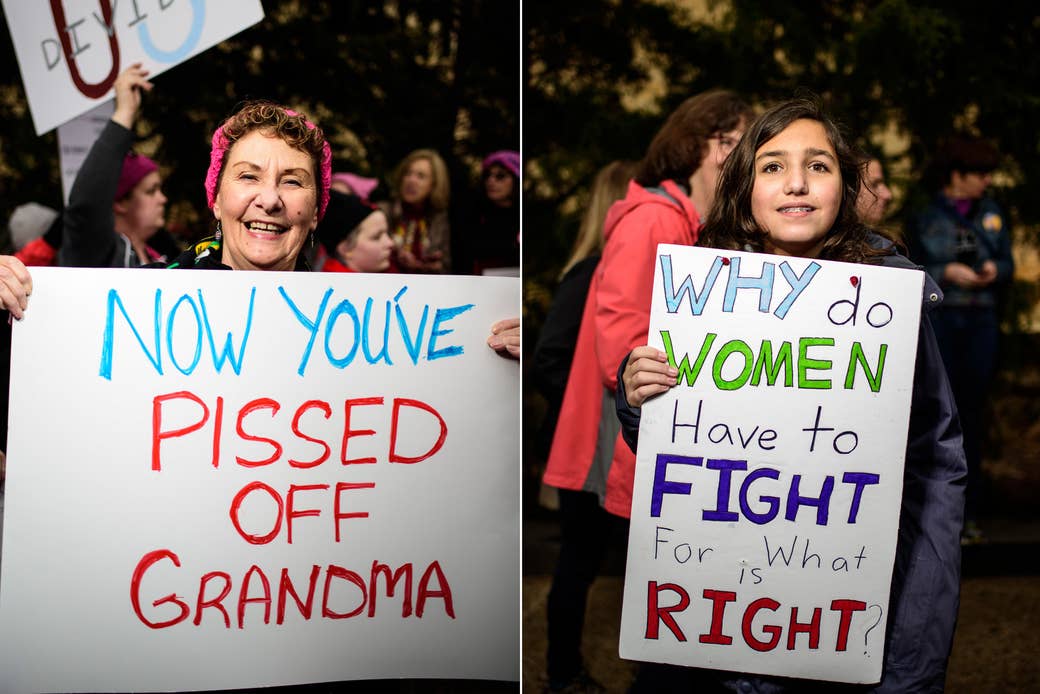 Sandra
"I want to be part of the 'This is not normal' movement. This is not normal! The minute we knew this was happening we booked a hotel. Since we got in, it's been all tears and hugs. The camaraderie of women together has been amazing."
Isa
"We should have won the war for women's rights already. The fact that we have to keep fighting for respect is kind of annoying. My mom always talks about history and how we didn't always have the right to vote. Women had to act a certain way back then, and now we can act however we want, but there's still a little bit more to do."
Diane Seidenstein, 71, Florida (left), and Corrine Lewis, 11, Maryland (right)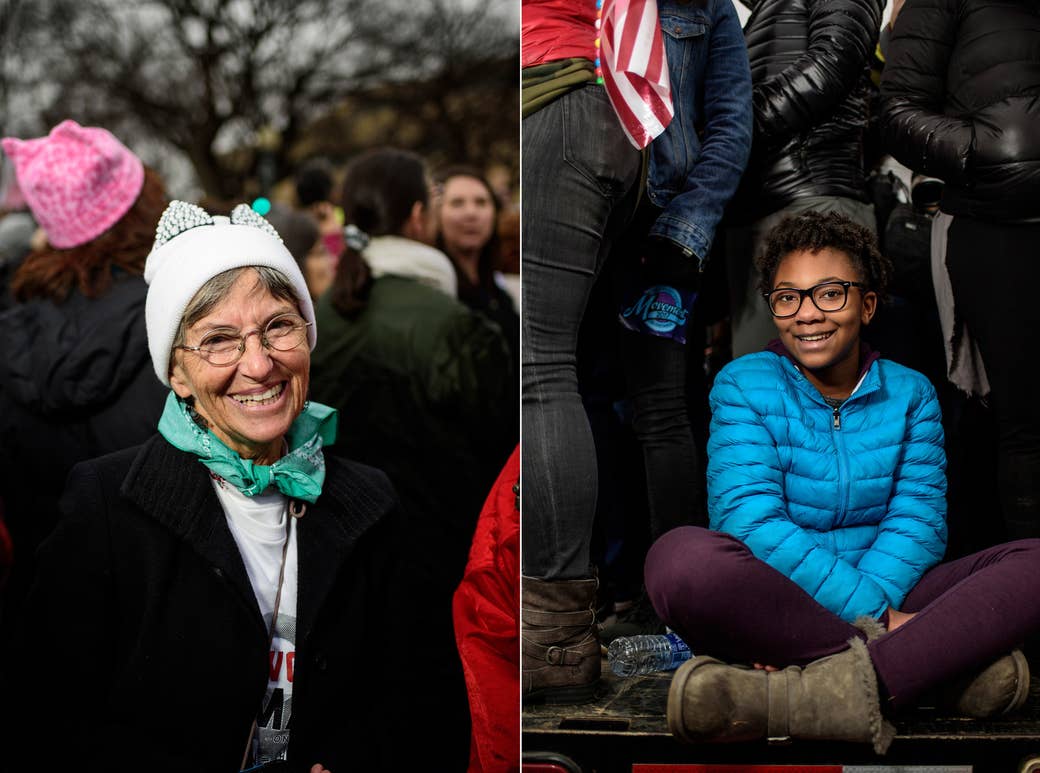 Diane
"This is the first time I have been proud to have wrinkles. I'm seeing my peer group everywhere here. I look at these women and they have so much gravitas and so much power. I've never done this before."
Corrine
"I'm here because of the fact that Trump is president. I'm with my sister, cousin, aunt, and my mom. I like seeing people protest for their rights."
Eugenia Cummins, 19, Indiana (left) and Deeba Ahmad, 50, Florida (right)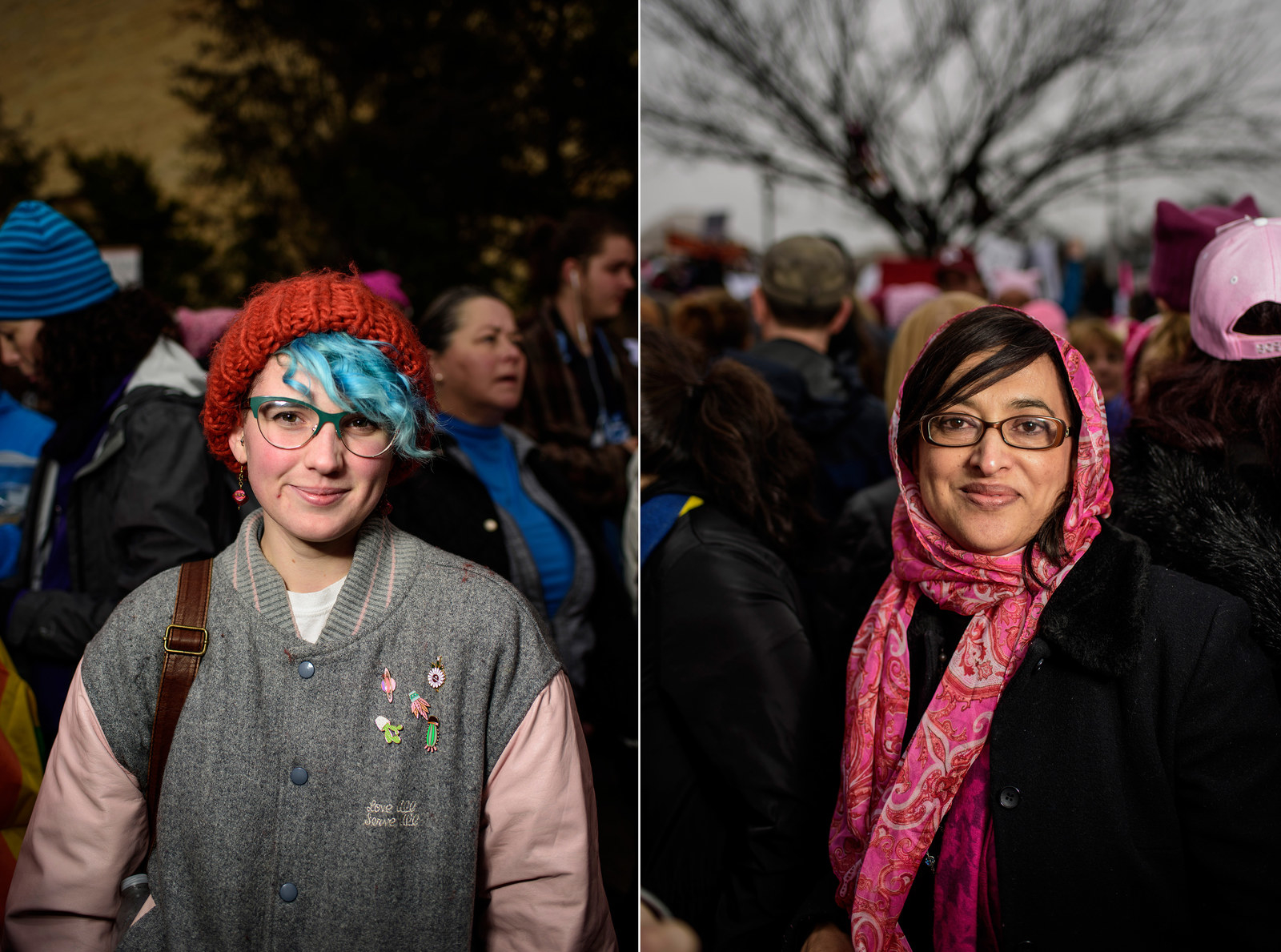 Eugenia
"I've been to a lot of demonstrations in Fort Wayne — for refugees, LGBTQ issues, against GMOs ... I think it's important to participate in public demonstration. I'm really awestruck by the amount of people that are here. There's something empowering about it."
Deeba

"Solidarity with women! I'm a Muslim, and I believe that we need to fight against Islamophobia and every other phobia."
Casie Pepe, 20, Connecticut (left), and Aviva Boix, 9, Pennsylvania (right)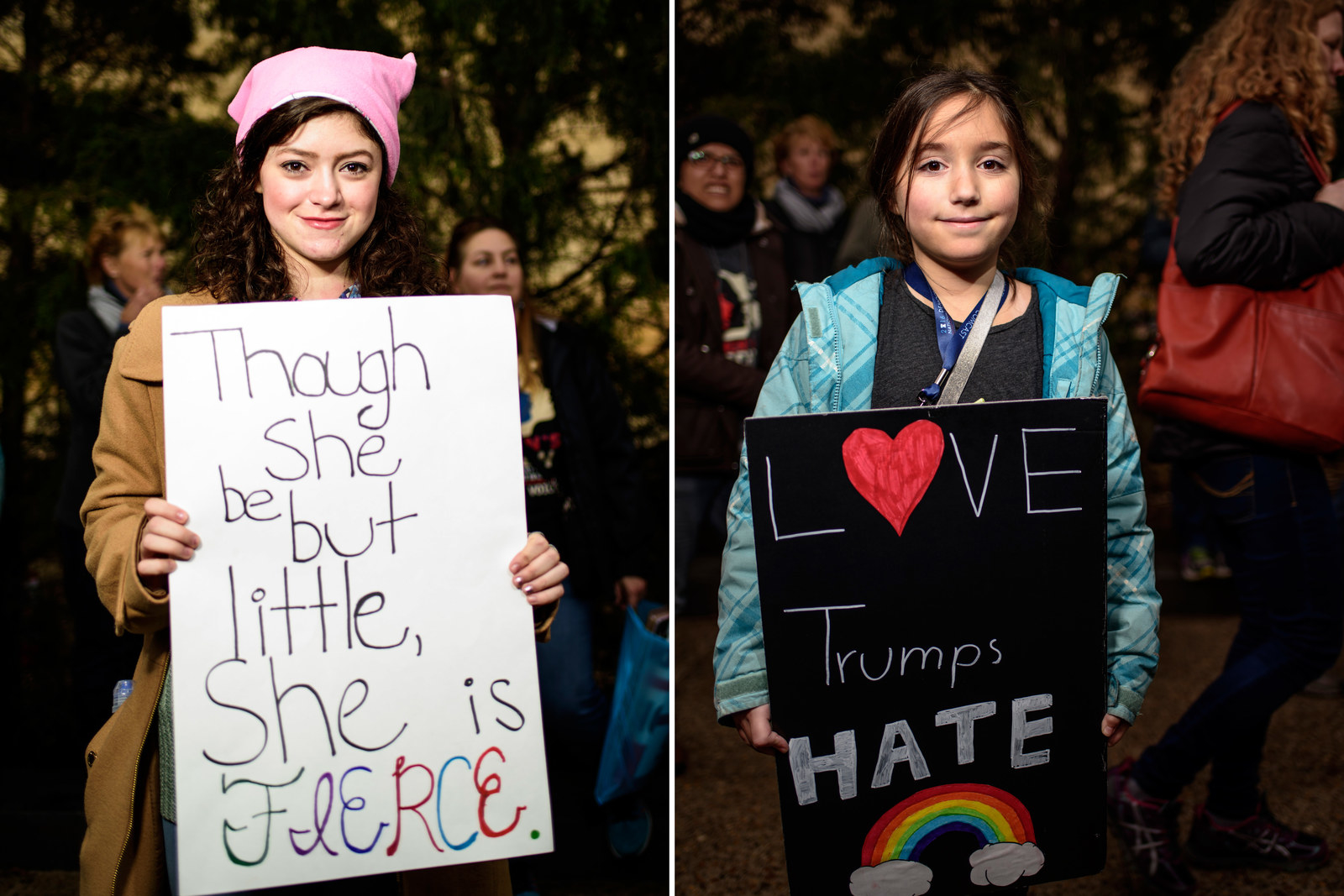 Casie

"Obviously fighting alongside women is incredibly empowering. Seeing everyone in a sea of pink is a beautiful experience. I just studied abroad in London and I went to Bonfire Night, but this is totally different. This is for women to come together and say we're here and we matter and what matters to us matters to this country."
Aviva

"I feel happy to be part of history. Everyone is so nice. A lot of my friends had to do something or they didn't want to come, but I think it's important to come. We should always try to promote women's rights."
Judy Nelson, 75, Indiana (left), and Samara Jordan, 4, North Carolina (right)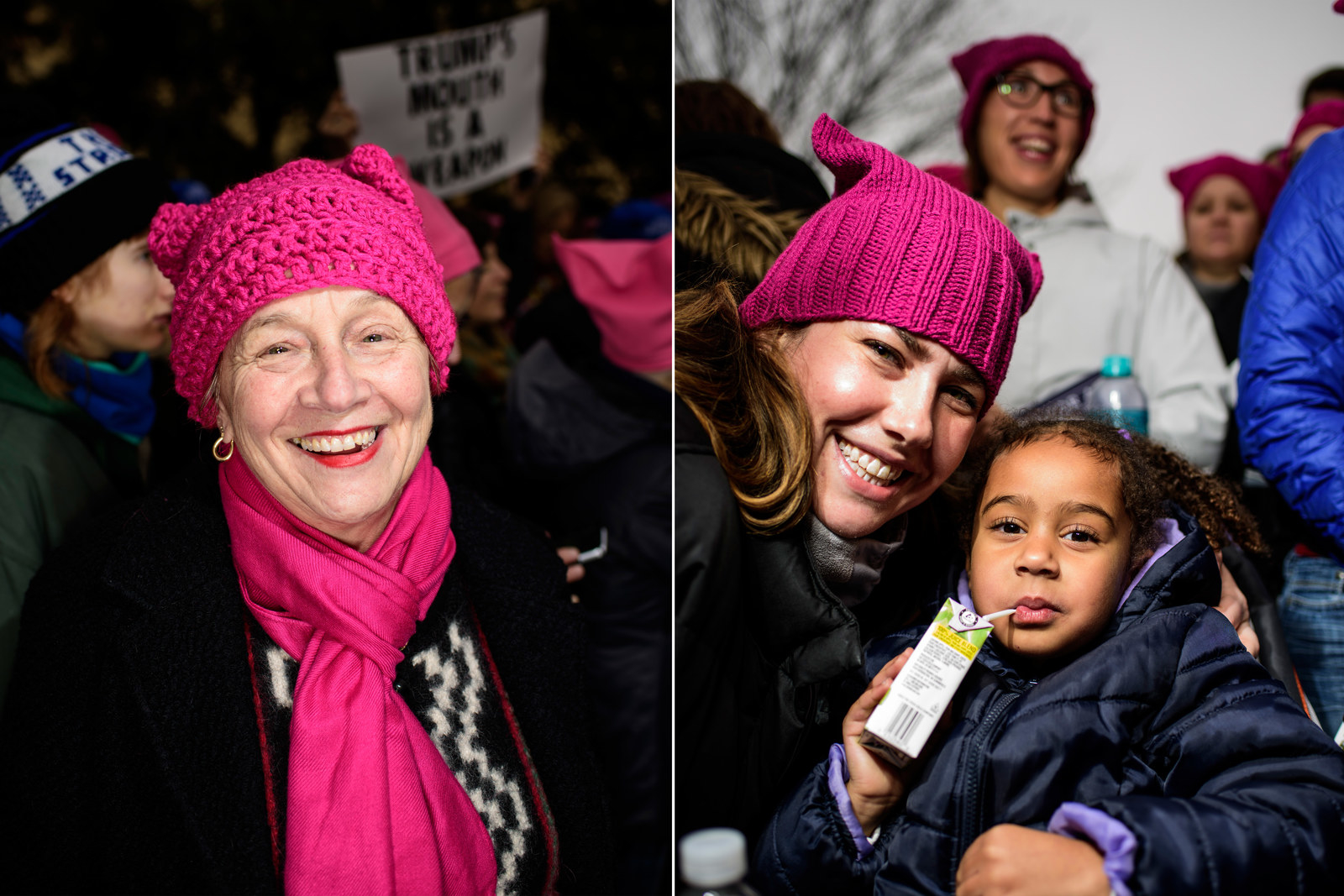 Judy

"I had my granddaughter and daughter on the bus with me. We're so upset we're almost incoherent. I could not believe that Trump was able to win this election. I'm a retired kindergarten teacher and I'm a real Hillary supporter and I was just devastated. I feel we're going to just lose the progress that Barack started for us."
Samara
"I like sharks. We went to the aquarium yesterday." (Her mom, Shannon: "Even though I knew she wouldn't understand what she's doing, I wanted her to be able to look back and know we had this experience together. I want her to know how important it is to be a woman.")
Elliott Watson, 13, New York (left), and Korkie Moore-Bruno, "My age? Hell no. Just put that I'm older than 39," New York (right)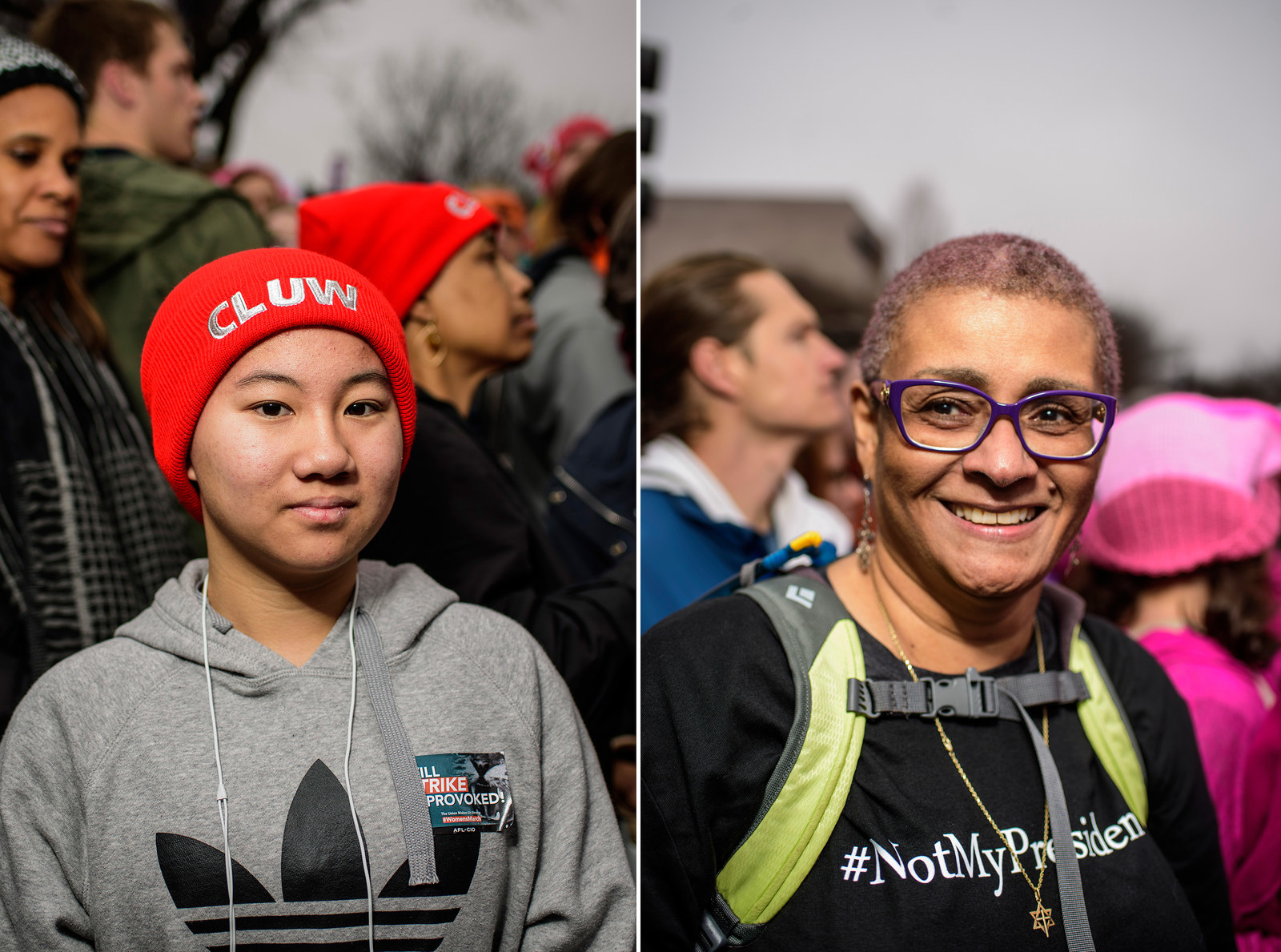 Elliott

"I'm here to prove that women's rights are the same as human rights. A bunch of people from my school came. A lot of older people have inspired me, so I hope I can inspire younger people."

Korkie
"I've been doing this since the Vietnam War. I lived on the Lower East Side of Manhattan and I went to gay rights and abortion demonstrations there. I'm not a believer in petitions. I'm a believer in crowds. Back in the '70s, the protests were violent. The police were really violent. Once I was blinded by pepper spray and for weeks I could barely see."

Sydney Parham, 14, Maryland (left), and Akiko Okamoto, 68, New Jersey (right)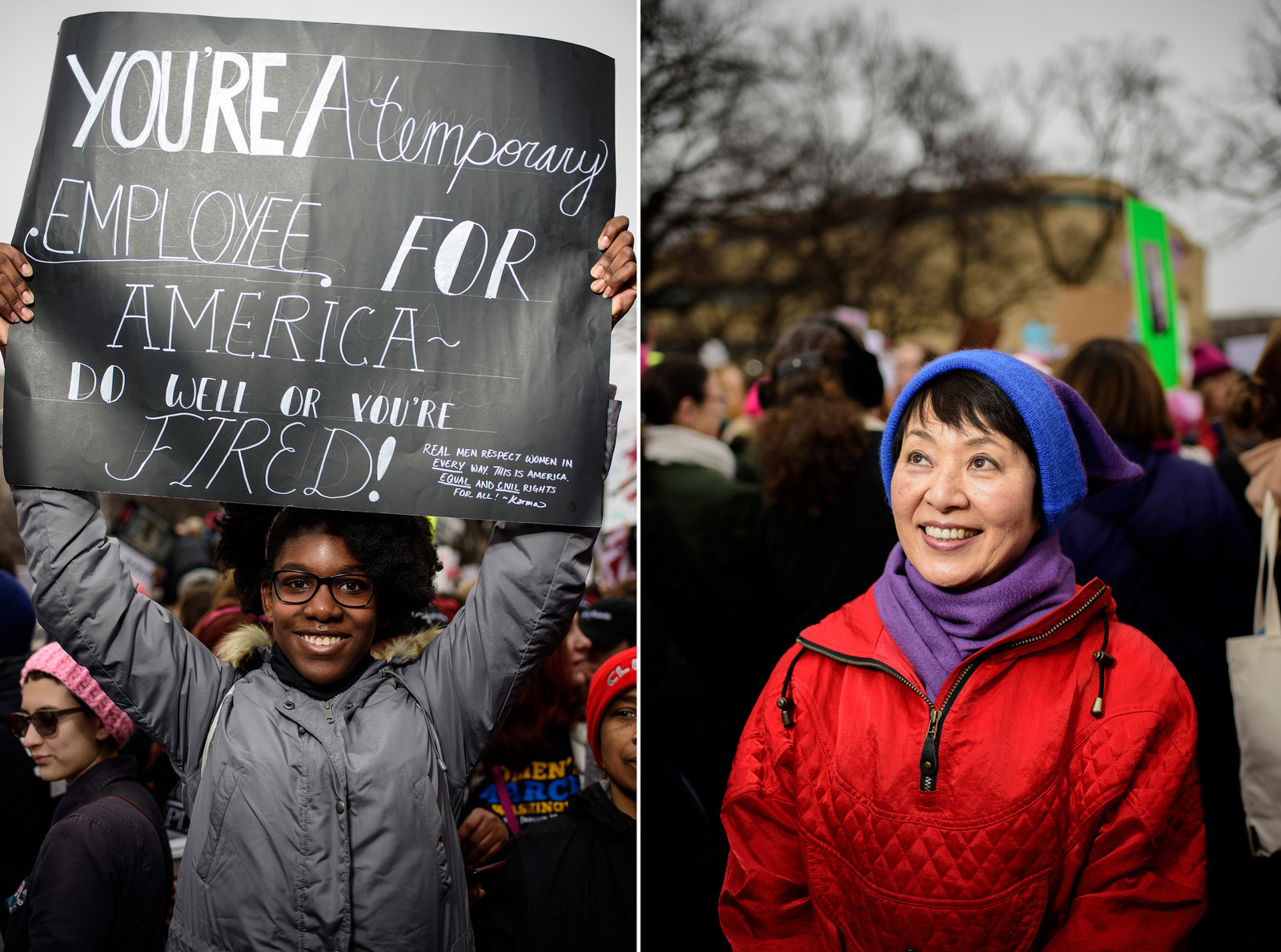 Sydney
"I was supposed to have a track meet today, but I really wanted to go to the march. I usually just see things like this on Instagram, and I get a little jealous. I wanted to make sure this time I saw it for myself."

Akiko
"What President Trump has said is against all my beliefs. I wanted to show I will not be quiet. This is my first demonstration, and it's amazing. It's so comfortable. We are all in one big family."
Dani Gonzalez, 16, Maryland (left), and Bonnie Friedman, 59, Massachusetts (right)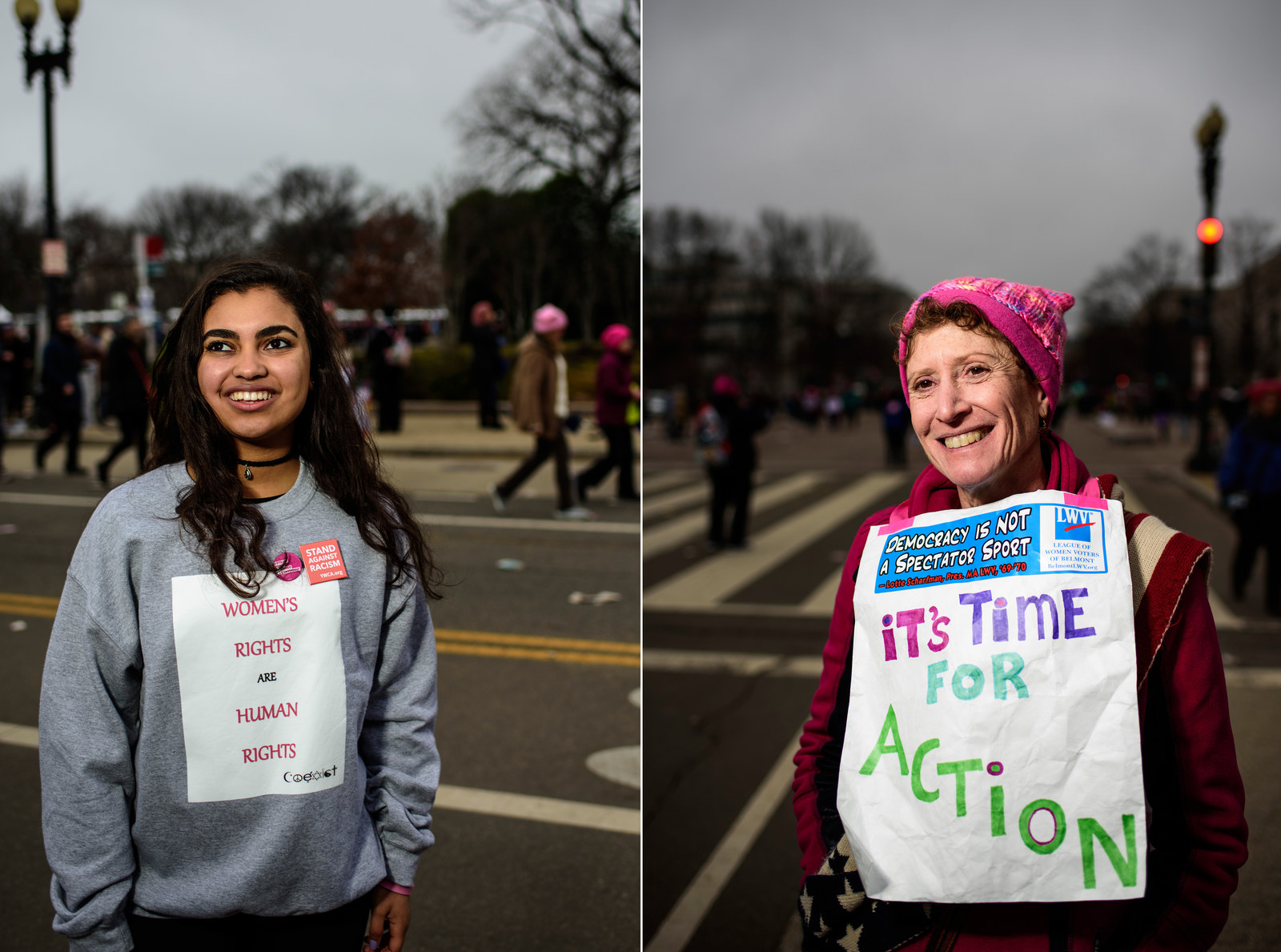 Dani
"I love women's rights, but I also believe we need to promote rights for everyone. I'm not here to just fight for women. I'm 16, and in my history class I've learned about all the protests that have led to change. I want to tell my kids about today in the same way."
Bonnie
"As soon as the election happened, I was really depressed. My husband said, 'Let's buy tickets.' I said 'I can't even talk about it. Not yet.' This was way before we heard about Women's March. We mostly came to protest the inauguration yesterday — we were shoulder-to-shoulder with Trump supporters in line at the security gate for five hours — but today has been a wonderful call to action, a chance for people to get involved and stay involved. Earlier someone on the street said, 'This is like Woodstock.' People back then kept at it."
Sabina Coronado, 62, Tennessee (left), and Denbele Tucker, 9, and Willa Tucker, 12, New York (right)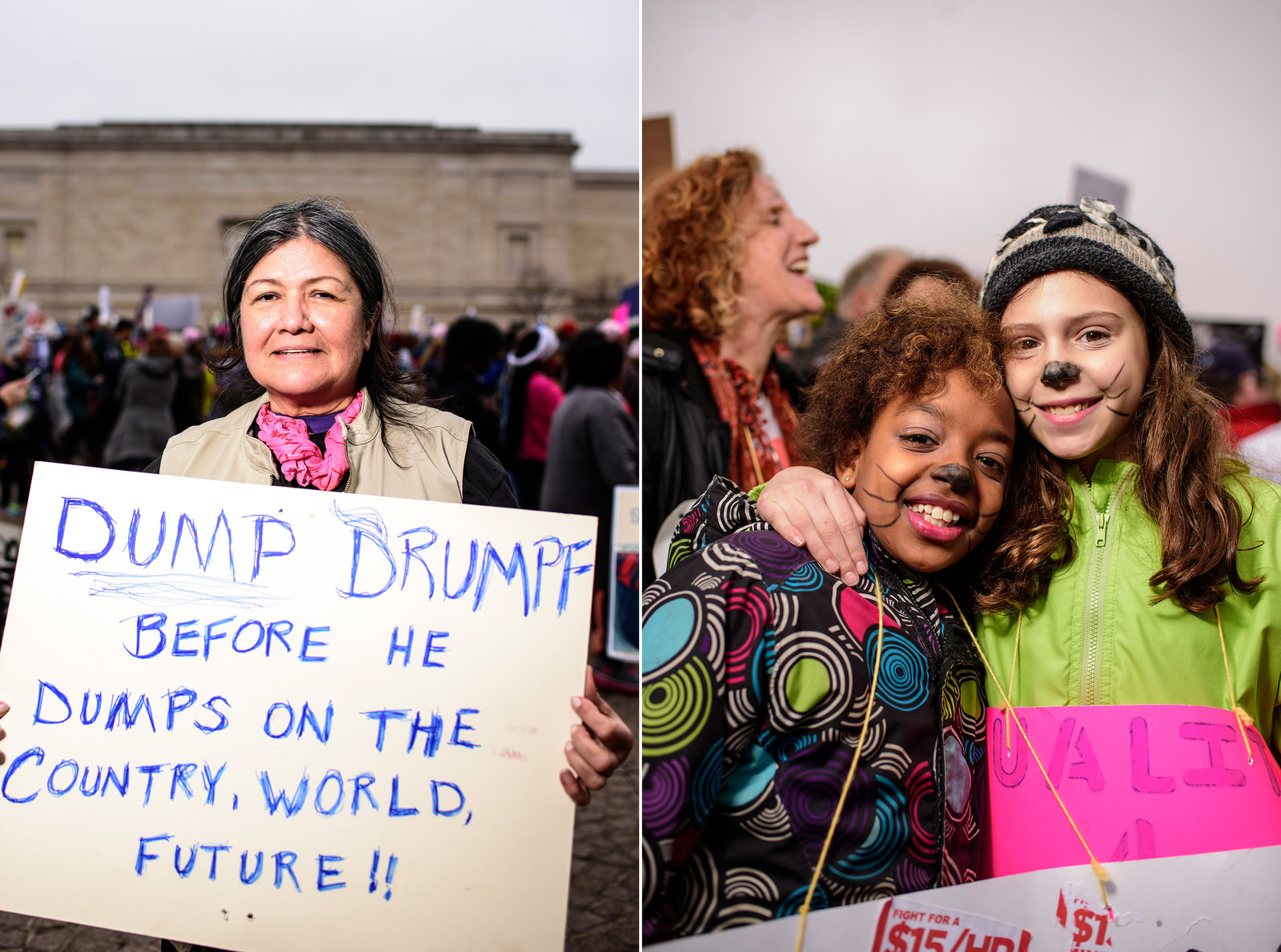 Sabina
"This last campaign and election and results just galvanized me. This doesn't feel like my country right now. I'm afraid for us. I'm concerned about climate change and the future for my grandsons. This is going to be their world, and I don't want to leave them a garbage heap. I won't even allow myself to be too disappointed that we couldn't officially march because we shut down the city. We broke the city!"
Denbele
"I don't like Trump and I wanted to go against him." (Her mom, Gayle Forman, said Denbele "woke up at 2 a.m. on Election Day and started crying. For children, he's like the villain in the storybook. But this moment right now is the cliffhanger in the book, when the good forces come back to fight the villain.")
Willa
"I love Hillary Clinton. Beyoncé would be a pretty good president too." (Forman said that in 2010, when Willa first learned about Hillary Clinton, "she said, 'If I could vote, I'd vote for her 100 times.' She was 6 or 7 maybe.")
Ella Varney, 16, Tennessee (left), and Rena Boone, 70 (but "my biological age is 50"), Maryland (right)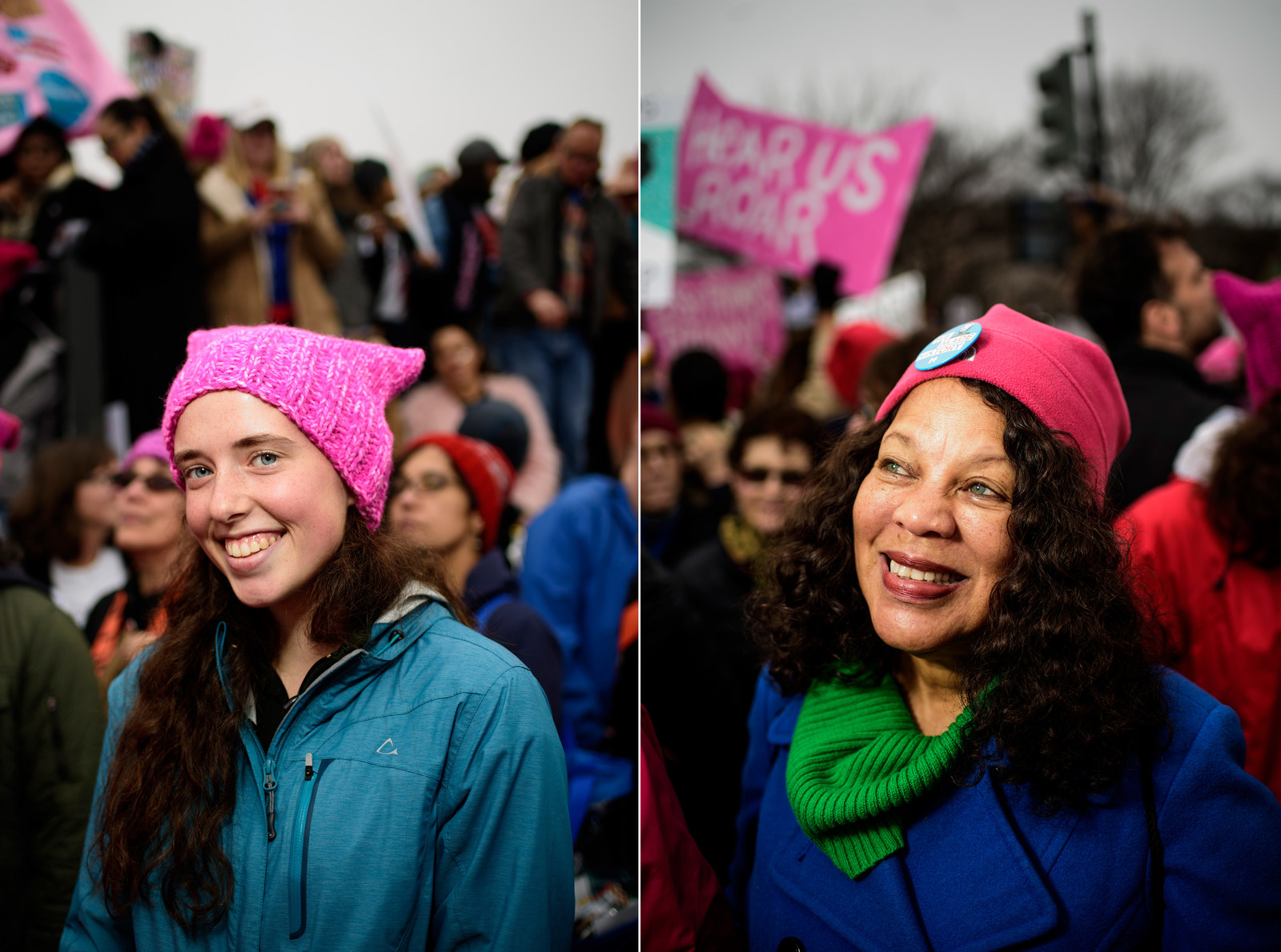 Ella
"I just want to support everyone: People of color, women, LGBT people, immigrants. Everyone I guess who is being scared by the new president. For me as a white woman, I have so much privilege. You are taking photos and talking to me. With this position of power I have, I can try to help give voice to people who don't have it."

Rena
"My heart and my soul has been leading me toward this moment my entire life — to join in solidarity and live in commitment to the advancement of the human race. It's my first protest, and I feel so alive and so uplifted."
Yasmin Kamel, 21, Maryland (left), and Olivia Lopez, 3, and Jamie Lopez, 5, New York (right)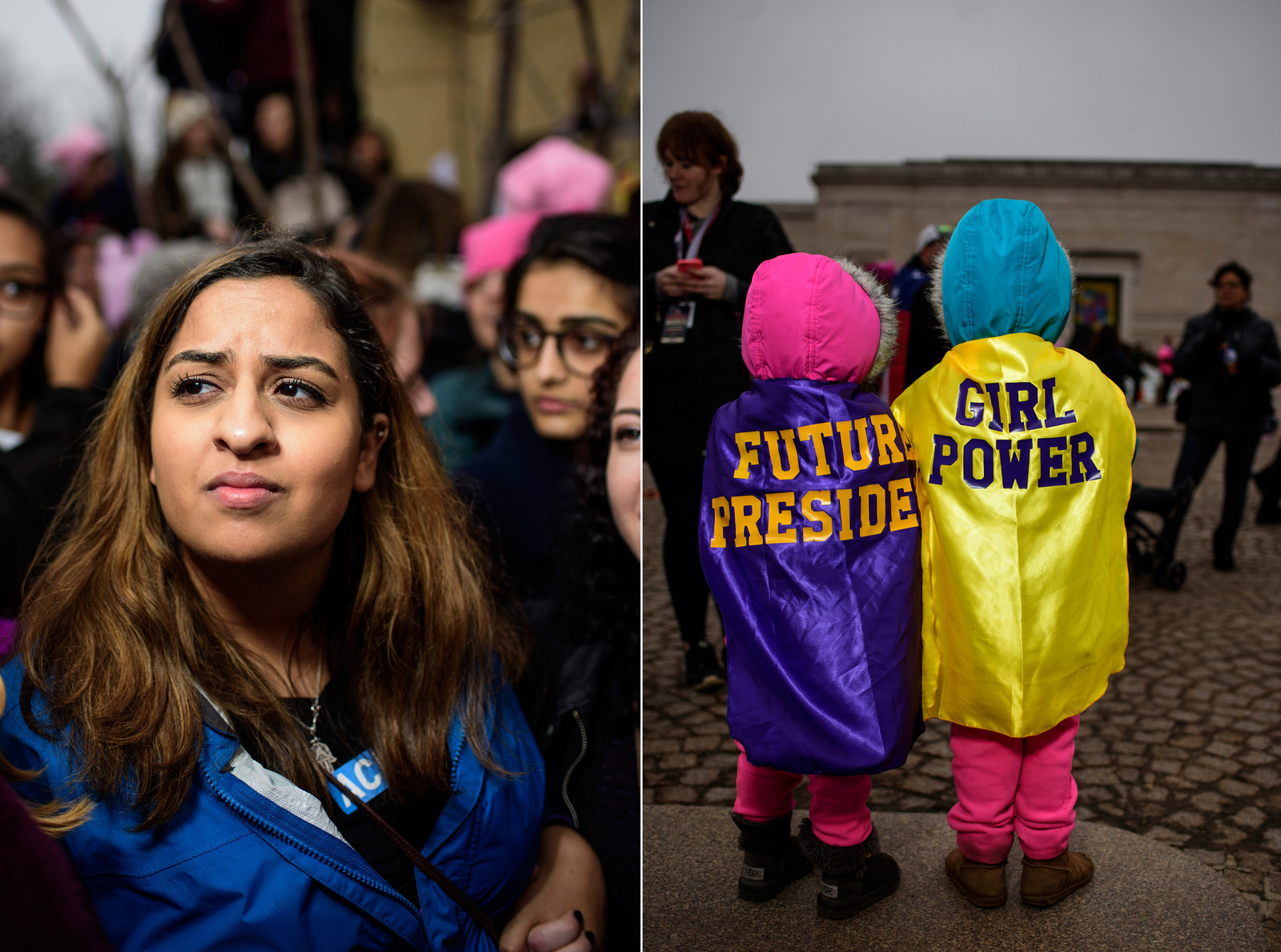 Yasmin
"I'm here for women's rights, Muslim rights. LGBT rights, everyone's rights. I can't pick one thing. Everything is just as important as the next."
Olivia
Jamie: "We're going to the White House. We're marching there!"
Olivia: "Let me see my picture!"

Their mom, Gabrielle Lopez: "There's not much to look forward to the next four years, and I am thankful to be able to show my children what feminism looks like."