There's Nothing Really Illegal About Shutting Down An Interstate Bridge
Contrary to chatter — and a serious call for a federal investigation in the newspaper that broke the GWB scandal — there are no obvious federal laws prohibiting interfering with interstate commerce.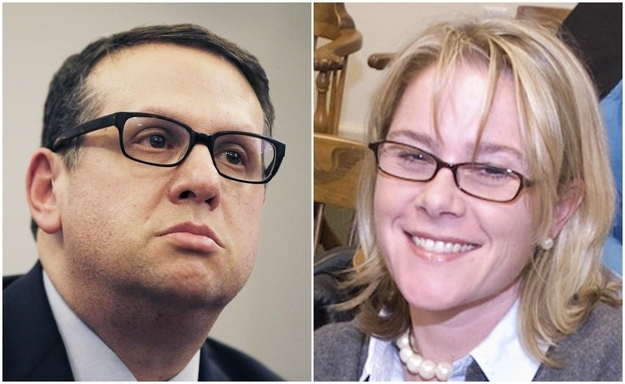 The Chris Christie aides who closed two lanes of the George Washington Bridge in September — turning the faucet of traffic from a steady flow to an irksome drip for four days — likely won't be charged with federal crimes, former prosecutors told BuzzFeed, despite the aides' quite literal interference with commerce between New Jersey and New York.
On Thursday, one day after breaking news of the scandal, The (Bergen, N.J.) Record published an editorial calling for a federal investigation based on this apparent obstruction of interstate commerce.
"Interfering with interstate commerce – and playing God with the GWB is doing just that – warrants a federal criminal investigation," the paper's editors wrote.
In fact, there are no federal laws prohibiting the obstruction of interstate commerce — or commuter traffic, and all the money that goes with it — despite interstate commerce being federally regulated. Closing part of the bridge and packing the streets of Fort Lee, N.J., for political retribution appears to be legal, experts said.
On MSNBC too, reporters have casually speculated about the possibility of interstate commerce violations. Sen. John D. Rockefeller IV (D-W.Va.), chairman of the Committee on Commerce, Science and Transportation, wrote a letter to the Port Authority of New York and New Jersey voicing concern over "political appointees abusing their power to hamper interstate commerce."
But former prosecutors told BuzzFeed they doubted any charges would be brought against Christie's aides — especially any related to interstate commerce.
"Simply affecting commerce is itself not a crime. I affect interstate commerce when I buy a plane ticket," said Alafair Burke, a professor at Hofstra Law and former deputy district attorney in Portland, Ore.
"There isn't a statute that just generally says you interfered with interstate commerce and that's a crime," said Stephen Ryan, a former Assistant U.S. Attorney in Washington, D.C. "We don't have that law."
Affecting interstate commerce is illegal under the Hobbs Act, the prosecutors said, but only when predicated with robbery or extortion, two crimes not currently apparent in the bridge scandal. In fact, the prosecutors said, no crimes are currently apparent in the bridge scandal.
"I can't imagine what federal criminal charges could actually arise from this," said Peter Zeidenberg, former prosecutor with the Department of Justice's Public Integrity Section and U.S. Attorney's Office in D.C. "I don't think it's a criminal case. Just because things are embarrassing or ethically questionable or politically foolish or stupid, doesn't make them federal criminal cases."
Speculating about any charges may be putting the "cart before the horse," Burke said. The U.S. Attorney's office's hasn't yet announced an investigation — only an inquiry into the matter, as referred by the Port Authority Office of Inspector General.
"Once you know the actual behavior, then the time comes to dig through the statutes," Burke said. And while she and Ryan and Zeidenberg could not immediately identify a law prohibiting interstate commerce interference, they all conceded there may yet be a statute out there buried in the code books.
"There are lots of hidden nuggets in the statutory code," Burke said.
And while a creative prosecutor may try anything, the former prosecutors were unanimous that the U.S. Attorney's Office in New Jersey would have its work cut out for it if prosecutors were to go after Christie's aides.
For now, the Justice Department is in "a no-win position," Ryan said. "They're going to have to take square laws and fit them into round holes."
If charges were to come out of the scandal, Ryan predicts they would stem from someone lying to investigators about his or her involvement. (David Wildstein, the Christie appointee at Port Authority believed to be responsible for the bridge closure plan, repeatedly invoked his Fifth Amendment rights at a legislative hearing Thursday. Christie's aide Bridget Anne Kelly, also aware of the plan, was fired.)
"If [prosecutors] were to interview one of these people and the person lied, the false statement would become the crime," he said. "One-thousand-to-one, the best chance is to get people when they lie."
Burt Neuborne, a civil liberties professor at New York University, said the struggle facing the U.S. Attorney's office is not finding the right law to prosecute Christie's aides, but deciding if political payback is morally something they want to prosecute.
"If U.S. attorneys do what they usually do, there's going to be a period of silence while they really think philosophically if this is an appropriate thing to do," he said.
Neuborne pointed to a provision in Title 18 of the U.S. code that originated in response to KKK members blocking interstate passages from black people during Reconstruction:
If two or more persons conspire to injure, oppress, threaten, or intimidate any person in any State, Territory, Commonwealth, Possession, or District in the free exercise or enjoyment of any right or privilege secured to him by the Constitution or laws of the United States, or because of his having so exercised the same; or
If two or more persons go in disguise on the highway, or on the premises of another, with intent to prevent or hinder his free exercise or enjoyment of any right or privilege so secured— They shall be fined under this title or imprisoned not more than ten years, or both.
"This question here is not interstate commerce — it's about unencumbered movement across state lines, and the right to express dissent," Neuborne said. "The harder question is whether dirty tricks should be prosecuted. That's the hard philosophical question."