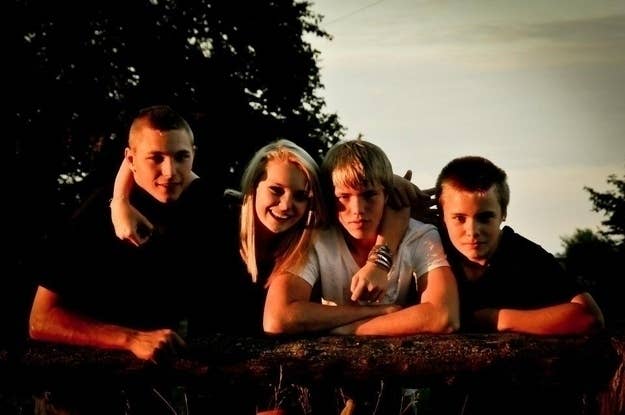 It didn't take long for the internet to declare war against the city of Maryville, Missouri. On Saturday, the Kansas City Star published a long, revealing look at one mother's claim that her 14-year-old daughter, Daisy Coleman, was raped, and that backlash over their pursuit of charges against a 17-year-old football player drove their family from the small Missouri city.
The story was picked up by dozens of blogs and news outlets. By early Monday morning, it had also caught the attention of multiple Anonymous-linked Twitter accounts, including @YourAnonNews and @YourAnonCentral. Hackers from the collective issued a press release before 7 a.m. ET: "Maryville, expect us."
We demand an immediate investigation into the handling by local authorities of Daisy's case. Why was a suspect, who confessed to a crime, released with no charges? ... Most of all, We are wondering, how do the residents of Maryville sleep at night?
For anyone who followed the Steubenville High School rape case — in which a 16-year-old girl was assaulted by two football players in Ohio while her peers took photos — Anonymous' language will seem familiar. Those leading "#OpMaryville" are the same people responsible for "turning Steubenville into a national outrage," though @YourAnonCentral was quick to point out that Deric Lostutter, or KYAnonymous, chief troublemaker during the Steubenville scandal, is not involved in taking down Maryville.
But as the #OpMaryville threats climbed throughout Monday, so did another hashtag: #Justice4Daisy. And while it may too have been fueled by Anonymous, the latter movement is being owned by a different group of people: activists who show their names and faces. Like the hackers, they live and work on social media, but this group is more interested in public declarations and peaceful demonstrations, inspired by the massive #Justice4Trayvon movement.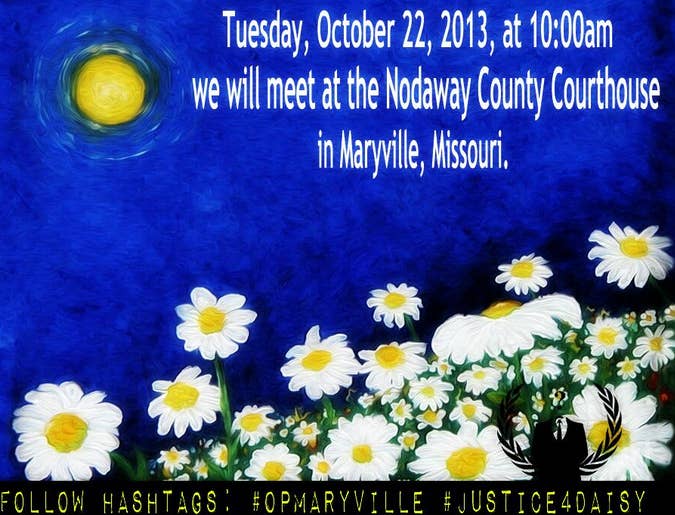 Sunday was the first time Courtney Cole, a 31-year-old women's rights activist from Excelsior Springs, Missouri, had heard of Daisy Coleman's case.
On Monday — after using a court calendar to find a time when Robert Rice, the Nodaway County prosecutor who dropped Coleman's case, would be at Maryville's courthouse — Cole created the Justice For Daisy event on Facebook. As of 9:30 p.m. ET, more than 230 people said they would show up at the courthouse on Tuesday, Oct. 22, ready to protest with daisies in their hands.
"As a Missourian, I'm responsible just as much as anybody else is to ask him to do the right thing and reopen the case," Cole told BuzzFeed, calling the Maryville-Steubenville comparison "right on."
Cole has previously organized women's rights demonstrations — with crowds nearing 300 — in Jefferson City, Missouri. She acknowledges that a Tuesday morning protest might not yield the best turnout, "but if we can get at least 200 people there, that would be huge," she said. With Anonymous promoting her event, Cole can meet that goal. But does the oft-vengeful hackers' involvement contradict her message of peace?
"No, I'm happy they're involved," Cole said. "They make threats and they're demanding, but at the same time, that can be necessary. They play an important role of saying, 'Look, we're going to make sure the right thing gets done or else.'"
Cole used to live in Warrensburg, where Coleman's alleged rapist Matt Barnett is studying at the University of Central Missouri. Over the weekend, Cole noticed her Facebook friends in Warrensburg sharing the Star story, along with comments about spitting on him if they recognized him around town.
"I jumped in and said, 'No, don't do any physical harm to him at all. That makes him a victim, which he isn't,'" Cole said.
While Coleman and her mother appeared on CNN Monday night to talk about the new national attention to Daisy's case, Barnett has been silent. His Twitter page has been deleted, though plenty of his friends and Maryville residents jumped to his defense when the story came out.
@AlexStelter: "This KC Star article is just so inaccurate. Hard to read"
@Kelsey__Jackson: "People should probably get their facts straight before posting things like this."
In March 2012, when the case was dropped, some students used the hashtag #jordanandmattarefree.
@shelbgolightly: "Fuck yea. That's what you get for being a skank :) sorryyyy........."
(These tweets, shared by Anonymous, have since been deleted, along with many of the accounts.)
Cole said she isn't surprised by the widespread defense of Barnett. She characterized Maryville as not quite a small town, but a city with small-town qualities, where longtime families tend to form cliques.
"The Coleman family wasn't originally from Maryville. They were treated as outsiders," she said. "Even in the story, the sheriff essentially says that 'they went back where they came from.' That's small-town mentality."