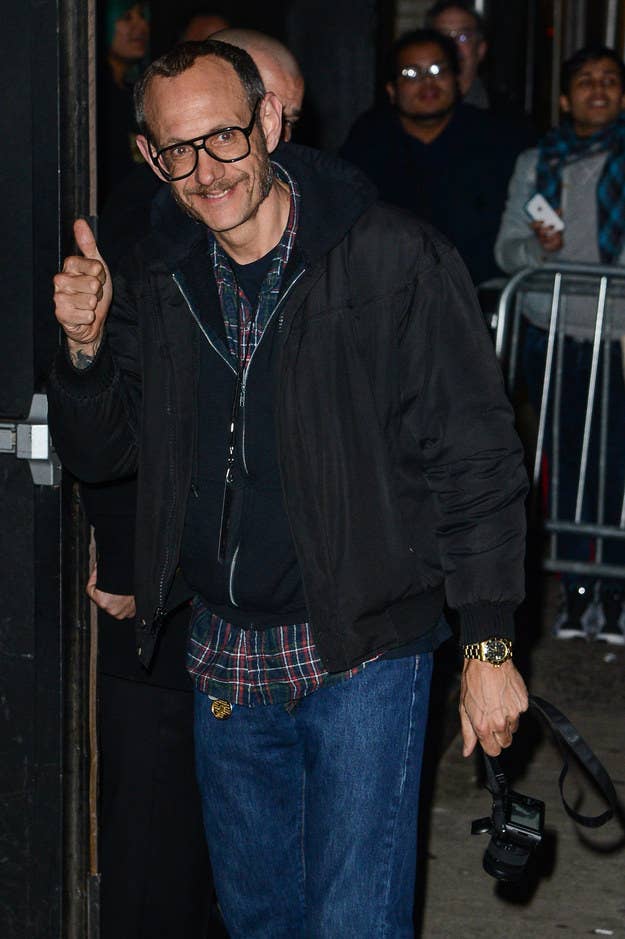 Terry Richardson's eight-month exile from the covers of mainstream American magazines has come to an end, with his work fronting the February issues of both Rolling Stone and Harper's Bazaar.
The controversial photographer shot at least 10 mainstream U.S. covers in 2013, but work dried up in the spring of 2014, after the latest and loudest round of press surrounding his allegedly abusive behavior toward models.
"In light of numerous models' allegations of sexual abuse by the photographer Terry Richardson, Vogue, W, and T Magazine have decided not to condone his behavior by continuing to work with him," Sara Ziff, executive director of advocacy group Model's Alliance, told BuzzFeed News this week. "It is unfortunate that Harper's Bazaar and Rolling Stone do not hold themselves to the same standard."
Since 2010, more than a dozen women — some anonymously, some cryptically — have accused the fashion photographer of inappropriate behavior during photo shoots. Richardson has denied wrongdoing and hasn't been charged with a crime.
Models accused "Uncle Terry" of trying to make them feel comfortable before dropping a lewd request, such as asking them to pose nude before he unexpectedly stripped naked himself. One model accused him of turning her into a non-consensual "sex puppet." Asked about the allegations, a spokeswoman for Richardson declined to comment.
Ziff has previously spoken out against Richardson, telling HuffPost Live that she worked with him before and wouldn't again.
His behavior "goes beyond taking off your top," Ziff said at the time. "I have spoken with other models who have been in these situations, and he makes you feel like you're being a prude or you're somehow weird if you're not willing to just go with the flow because it's all cool. It's all fine."
Richardson's alleged conduct drew more attention with every woman who came forward, but it never lasted. Richardson continued shooting big magazine covers about once every other month — at the very least. But something changed during the first half of 2014, when six more women publicly alleged improper behavior from Richardson. The public outcry grew too large for his employers to ignore.
In April, following one of the new allegations — which Richardson hired a social media expert to debunk — Vogue said publicly for the first time it was no longer working with Richardson. Anna Wintour's tome paved the way for past employers like the New York Times, W magazine, and Target to also distance themselves from the photographer.
These events — unusual in a see-nothing, say-nothing industry — spurred New York magazine to examine in June whether Richardson was "an artist or predator." His alleged victims spoke out against the story, coming forward with new details of "revolting and humiliating" encounters with Richardson. TMZ published leaked footage of a Richardson-directed Lady Gaga video described as "literally an ad for rape." One of Richardson's longtime employers, the shoe brand Aldo, cut ties with him, followed by the fashion house Roberto Cavalli. Many more brands remained silent, refusing to confirm on the record whether their relationships with Richardson would continue.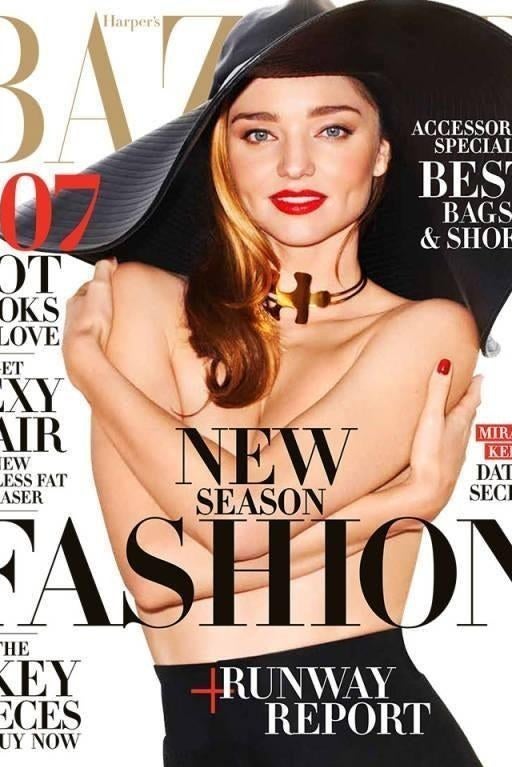 Richardson's last mainstream U.S. cover of 2014 dropped in May. Then he disappeared from the front of newsstands. His photos continued to appear inside of magazines, of course, through his pre-existing ad campaigns for fashion houses and the occasional multi-page feature — he was still on contract at Harper's Bazaar, for one. He also shot a special issue of Playboy and several international projects. But readers of magazines like GQ suddenly no longer felt his white-background, heavy-flash omnipresence.
This might have been a Bill Cosby moment — a point of no return, in which the allegations become part of the national conversation, and companies aligned with the famous man have to distance themselves en masse. It wasn't.
This month, Rolling Stone and Harper's Bazaar ended Richardson's dry spell, tapping him to photograph Nicki Minaj and Miranda Kerr, respectively, for their February covers.
Rolling Stone, echoing itself from April, declined to comment on why it continues to work with Richardson despite the years of allegations. Harper's Bazaar, echoing itself from April and June, ignored BuzzFeed News' inquiry.
The photographer has certainly suffered professional setbacks over the past year — Vogue's public semi-reproach and the loss of Aldo among them. But with the new Rolling Stone and Harper's Bazaar covers, "Uncle Terry" appears to be back in the magazine industry's good graces.