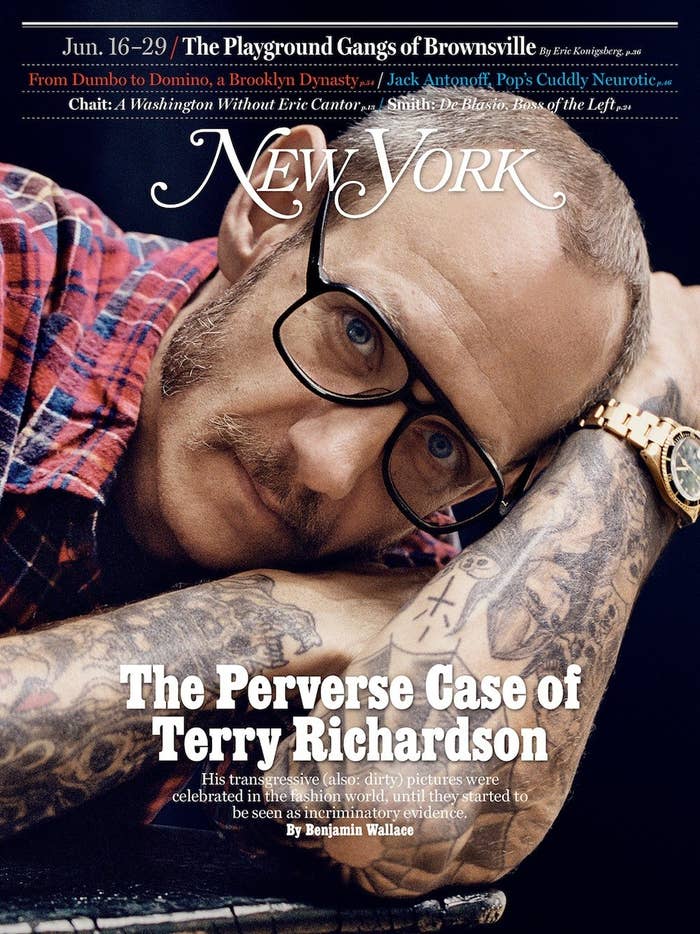 Fashion photographer Terry Richardson characterized the internet as a "little cancer," "totally out of control," in a New York magazine profile published Sunday night, responding to allegations — many brought forward over the last four years on blogs and social media — that he has coerced models into performing sexual acts on him during photo shoots.
The story, anticipated last week by Jezebel, chronicles Richardson's "preposterously chaotic and unsupervised" childhood, history of drug abuse, and years of success in celebrity and fashion photography. (Though some magazines and companies have recently distanced themselves from Richardson, many of his professional relationships are thriving.) Written by contributing editor Benjamin Wallace, the piece doesn't include new allegations.
The key points of Richardson's defense:
"It was never just me and a girl ever," Richardson told me at his
studio. "It was always assistants, or other people around, or girls brought friends over to hang out. It was very daytime, no drugs, no alcohol. It was a happening, there was energy, it was fun, it was exciting, making these strong images, and that's what it was. People collaborating and exploring sexuality and taking pictures."
... "when I was taking those pictures," he says, "I was very, like, 'Cool, sounds great, let's do it, great, okay, sure, great, cool, if not, no problem, never do anything you don't want to do, of course, I totally respect that.'" He makes the point that agents and bookers shouldn't encourage their clients to take on assignments that will make them uncomfortable.
"I don't have any regrets about the work at all," he tells me, "but obviously I don't ever want someone to feel like that. It was never my intention. But also, people do things, and then they have regrets, and that's also nothing to do with me. Then don't do pictures like that again ... I'm okay with myself about everything, and that to me is the most important thing."
Richardson began shooting nude as a "gambit" to make models more comfortable, he explained to Wallace.
From Richardson's friend and editor Dian Hanson:
"Doing that nude work and taking his own clothes off is how he got over his own shyness ... And he's got a big dick. And once the world notices that, it's kind of encouraging to continue taking your clothes off."
Which went like this, according to Sena Cech, who modeled for Richardson at age 19:
Richardson took off his clothes. "And they wanted me to get naked. And they're like, 'Grab his dick and twist it and squeeze it really hard.'" She laughs. "It wasn't even a hand job. It was maybe not even sexual. Weirdo. And then they were taking pictures the whole time. They were like, 'You're awesome! You're in the club!'" When her agent called her afterward to say Richardson wanted to use her for the assignment, she turned it down. "I was like, 'No way I'm doing the shoot, this guy's too weird.'"
UPDATE: Read Cech's response to the story here.
Later in the story, an unnamed "prominent photography agent" elaborates on this pressure felt by young models to go along with Richardson's requests.
"Miley Cyrus wasn't asked to grab a hard dick. H&M models weren't asked to grab a hard dick. But these other girls, the 19-year- old girl from Whereverville, should be the one to say, 'I don't think this is a good idea'? These girls are told by agents how important he is, and then they show up and it's a bait and switch. This guy and his friends are literally like, 'Grab my boner.' Is this girl going to say no? And go back to the village? That's not a real choice. It's a false choice."
Richardson and his camp use the story to deny the coercion allegations, but also to cast doubt on the models' recollections — always in the story's parentheses:
On Cech:
(A source close to Richardson insists that Cech was the instigator, and that she willingly returned after the casting to take sexual pictures.)
On Coco Rocha, who said she felt "uncomfortable" on a shoot with Richardson and wouldn't work with him again:
(Richardson says her parents, Jehovah's Witnesses, were upset by the exorcism theme of the shoot; Rocha declined to comment.)
On Charlotte Waters and Jamie Peck, who have both published first-person accounts of Richardson acting inappropriately during photo shoots:
(In her first email to Richardson's studio inquiring about modeling opportunities, Waters wrote, "My name is charlotte. I'm 19 and a pervert"; she now says this was a "poor choice of words." As for Peck, she has repeatedly maintained that she engaged in sexual acts with Richardson only once, but there are photographs in Kibosh featuring her with different haircuts. "Jesus Christ, I have no explanation for that," she wrote me after I showed her the images. "I'd be scared this undermines my credibility but if anything I think it shows I was/am more traumatized by the experience than I thought.")
But longtime Richardson assistant Alex Bolotow — who has been described elsewhere as his muse and girlfriend — describes how she embraced posing in sexual scenarios with her boss:
Wallace writes that in Richardson's 2004 book Kibosh, "there are images of [Bolotow] fellating Richardson from inside a trash can; from inside a suitcase, with him pinching her nose shut; under his desk; upside down; with the word slut lipsticked on her forehead ..."
Bolotow takes offense when images of her are used to make a case against Richardson. "When I look at those pictures, I'm smiling," she said. "I'm having the time of my life, I look great, I have a beautiful haircut. This is a great day."
Bolotow also told New York "she had little respect for women like Peck and Waters." Bolotow said, calling women who don't "own" their decisions "really cowardly and kind of dishonest."
The story comes to a close with Richardson collaborators explaining their perception of the relationship between photographers and models.
Former French Vogue editor Joan Juliet Buck:
"When a beautiful young girl is standing on the paper, and the photographer is looking at her — that thing of being told you're the most beautiful works everyone into a state of desire, where the girl is being appreciated and she feels loved ... There's a very fine line between abuse of that innocence and validation of their beauty."
Email the author of this post at jessica.testa@buzzfeed.com.