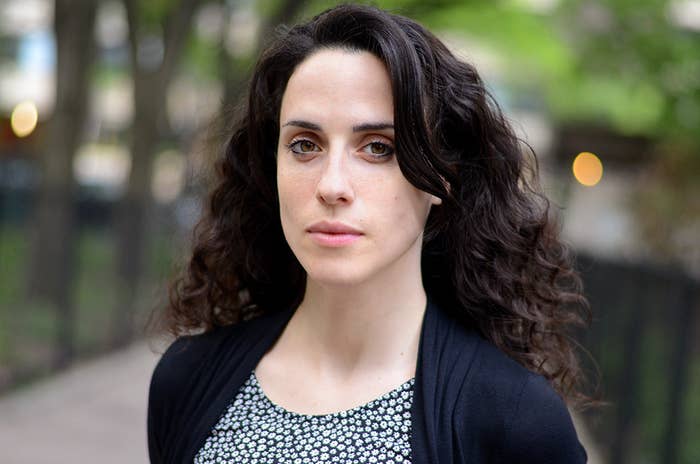 When Maria Di Toro walked into a New York Police Department precinct late one night in January 2012, she knew her story was, as she said, "complicated." Nearly four months earlier, she had told officers, one of the best-connected young men in New York had raped her. She didn't realize then what making such an allegation would mean: Sixteen days after she reported it, her picture was on the front page of the New York Post with the headline "Shady Lady."
Had Di Toro met up with almost any other man that day in October 2011, she would never have landed on the Post's radar, much less its cover. (A spokeswoman for the paper didn't respond to requests to comment for this story.) But when she named Greg Kelly — morning show host at the Fox affiliate and son of the police commissioner — details of Di Toro's report almost immediately spilled into a local news machine that pitted this unknown woman against a public figure with close ties to both media and law enforcement.
In a recent series of interviews with BuzzFeed, Di Toro spoke openly for the first time about the experience. When her case initially went public, she declined reporters' offers to comment. She asked her family and friends, many barraged by calls and unexpected visits from reporters, to also refrain. The tabloids eventually moved on, but Di Toro didn't know how, she said. After two gnawing years of following other high-profile rape cases — and a city government regime change — she began considering what it would mean to tell her story publicly. She said she feels stronger today, with the kind of durability she didn't have when the media beckoned before. Then, she was playing defense — like when she begged the photographer who took her modeling headshots not to sell them after he called her to say the Post had made an offer. (He sold them.)
"I was really scared into submission," she said. "I felt that if I had said anything to the press — because I had already seen my own words in a police report twisted — I thought for sure if I gave them any interview on the phone, it was gonna happen the same way."
Di Toro, who met with BuzzFeed in the living room of her small New York City apartment, knew why her story was so complicated — fodder for people who believe women cry rape as an excuse for drunken mistakes. She knew she was complicated — a woman with a longtime boyfriend who had consensual, sexually charged conversations with another man.
But whoever she is and whatever she did, Di Toro's story is still one of an everyday encounter gone terribly wrong, and of the brutal consequences for people who level accusations against powerful public figures. And for the first time since the incident, she wanted to tell it — not to a family member, friend, cop, or counselor, but to the people who may know her as "Shady Lady."
"I've gotten to a point in my life where I realize that I didn't do all that I could have done to stand up for myself," said Di Toro, now 31, a petite brunette from a big Long Island family. "I was always like a puny little thing, but I always stood up for myself … And I didn't this time. And it's eaten away at my core every day."
While the Post and New York Daily News led the coverage of Di Toro's case in early 2012, national and international outlets followed: the Times, The Huffington Post, Daily Mail, Associated Press, CNN, Fox News. The early reports didn't name Di Toro, following a long accepted media standard of protecting the identities of sex crime victims unless they publicly come forward.
Kelly requested time off from his show, Fox 5's Good Day New York, and cooperated with the district attorney's investigation. But outside the DA's office, a public conclusion based on leaked information appeared to be forming in his favor. In February 2012, when the DA's sex crimes unit chief sent a letter to Kelly's lawyer declaring her office's investigation found "no criminal charges [were] appropriate," the Post was the first to drop its identity protection. Two days later, a photo of Di Toro on a cruise, taken from her Facebook, was on the front page; "Shady Lady," the paper screamed, as the sun cast shadows on her dark features. "Ms. Di Toro is not a victim of a sex crime," editor Col Allen later said in an article defending the Post's coverage.
After being asked to participate in this story — and provided a list of Di Toro's allegations by BuzzFeed — Kelly's lawyer Andrew Lankler offered a one-sentence statement: "Nearly two and a half years ago the allegations against Mr. Kelly were very thoroughly investigated by the Manhattan District Attorney's Office and the District Attorney's Office properly exonerated Mr. Kelly."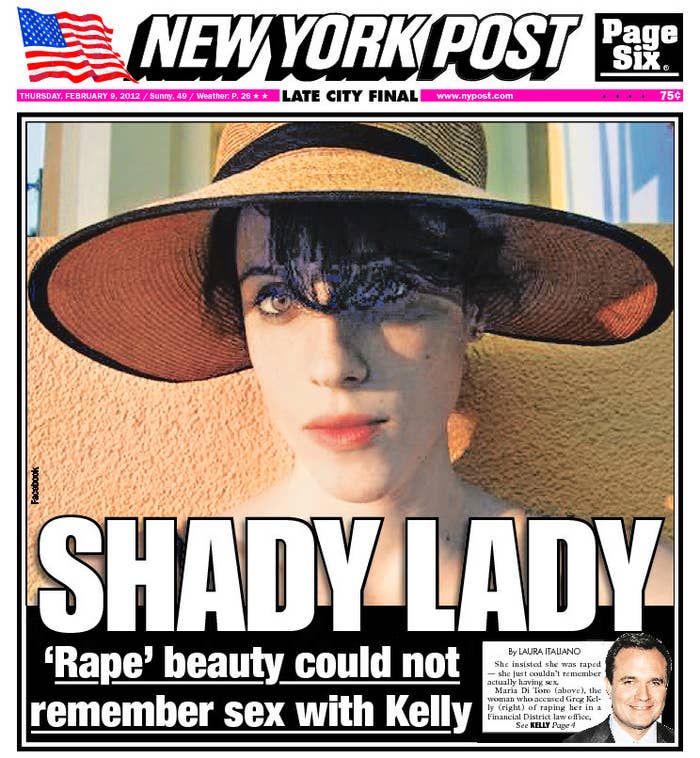 In October 2011, Di Toro was a 29-year-old paralegal. She would later be described in the media as an aspiring model-actress; according to Di Toro, modeling was more of a hobby she picked up with her twin sister than a serious ambition. Di Toro grew up in a family of strong women and animal lovers. She had a degree in philosophy from James Madison University. She had a boyfriend, Francis Laros, then a 48-year-old South African runner, sailor, and New York University math student. At that point, Di Toro and Laros had been together for three years. He tended bar across the street from her apartment, and she worked near his. They both grew up in families with six children. Laros, Di Toro said, made her a better, more patient woman. Their relationship, Laros said, had always been "goofy as hell."
Before joining Good Day New York in 2008, Greg Kelly was a co-anchor of the Fox & Friends Weekend and a national correspondent who covered the White House and the Iraq War. He was hit by shrapnel on air. He covered 9/11 for NY1 News. He served in the Marine Corps Reserves. He had an infrequently updated fan site. Extra once called him the "Most Eligible Anchorman in America" — as Good Day's candid gaffe-prone co-host, he was also a frequent punch line on E!'s clip show The Soup. He was a particularly big deal in New York City: In 2011, Kelly was 42, and his father, Ray Kelly, was already a legend, one of the most popular political figures in town, toying with a run for mayor.
What follows is everything Di Toro said she told investigators about the days before and after their encounter on Oct. 8. (The DA's office denied BuzzFeed's Freedom of Information Law request for Di Toro's report, which is sealed; Di Toro was also denied a request to obtain her own records.) Many of these details were leaked to the press in early 2012. Some of them appear here for the first time.
Di Toro and Kelly met on Third Avenue, near her apartment in Manhattan's Kips Bay neighborhood, she said. Di Toro was walking her dog when she stopped Kelly to say she recognized him, and that he was better looking in person than on TV. Kelly began walking with her and making small talk. According to Di Toro, Kelly told her about an upcoming presentation at Baruch College that he was nervous about. Outside Di Toro's apartment, he asked for her phone number, she said. He gave her a Baruch College T-shirt he was carrying, and they said good-bye.
Di Toro's sister Angela came to her apartment later that day. When Di Toro told her about meeting Kelly, Angela posted on Facebook that Kelly had asked her sister out. Later that evening, Di Toro said, she was at the gym when she got a text from Kelly, asking how the shirt fit. They began talking — "casual, G-rated stuff," Di Toro said. As their texts continued, they got more "personal and flirtatious."
The following Friday, Kelly called Di Toro at her office, she said. It was then when Kelly allegedly asked what her favorite sexual position was. She told him, and asked for his. This was the beginning of their conversations becoming more "casual, trusting, and consensually explicit," Di Toro said.
The next day, Saturday, Oct. 8, Di Toro told Kelly she was going to her office on Wall Street around noon to finish up some work, she said. He allegedly suggested meeting up when she was done; she said yes. At her office, Di Toro continued getting calls and texts from Kelly, she said. Before she left, Di Toro called Laros to cancel plans with him, saying she was getting drinks with a girlfriend.
Di Toro said she met Kelly in front of her office and they headed toward the seaport. At this point, according to Di Toro, they had both acknowledged they were seeing other people after initially bluffing about dating "here and there." Di Toro allegedly told Kelly nothing could happen between them. While walking and talking, they decided to get a drink at Jeremy's Ale House. Kelly bought the first round, and Di Toro bought the second, she said. Their conversation, Di Toro said, gradually became "more explicit, sexual, and filled with admissions of fetishes and sexual experiences." Di Toro bought the third round, but after taking only two sips, she felt suddenly and strongly impaired, she said. They left the bar.
Di Toro can't remember much after that, she said, but she distinctly recalls asking Kelly to get her a cookie during the half-mile walk to her firm. She remembers "clips of visions" of the sidewalk, front of her office, and lobby. She remembers him pushing her against a building and kissing her, she said. She remembers being inside the office, looking up, and seeing his bare shoulders and blurred face, she said. She remembers Kelly allegedly saying "get up, get up, get up" but not being able to get up. It was still sunlight. She remembers seeing him clothed, sitting on a chair, looking at his phone and asking if she was on the pill, she said. (She said she told him no; Laros had a vasectomy.) She remembers waking up alone, rolling over, and vomiting. It was dark outside. She remembers her bra was unhooked but still on. She remembers vomiting more and trying to clean up the office floor. She remembers being in her living room and lying down, but she doesn't remember how she got back to her apartment. She remembers Laros coming over later that night; he was worried and suspicious because he hadn't heard from her in hours, she said. Di Toro told him she didn't want to talk about it.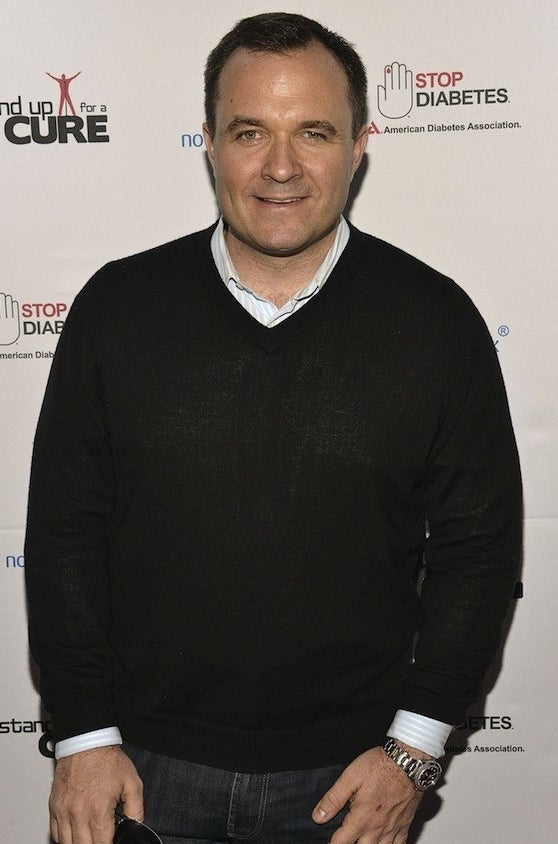 Left: Greg Kelly in New York City on April 17, 2013. Right: Kelly's father, former Police Commissioner Ray Kelly, on Jan. 27, 2012, exiting a press conference where he declined to comment on his son's rape allegations.
The next few days were a blur, Di Toro said. It was Columbus Day weekend, and Di Toro got paid to march in a parade for Time Warner — she said she was nauseated the whole time. Laros began "piecing things together" after seeing rug burns on Di Toro's knees, she said. They spent hours talking and arguing and going through their phones to figure out exactly what happened, she said. Di Toro said she hadn't told Laros everything at this point, including her initial attraction to Kelly. But bit by bit, she eventually admitted all that she remembered. Laros told her he forgave her. He also told her that he believed she did not consent to sex and was raped — something Di Toro didn't immediately accept. She texted her sisters and mother to say she was pretty sure she and Laros were breaking up — though they didn't — and that she didn't want to talk. A few days later, she told her best friend and twin sister, Angela, about her night with Kelly.
"The first words out of my mouth were, 'So, he raped you?'" Angela later said. Di Toro still didn't believe it.
On Monday, Columbus Day, Kelly called Di Toro in the late morning, she said, and they talked about how drunk they both were on Saturday. He asked if she had a good time, Di Toro said, and she replied that she didn't remember. He allegedly told her some graphic details, including ejaculating on her chest and trying to put his penis down her throat, but that she wasn't "having any of it." According to Di Toro, Kelly asked if she wanted to "fuck again," and she "croaked out, 'Yeah, sure.'"
Two days later, Di Toro talked to Greg Kelly on the phone again; she told him that Laros knew everything and that her world "had been turned upside down." She asked if he ejaculated inside her, and he allegedly said no. She asked if he put something in her drink, and he said he was uncomfortable with her questions and didn't like where the conversation was going.
"I wasn't accusing him of anything, but I couldn't believe I got that drunk off only two drinks and couldn't remember the whole evening, not even remember the hours later and how I got home," Di Toro later wrote in a document detailing her memory of what she told the DA's office.
Kelly said he'd call her in a month "when things cooled down," Di Toro said, but it was the last time they spoke.
The following Thursday, Oct. 13, Laros was out for a run when he came across Ray Kelly giving a speech at a police memorial on the Hudson River. "If I don't do this now," Laros said he thought, "I won't ever forgive myself."
Laros approached Ray Kelly and suggested the police commissioner ask his son about the events that led to his son violating Laros' girlfriend. Ray Kelly asked for the girlfriend's name, and Laros said, again, to ask his son. According to Laros — and later a police spokesman — Ray Kelly told Laros to write him a letter.
Two days later, Di Toro said, Laros texted Greg Kelly. "I just wanted to scare him — tell him that it's up, that now his family knows," Laros said. "I said, 'I told your father that he should ask you about the events of that day that led to you violating Maria. Perhaps if you were half the man your father was, you may have protected her instead of taking advantage of her.'"
Another two days later, Laros said, he texted Kelly to say he wouldn't try to contact him again. Kelly didn't respond to either message.
Di Toro also texted Kelly twice afterward, in an attempt, she said, to get some answers about what happened that night. She said she didn't condone Laros' texts. She told Kelly she thought he was a good guy and wanted to meet and talk everything out. Kelly didn't respond.
On the night of Oct. 31, Di Toro said, she learned she was pregnant. She said she called Kelly, leaving voicemails on his work and cell phones, and texted him about three times, telling him that Laros had a vasectomy, so it was "beyond a shadow of a doubt" Kelly's baby, and that she didn't "know where to turn." Over the next few days, Di Toro said she texted Kelly about three more times, telling him that she was going to a clinic to confirm the pregnancy, that she had an appointment for an abortion, and that she would keep updating him until "all was taken care of." Kelly didn't respond.
On Nov. 2, a clinic confirmed Di Toro was pregnant, she said. She texted Kelly again to ask how he wanted to proceed. Two days later, she said, she texted him again. Kelly didn't respond.
Around this time, Di Toro visited the Sisters of Life visitation mission on the Upper East Side. Di Toro said she loved nuns, having spent years in Catholic school. Like Laros and her twin sister, Di Toro said, the nuns there told her she was raped.
On Nov. 12, Di Toro had the abortion, a "proof of termination" letter from her Manhattan doctor confirmed.

On the night of Tuesday, Jan. 24, Di Toro and her sister walked into NYPD's 13th Police Precinct. After telling her story there, Di Toro was taken to the department's special victims unit in Harlem. The NYPD then recused itself, and Di Toro was escorted to the DA's office downtown. That night, she told her story at least five times.
Much would be later written about why Di Toro decided to come forward. An unidentified source told the New York Post that it sounded "like she got caught [cheating] by her boyfriend, and then he forces [sic] her hand: 'If you're not lying, you better report.'" Another Post story quoted a source saying "'the length of time' the woman took to complain 'is a problem.'"
"Is there a 'right' window of time for a woman to come forward?" Di Toro said. She knew there would be little evidence, "even from day one." Everything she knew about sexual crimes and victims' rights came from the New York City papers or Law & Order: SVU.
For a long time, Di Toro admitted, she was a "male apologist." And in the press, Laros looked like a "scorned lover" who pushed Di Toro to go to police — or, as Laros said, "a bully at first, and then some kind of macho idiot."
The truth, Di Toro said, was more complicated. The realization that "what [Kelly] did to me wasn't right" didn't come overnight, she said. "I didn't realize I was raped … I didn't realize this is not how men treat women." While Laros was instrumental in helping Di Toro come to that conclusion, she said her reason for reporting Kelly was more complicated.
"All I kept thinking for those three months is that if my niece came up to me and told me what happened to me happened to her, I would want to kill the man and make sure she got justice," she said.
When Di Toro identified herself as a rape victim to law enforcement that night, repeatedly telling her story, "it felt good, each and every time." She felt encouragement, she said, that people were listening. Laros, who was later interviewed by DA investigators, said they both had confidence it would be handled discreetly. Di Toro had told her parents, who wanted to help her keep the story to close family. But when the press began calling far-flung cousins, uncles, and aunts, "everyone started finding out," Di Toro said.
In its earliest report of the incident, on Jan. 26, the New York Post identified Di Toro only as a woman in her late twenties or early thirties who worked at a lower Manhattan law firm, where the alleged assault occurred after she and Kelly had drinks at South Street Seaport. There was a brief description of Laros' "furious" encounter with Ray Kelly. That evening, the Post ran another piece on her claim of pregnancy and the abortion. From that point on, every story on her allegations included some unnamed source's skepticism about her legitimacy. The next morning's headline: "DA's Office doubts woman's claim that she was raped by NYPD Commissioner's son Greg Kelly." In a story about Ray Kelly declining to answer questions about the matter at a promotion ceremony at police headquarters, an anonymous source said Di Toro's story "reeked of BS." In a story about how Di Toro's brother was an NYPD crime scene investigator — a story that still didn't name Di Toro — another source called her a "happy camper until the boyfriend found out." Ray Kelly had reportedly called their Jeremy's Ale House tab "laughably low." Another story called Di Toro "the defense's best witness." (Some pieces included the disclaimer that Kelly's employer was owned by the Post's parent company, News Corp.)
The New York Daily News reported on Di Toro with a similar tone. One of its early stories focused on the "'flirtatious' text messages" proving "their rendezvous was consensual." Denis Hamill wrote a column with the headline "History shows we shouldn't rush to judgment in Greg Kelly case" on the same day reporters characterized Jeremy's Ale House as "hardly the place for a romantic rendezvous." A former prosecutor told the Daily News the rape probe was "unlikely to linger." A reporter who visited Di Toro's mother's house in Port Washington, Long Island, was turned away at the "visibly angry" woman. Di Toro's mother reportedly said she would call the police, who "in this town, do what they're supposed to do."
When the tabloids weren't focused on Di Toro's claims, they offered details from inside Fox 5, explaining how Kelly was well-liked, how his colleagues couldn't believe the allegations, and how the day before Di Toro came forward, Kelly "grilled" DA Cy Vance about why he dropped charges against Dominique Strauss-Kahn, the former International Monetary Fund chief accused of rape in May 2011.
After the allegations were made public, lawyer Andrew Lankler said Kelly was "aware" of the investigation and "strenuously denies any wrongdoing of any kind … We know the district attorney's investigation will prove Mr. Kelly's innocence."

On Feb. 7, Martha Bashford, chief of the DA's sex crimes unit, announced no criminal charges would be pursued. In her letter to Kelly's lawyer about the outcome of the investigation, she wrote that after "reviewing all of the evidence, we have determined that the facts established during our investigation do not fit the definitions of sexual assault crimes under New York criminal law. Therefore, no criminal charges are appropriate."
Bashford also met with Di Toro to discuss the office's conclusion: "that there was not enough evidence to bring charges against Greg Kelly," Di Toro said. "At no point did they say they thought I was lying or reporting a false claim."
Di Toro said she still has "trouble coping" with how Bashford's letter was used by the media.
"Because of that letter, the press was able to say, 'Here's physical proof that what she's saying is a lie,'" Di Toro said. "Because of that letter, the press got a free pass to tell me, along with the rest of the world, that what happened to me didn't happen to me. Because of that stupid letter, they're saying I was not raped."
In a statement, Kelly said he was "thankful that the investigation established what I've known all along, that I am innocent of the allegations that were waged against me. I am so blessed to have a wonderful family and friends whose support for me never wavered."
Two days later, on Feb. 9, Di Toro's photo was on the front page of the Post. Di Toro had been warned, she said, by a Daily News reporter who wanted to interview her that the Post would run with her name as soon as the DA declined to prosecute. Laros saw the cover first, early that morning, and whispered the news to Di Toro while she was still in bed.
"I was just hollow inside," Di Toro said. "I stayed there for a very long time."
"I thought that was one of the most personal things they could have ever done. They didn't kill my mother or anything, but they came pretty damn close to it. It felt like being violated a second time, third time, fourth time."
On Feb. 10, Kelly returned to Good Day New York, thanking his family, friends, and viewers for support during the "tough couple of weeks." That night, photographers were still outside Di Toro's apartment and caught her taking a walk with Laros. She "sauntered" past reporters, the Post said.
According to the Bashford's letter, the investigation involved the "cooperative" interviews of Di Toro and Kelly, along with "numerous relevant fact and expert witnesses." The evidence gathered included "receipts, security logs, text messages and telephone records."
The DA's office declined to comment for this story.
Linda Fairstein, who served as the DA's sex crimes unit chief for 26 years until retiring in 2002, told BuzzFeed that she trained Bashford. Based on her conversations with people with knowledge of the investigation, Fairstein said she doesn't "believe that there was any sign of inability to say no." The investigation ended, Fairstein said, once evidence was obtained indicating Di Toro made conscious decisions during the time she said she was blacked out.
"The only way to reconstruct this thing when a witness can't is to find this evidence and take it apart," Fairstein said. Under New York state law, prosecutors would have to prove Di Toro's level of impairment led to an incapacity to consent. Fairstein said she recalled a "signed bar receipt" as a critical piece of evidence.
"The level of impairment literally has to be far more extreme than paying a bill, signing her name," Fairstein said. The Post reported that investigators had surveillance video showing Di Toro at her office, walking "on her own two feet, without swaying."
"If she walked from the bar to the office building, if she paid the bill for the third drink — this is the way the prosecutor has to measure impairment or not," Fairstein said. "Think about how impaired you have to be to get to the wrong floor. She knew where her office was. She didn't go to the Empire State Building."
Di Toro said she doesn't remember entering her office building; she has a brief "vision" of a security guard in the lobby, but because he knew her and because she was at her office earlier in the day, he could have let her in without the normally required key card, she said.
"Just because she doesn't remember she consented doesn't mean she didn't consent," Fairstein said. "How do you ask us, the prosecutors, or a jury, to reconstruct what a witness might not remember?"
Di Toro's conversations with Kelly after their encounter also worked against her. Di Toro didn't preserve any of her text messages to and from Kelly — both before and after Oct. 8 — which DA investigators photographed. But one anonymous source told the Daily News that after the encounter, they exchanged texts about "doing it again." The Post reported that there were 17 messages exchanged after their encounter, with a source characterizing them as "steamy."
Were they? "I can't imagine being in that state of mind," Di Toro said. Because she didn't keep the messages and can't recall her exact phrasing, she's hesitant to give a hard denial. She remembers, for instance, telling Kelly she believed he was "good" and urging him to meet and talk about what happened between them that night.
The day after Bashford announced she wouldn't pursue criminal charges, the Post wrote that the "case was over nearly as soon as it started." The paper's final Di Toro piece was brief, regarding a Facebook status that Angela Di Toro had posted, on Feb. 14: "There's so much more you all aren't allowed to see," she wrote. "But in due time, Maria will speak and the truth will be known. I can promise that."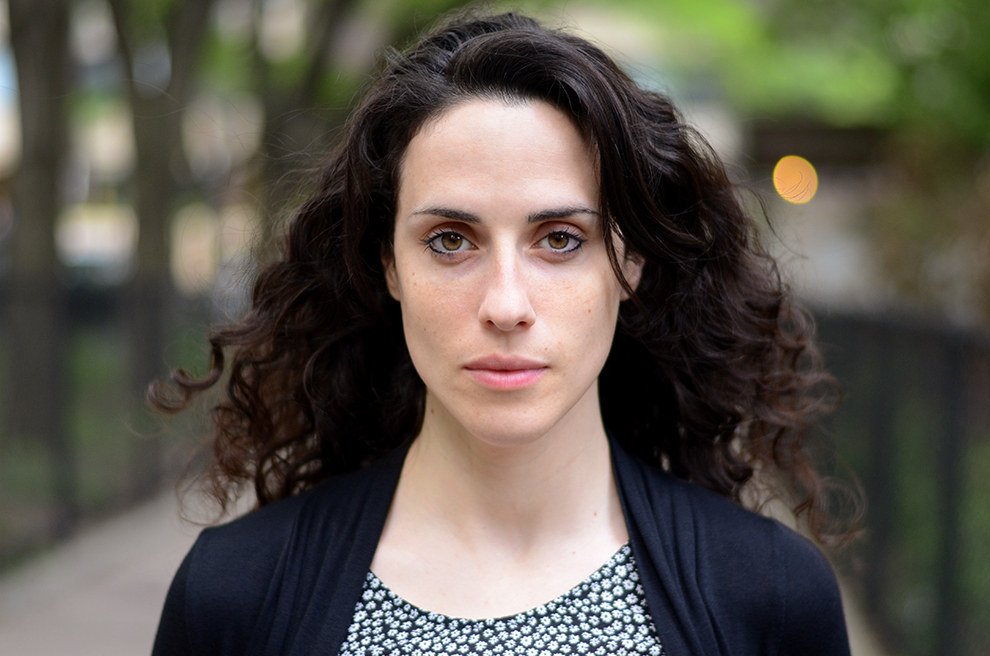 More than two years later, when Di Toro considers the reaction to her case, she said she's struck by what she perceived to be a lack of female support — from online commenters to women in her family. One female cousin, she said, remarked on how "obvious" it was that Di Toro "wanted it."
There were women Di Toro went to high school with who called and wrote to offer their support, and media bloggers who criticized the Post for identifying her. But as time went on, Di Toro said, she "started to see an ugly side," particularly at work. Reporters were outside her office daily while the investigation was unfolding, so Di Toro was offered administrative leave. When she came back a month later, her co-workers — especially the women, she said — didn't try to hide their opinions of her, Di Toro said. She said she was told she "made this place horrible." She was called "disgusting." She returned to a backlog of work, she said, and when her supervisor asked a female assistant to help Di Toro, the assistant refused, Di Toro said.
Di Toro also said she felt undermined by Fairstein, who's known as much for her fierce advocacy for sexual assault victims as she is for prosecuting the 1989 Central Park jogger rape case, in which five men were imprisoned for 6 to 13 years only to be exonerated in 2002. Fairstein, a member of the board of Mariska Hargitay's rape victims advocacy foundation Joyful Heart, told the New York Daily News, "Based on my own experience, I don't think [the Kelly investigation] will take a very long time." Fairstein concluded then, as she did in an interview with BuzzFeed, that "this woman doesn't come close to establishing her physical helplessness."
Fairstein said she doesn't wish Di Toro "anything bad." "I thought that she had accepted that no crime had occurred," she said. "I hope she isn't hurt again by thinking that telling her story will change that."
"I don't think either of them had a fair shot in this," Fairstein continued. "His name would have never been in the paper had his name been John Doe. He suffered from it … And for her to have her picture displayed and called 'Shady Lady,' absolutely nothing she did deserves that. Absolutely horrific treatment."
The biggest blow, Di Toro said, was Andrea Peyser's column in the New York Post, "Let's put the girl who cried 'wolf!' on trial instead." (Peyser, like the New York Post spokeswoman, did not respond to request for comment.) In her column, Peyser urged the DA to prosecute Di Toro "to the fullest extent of the law."
"Di Toro had hidden behind a veil of anonymity that Kelly, a totally innocent man, was never afforded," Peyser wrote. "Enough! … Being a lightweight is no proof of sexual assault."
Peyser wasn't alone in this sentiment: "Not every bad sexual encounter is rape," Fairstein told BuzzFeed. "People make mistakes. Men do. Women do." That's how Di Toro felt too, she said, before she knew what it's like to identify as a survivor and be called a liar for it.
Di Toro is afraid of sounding naive now. She was then, she said. She's spent a lot of time thinking and reading about feminism and what she now refers to as "rape culture." She joined Eve Ensler's V-Day, campaigning to end violence against women. She briefly attended meetings at an Upper West Side church putting on a production of The Vagina Monologues. But during those meetings, Di Toro said she would break down crying. She said she feels like a "big part of me died." She doesn't have any trust in the judicial system. She still suffers from nightmares, she said, and paranoia that she's being watched or followed. She tries not to talk about it.
"I'm not as social as I used to be," she said. "I guess I saw where it got me."
Francis Laros, for his part, may be patient and forgiving — not quite "rugged," as the Daily News called him, or even the type to raise his voice. But he does have a kind of justice-demanding quiet furor when it comes to Kelly and the tabloids.
"I would like the Kelly family for the rest of their lives to cringe at the word 'rape,' at the name 'Maria,' the same way the Clintons have to cringe every time they heard the word 'Monica,'" he said.
Laros and Di Toro are still together. He said he still struggles with the image of Di Toro "comatose" on the floor of her office — something he doesn't ever bring up to her.
"Call it what you like," he said. "It was, at very worst, a rape. It was unsavory at the very least that you would leave a woman lying in a pile of vomit on the floor."
Time has turned the "really bad" into "less bad." But Di Toro's allegations haven't changed, and she's decided she needs to make clear that she stands by them. She knows she might tell this story and draw photographers outside her home again. She also knows she might tell this story and no one will care. For Di Toro, the desire to come forward — again — has outweighed the fear of what might come afterward.
"The days are easier now," she said. "It's not the first thing I think of in the morning and the last thing I think of at night. But it's still there. It's still in the back of my mind. I still have my side of the story that wasn't told," she said. "It's a bit of clearing my name. It's making things right — mind, body, and soul for myself."
Email the author at jessica.testa@buzzfeed.com.