Sen. Frank Lautenberg Has Died
He was 89. New Jersey Gov. Chris Christie will name someone to fill the senator's vacancy.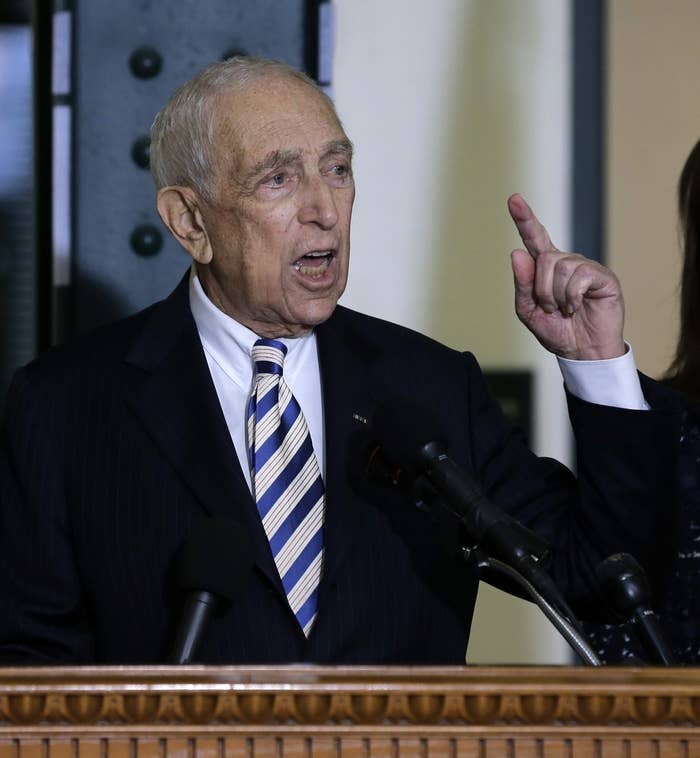 Sen. Frank Lautenberg died of viral pneumonia early Monday morning, months after announcing he wouldn't seek re-election in 2014.
The Democrat from New Jersey was the last living World War II veteran in the Senate, his office pointed out in a statement Monday. His most well-known legislation included the airplane smoking ban and the law that made 21 the legal drinking age. He cast his 9,000th Senate vote in December 2011.
In April, after a two-month absence due to illness, a wheelchair-bound Lautenberg returned to Congress to vote in favor of gun-control legislation to much praise from his colleagues. From the Star-Ledger:
Sen. Robert Menendez (D-N.J.) praised his home-state colleague.

"The intrepid Frank R. Lautenberg was the personification of Jersey Strong today, casting votes in favor of background checks for gun owners, and bans on assault weapons and high-capacity ammunition magazines," Menendez said in a statement. "His presence today was a brighter part of a disappointing day of votes. I look forward to working with him as we continue the fight for common-sense gun control measures for the sake of all Americans."

Sen. Richard Blumenthal (D-Conn.) shared similar sentiments.

"It was really uplifting and inspiring to see him back," Blumenthal said. "It was fabulous not only to see him, but to see him smiling and cracking jokes. He's the same old Frank."