Planned Parenthood Asks Supreme Court To Intervene In Texas Abortion Crackdown
The advocacy group says one-third of Texas' abortion providers have stopped offering the procedure after an appeals court ruled in favor of the state on Thursday.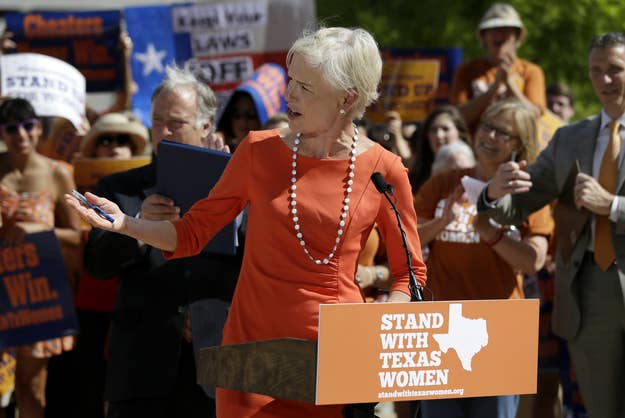 On Monday, three Planned Parenthood groups and seven women's health clinics filed an emergency request to the Supreme Court to block the enforcement of parts of a law broadly restricting access to abortion in Texas.
The law, famously fought by Democratic gubernatorial candidate and state Sen. Wendy Davis this summer, was signed by Gov. Rick Perry on July 18 and scheduled to take effect on Oct. 29. But on Oct. 28, a federal judge blocked some components of the law, including the requirement that all abortion-providing doctors have admitting privileges at a hospital within 30 miles of their practices; District Judge Lee Yeakel argued that component would put an unconstitutional burden on women seeking abortions.
On Thursday, the Fifth Circuit Court of Appeals overruled Yeakel and reinstated the hospital privilege requirement, arguing that they were upholding an earlier Supreme Court ruling that "the incidental effect of making it more difficult or more expensive to procure an abortion cannot be enough to invalidate [a law]."
Thursday's ruling was temporary — a complete hearing is expected to be held in January — but it affected more than one-third of abortion-providing clinics in Texas, which were forced to suspend abortions, lawyers for Planned Parenthood wrote in their emergency application to vacate stay.
"[In] just the few short days since the injunction was lifted, over one-third of the facilities providing abortions in Texas have been forced to stop providing that care and others have been forced to drastically reduce the number of patients to whom they are able to provide care. Already, appointments are being cancelled and women seeking abortions are being turned away. As the evidence before the District Court showed, this forced cessation of services and reduction in capacity will prevent, each year, approximately 20,000 Texas women who would have otherwise had an abortion from accessing this constitutionally protected health care service."
Justice Antonin Scalia, who hears emergency appeals for the Fifth Circuit, ordered the state of Texas to respond to the application by 4 p.m. on Tuesday, Nov. 12. He can decide whether to vacate the stay or refer the question to the full court.
Read Planned Parenthood's filing here:
Download PDF