Updated — 11:10 p.m. ET
Executive Editor Jill Abramson has left the New York Times, publisher Arthur Sulzberger Jr. told employees Wednesday afternoon.
In a statement, a Times spokeswoman said Sulzberger believed "new leadership would improve some aspects of the management of the newsroom."
"I've loved my run at The Times," Abramson said in a joint statement. "I got to work with the best journalists in the world doing so much stand-up journalism."
A Times spokeswoman said Abramson would not be assisting in transition or staying at the paper in any capacity.
Abramson, 60, was the first woman to serve as the Times' executive editor. She's replaced by Managing Editor Dean Baquet, 57, who is the paper's first African-American executive editor.
"It is an honor to be asked to lead the only newsroom in the country that is actually better than it was a generation ago," Baquet said, according the Times.
A Times reporter who wished to remain anonymous said that everyone in the newsroom is currently "shocked and surprised" and "gathering in little knots to talk about it."
While Sulzberger's remarks focused on management — a running source of anonymous gripes from a newsroom that holds immense power inside the company, and whose rebellion ousted a previous editor, Howell Raines — his decision also came soon after his son delivered a critical report on the paper's adjustment to the new media ecosystem.
In July, Arthur Gregg Sulzberger, a metro editor and the son of Times publisher Arthur Sulzberger Jr., started work as the head of a "new ideas task force" made up of other Times reporters to focus on digital innovation and figuring out how to better engage the paper's online audience. The resulting report was published last week and found that the Times still has a lot of ground to make up. "The pace of change in our industry demands that we move faster," the report's authors wrote.
And if anything, the report understated the alarm among its authors: A source said that members of the committee were more rattled by what they found even than the report suggests.
In a memo to staff announcing the findings of the report, Abramson said, "We have always wanted the hallmark of our time to be leading our transition to a digital first newsroom. We are tantalizingly close, but as this report points out, there are urgent challenges still facing us."
Baquet, however, is more beloved manager than digital visionary.
He originally joined the Times in 1990, but left in 2000 to become managing editor of the Los Angeles Times. He became the top editor there in 2005, and clashed with management when he tried to protect the newsroom from deep cuts. He returned to the New York Times in 2007 as its Washington bureau chief.
The Huffington Post reported last week that Baquet had recently been approached to join Bloomberg News.
Baquet has not tweeted yet as many people on Twitter noted Wednesday.
More from Sulzberger, via the Times' announcement:
With Jill, Dean was closely involved in the work of our newsroom innovation team over the past six months, which helped to outline how we can best organize to extend our tradition of innovation and excellence into the future. I'm very pleased that he will now lead that work as executive editor.
Employees were told to gather on the third floor newsroom for the news. A number of employees said the newsroom was in shock following the announcement.
"Everyone gob-smacked in NYT newsroom over Jill Abramson leaving and Dean Baquet taking over," tweeted Patricia Cohen, Times culture reporter.
According to the Times's own article on Wednesday, "In recent weeks, people briefed on the situation said, Mr. Baquet had become angered over a decision by Ms. Abramson to try to hire an editor from The Guardian, Janine Gibson, and install her alongside him a co-managing editor position without consulting him. It escalated the conflict between them and rose to the attention of Mr. Sulzberger."
According to the Guardian's report, Gibson, who was recently appointed editor-in-chief of the Guardian's website, confirmed that she had been approached. "The New York Times talked to me about the role of joint managing editor, but I said no," she said.
The Times also reported "Abramson had recently engaged a consultant to help her with her management style."
Last month, Gotham asked Abramson what she thought was the measure of her success.
"When I leave, will there be several plausible female candidates to take my place?" Abramson said. "Our masthead, which is the leadership group of editors, is now half women for the first time, and I'm very happy to see that happen under my watch."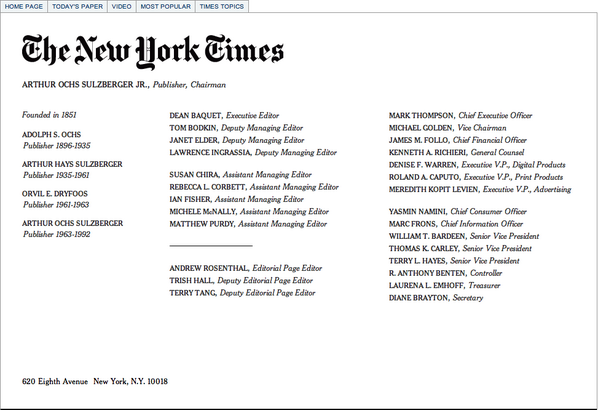 Abramson became the Times' first female executive editor in 2011 when Bill Keller stepped down after eight years at the helm. At the time, Abramson called her new job "the honor of my life" and like "ascending to Valhalla" for someone who read the Times as a young girl growing up in New York.
Abramson joined the Times in 1997 from the Wall Street Journal, where she was a deputy bureau chief and an investigative reporter for nine years.
Keller asked Abramson to be his managing editor in 2003 as he tried to assemble a leadership team that would restore morale in the newsroom and confidence in the Times name following the Jayson Blair plagiarism scandal. It was in the wake of that scandal, that then-executive editor Howell Raines resigned amid a newsroom revolt about his management style. Abramson had been part of a group of editors who clashed with Raines during his tenure.
Keller, who wrote a column for the Times after being replaced by Abramson, told Erik Wemple he didn't know what happened.
"These are two people who are really good friends of mine," he said. "I'm sad for Jill and hope for the best for Dean."
Download PDF
Email the authors of this post at jessica.testa@buzzfeed.com and myles.tanzer@buzzfeed.com.