Jodi Arias Found Guilty Of First-Degree Murder
The tabloid-ready trial is finally over.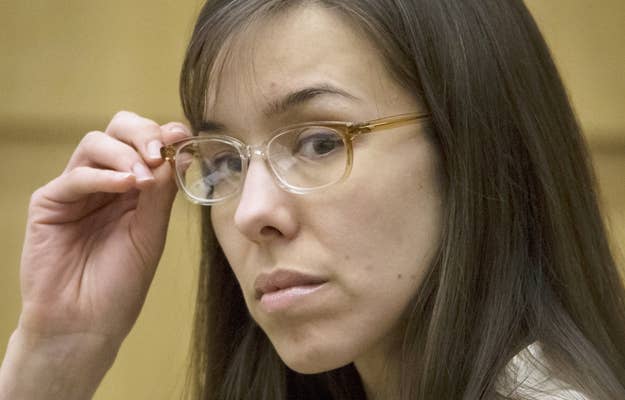 Jurors in the Phoenix trial determined Arias' guilt on Wednesday — five days after being handed the murder case.
The verdict comes four months after the trial began and nearly five years after Arias' boyfriend Travis Alexander was found dead with a slit throat, dozens of stab wounds, and a gunshot to his forehead.
A first-degree murder conviction means that the jury believes Alexander's murder was premeditated by Arias, who, prosecutors argued, stole a gun from her grandparents' house before the murder and removed her license plate right after it.
Early on in the trial, hundreds of media outlets and thousands of spectators became obsessed with the case's salacious details. Arias' lengthy testimony often focused on her and Alexanders' many, many sexual encounters.
During the trial, Arias admitted to killing Alexander, though she claimed it was self-defense. From the AP:
Arias said she recalled Alexander attacking her in a fury after a day of sex. She said Alexander came at her "like a linebacker," body-slamming her to the tile floor. She managed to wriggle free and ran into his closet to retrieve a gun he kept on a shelf. She said she fired in self-defense but had no memory of stabbing him.

She acknowledged trying to clean the scene of the killing, dumping the gun in the desert and working on an alibi to avoid suspicion. She said she was too scared and ashamed to tell the truth.
A key piece of evidence in the case ended up being Alexander's camera card, which included several time-stamped photos of Arias — nude and posing suggestively — along with photos of Alexander lying dead in his shower hours later.
CORRECTION: An earlier version of this article misstated the name of the murder victim. (5/8/13)