Fort Hood Shooter Nidal Hasan Found Guilty Of Murder
The verdict was unanimous, which means Hasan is eligible for a death penalty sentence.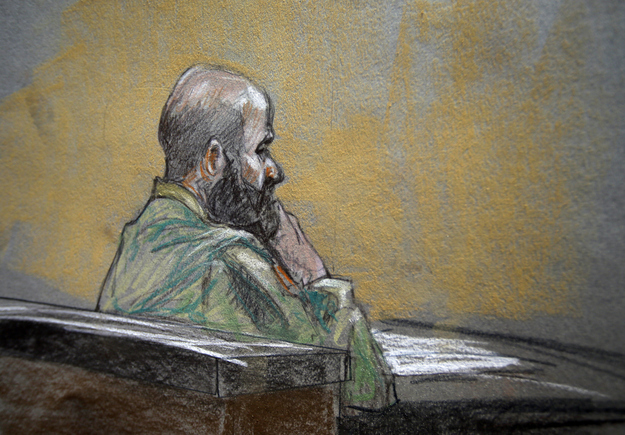 U.S. Army Maj. Nidal Malik Hasan has been found guilty of opening fire on Fort Hood's Soldier Readiness Processing Center on Nov. 5, 2009, killing 13 and injuring 32. The military panel's decision was unanimous on all counts of murder and attempted murder.
Hasan, who is paralyzed after being shot down in the attack, chose to represent himself during the court martial, which began on Aug. 6. The former psychiatrist gave an opening statement, but he declined to give closing remarks. He barely cross-examined witnesses, called no witnesses himself, and offered no evidence.
"The evidence will clearly show that I am the shooter," Hasan said on the trial's first day. "We the Mujahideen are imperfect Muslims trying to establish the perfect religion in the land of the supreme god … I apologize for any mistakes I made in this endeavor."
Hasan's attorneys — held on standby — tried to get excused from the trial, believing the court was allowing Hasan to secure his own death penalty.
"It becomes clear his goal is to remove impediments or obstacles to the death penalty and is working toward a death penalty," Hasan's lead standby attorney Lt. Col. Kris Poppe told judge Col. Tara Osborn earlier this month. "We believe your order is causing us to violate our rules of professional conduct."
A decision on Hasan's sentence is pending. Under military judicial law, the death penalty was only a possibility for Hasan if the court found him guilty of premeditated murder unanimously.
Hasan's 13 deceased victims: