On Sept. 16, 34-year-old Navy contractor Aaron Alexis killed 12 and wounded eight at the Washington Navy Yard in Washington, D.C. On Wednesday, the FBI released footage from the investigation, along with a timeline of events:
7:53 a.m. - Alexis' rental car, a blue Toyota Prius with New York plates, entered Parking Garage #28 at the Washington Navy Yard, located directly across from Building #197.
8:08 a.m. - Alexis exited Parking Garage #28 on foot carrying a backpack. Alexis entered Building #197 and proceeded to the elevator.
8:09 a.m. - Alexis exited the elevator on the fourth floor and entered the men's bathroom carrying a backpack and a clipboard.
8:15 a.m. - Alexis crossed the hallway into the 4 West area of Building #197 with shotgun, but without the backpack or a clipboard.
8:16 a.m. - Alexis shot the first victim in the 4 West area of Building #197.
8:17 a.m. - First 911 call is received from the fourth floor of Building #197.
8:20 a.m. - Alexis left the fourth floor using the stairs and entered the third floor.
8:28 a.m. - Alexis appeared on the first floor.
8:57 a.m. - Alexis returned to the third floor.
9:25 a.m. - Law enforcement shoot and kill Alexis on the third floor.
White House Press Secretary Jay Carney later said he believes "every American" should watch the Navy Yard footage to avoid becoming "numb" to gun violence.
The FBI also released photos of Alexis, in his Toyota Prius, being cleared through the Navy Yard's main entrance.
This is the fourth-floor men's bathroom stall where Alexis ditched his backpack.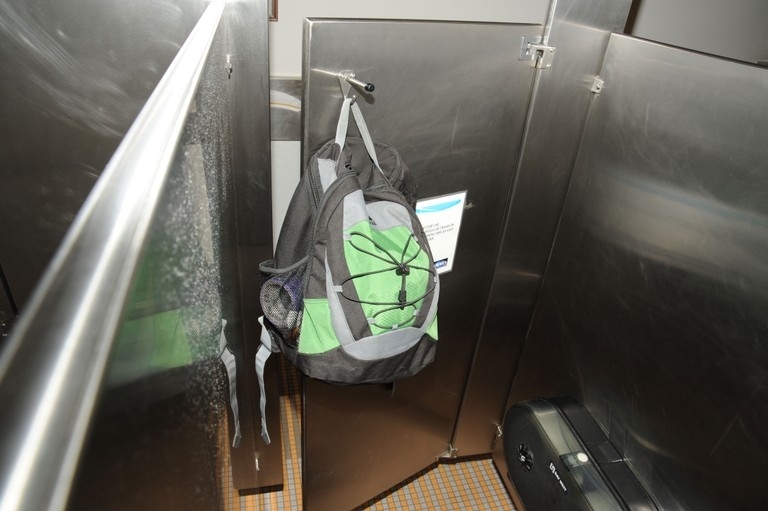 And the Remington 870 shotgun he used, with sawed-off barrel and stock, scratched up with three messages.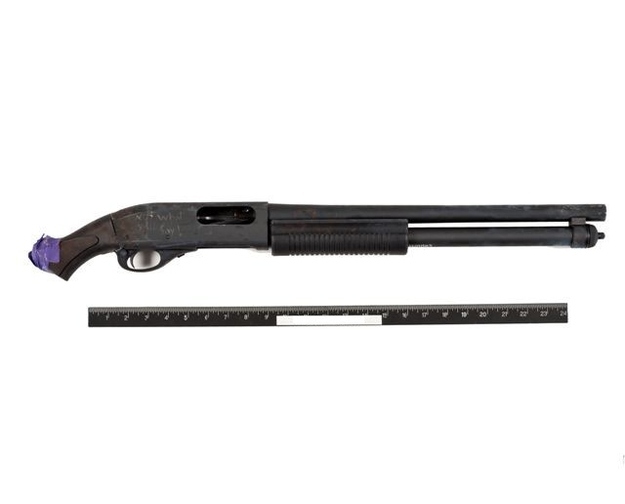 "Not what y'all say!"
"Better off this way!" and "My ELF weapon!"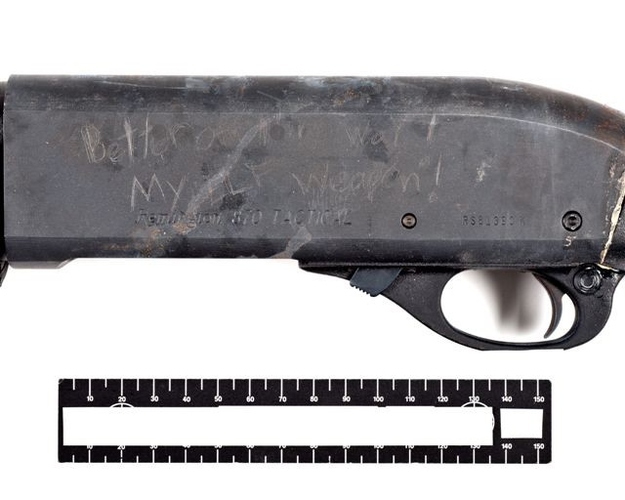 "End to the torment!"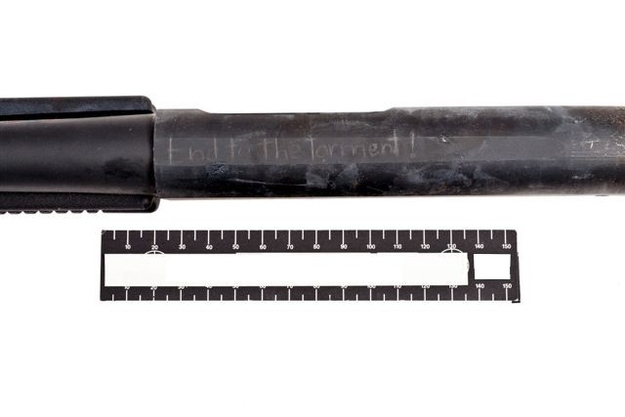 The FBI also said that Alexis left a note saying he was being bombarded by extremely low-frequency radio waves.
"Ultra-low frequency attack is what I've been subject to for the last 3 months, and to be perfectly honest that is what has driven me to this," the note said.