Devastating Tornado In Oklahoma City Area
A vast tornado ripped through parts of Oklahoma on Monday. UPDATE: At least 24 people were killed. Hundreds more are injured. The search for survivors continues Tuesday.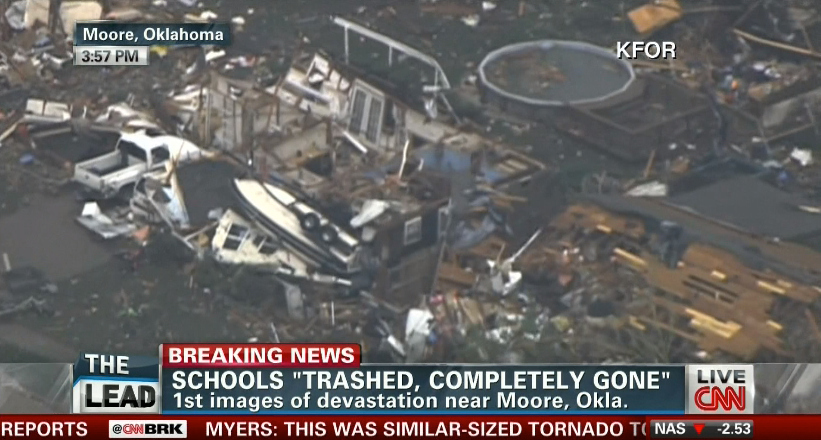 Homes were flattened, cars were crushed, and schools were described as "completely gone," as officials warned Monday afternoon's tornado could reform within the day. The tornado touched down around 3 p.m. local time. Around 4:20 p.m., radar from local station KFOR indicated that the storm was headed toward Mecker, Okla.
A White House official said FEMA is monitoring the storm and urged Oklahomans and others in the storm's path to "follow the direction of state and local officials."
On air, an KFOR meteorologist said he believes this is "the worst tornado damage in the history of the world." It was classified an EF4 — one step below the most powerful rating for a tornado. The National Weather Service says it recorded wind speeds of 200 mph.
This is the second major tornado in the Oklahoma City metropolitan area in as many days. The region has long been afflicted by damaging tornadoes; in 1999, the strongest winds on earth — 302 mph — were recorded near Moore, Oklahoma, as the AP points out.
Watch live footage of the tornado aftermath here.
As of 4:55 p.m. local time, there were still no official details on injuries or deaths, though local affiliate KWTV reported that at least five people have died.
Rescue efforts are currently underway. Fifteen children, all 8-10 years old, were reportedly trapped inside a school.
There's also been heavy damage to a local hospital.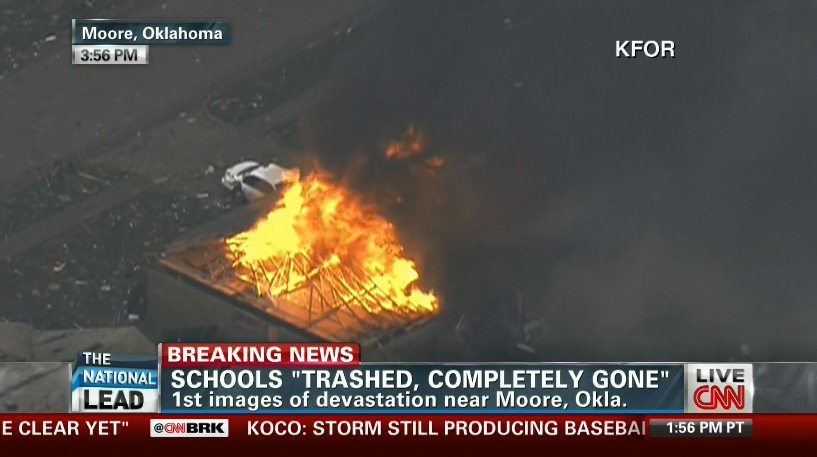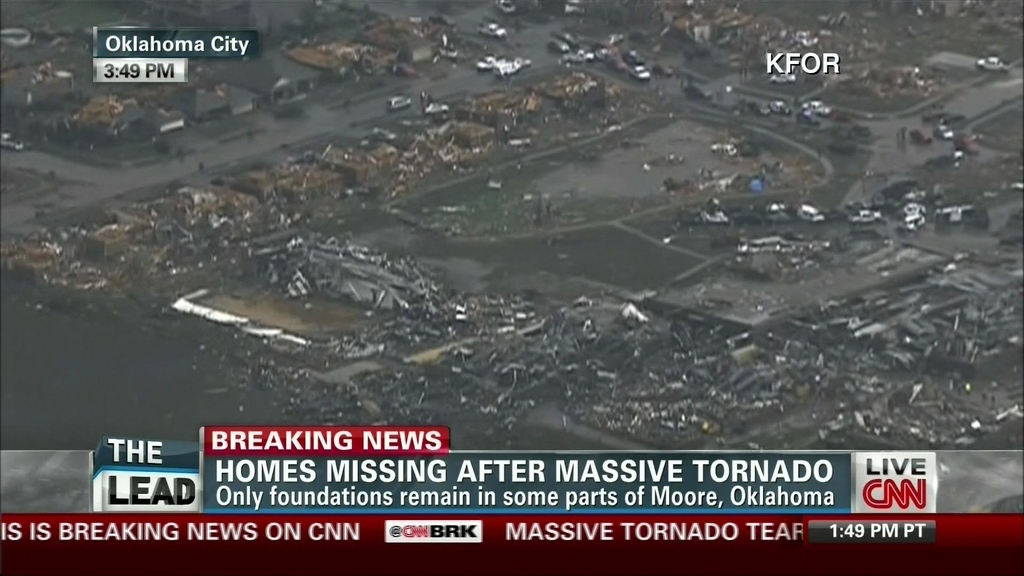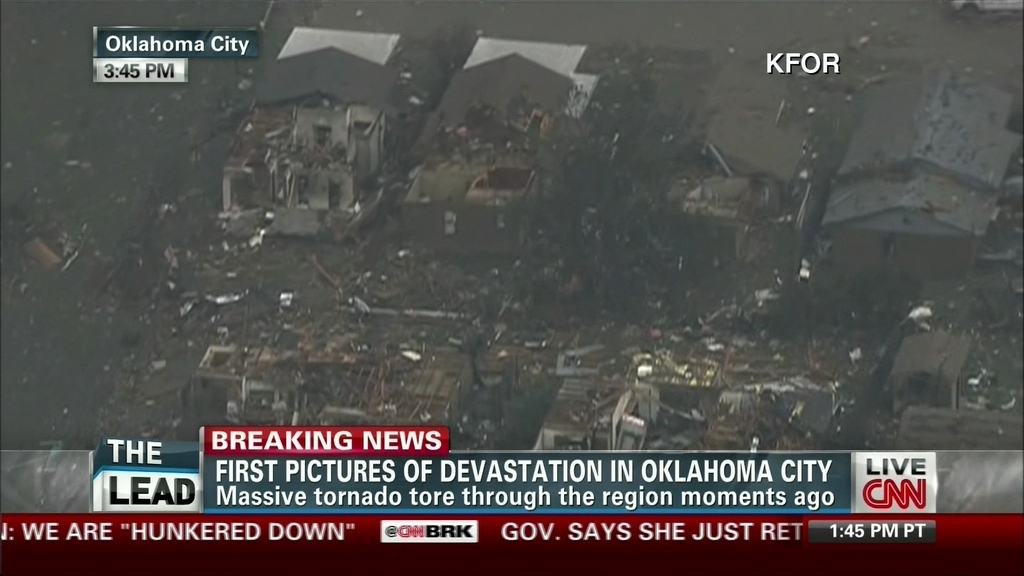 UPDATE — May 20, 2013, 7:08 p.m. ET: Four dead in Moore, Okla., including a mother and baby.
Several children pulled out of rubble alive at Plaza Towers Elementary School in Moore, Okla.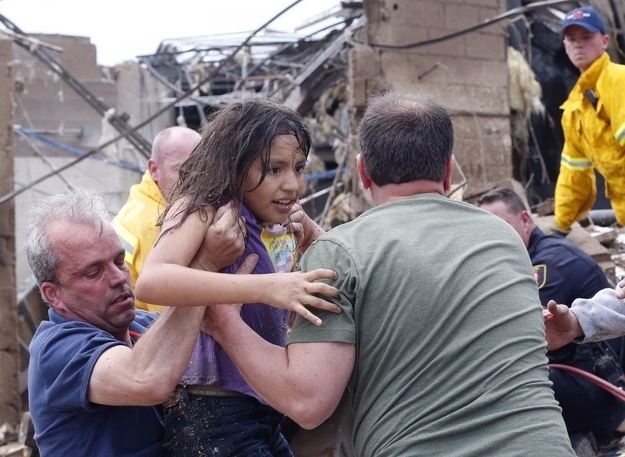 A woman carries her child through a field near the collapsed Plaza Towers Elementary School in Moore, Okla.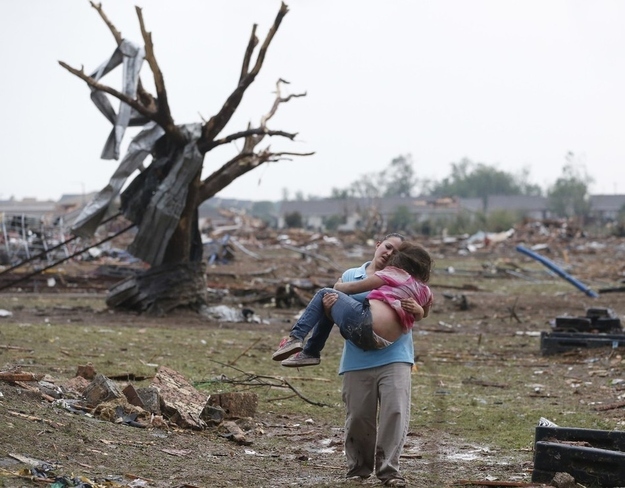 UPDATE — May 20, 2013, 7:33 p.m. ET: At least 10 people dead after the tornado.
Widespread damage in Moore, Okla.
UPDATE — May 20, 2013, 11:00 p.m. ET: At least 20 children have been found dead in the aftermath of the tornado.