Spend enough time with Utah feminists and you'll hear the phrase "the worst state for women" bounce between them on the beat of a metronome. It's their rallying cry, based on a series of less-than-official reports from recent years but firmly reinforced by what the women say they've seen around them.

On a snowy night in early January, about 75 of these feminists gathered in Salt Lake City, prepping for the Women's March on Washington on Jan. 21. The venue: a renovated art-deco clubhouse once home to the Ladies Literary Club, a group founded in 1877 by non-Mormon women. The agenda: announcing updates. A location had been picked for the Utah women to gather at before the march began (DC's National Air and Space Museum), colors for their coordinating outfits had been chosen (black and gold), and final branding had been established (the hashtag #Ifightfor, boxing gloves drawn on posters or worn on hands encouraged).
"The worst state in the nation is here to fight," said Chelsea Shields, a strategic consultant behind the boxing gloves idea and one of the women coordinating the Utahns' trek to DC. "We want people to say, 'What group is that?' We want our own state to feel self-conscious."
The Women's March on Washington started coming together just after the election. It had a chaotic start, well-documented by skeptical media outlets. There was a tangled mess of Facebook pages, then serious concern over whether the march was including women of color and other underrepresented voices (prompting a name change from Million Women March, which had been used by black women in 1997), then questions of permits. By now, though, as DC authorities prepare for a crowd of 400,000, the national organizers have largely whipped the chaos into shape. There are committees and chairwomen and major organizations on board — Amnesty International, the NAACP, Oxfam, Planned Parenthood. The grassroots Facebook effort has gone legit. The national organizers just posed for Vogue. Gloria Steinem is coming.
Still, a narrative of confusion and criticism is hard to stop once it starts, and debate over every aspect of the march continues. On Tuesday, just four days before the march, the event's national organizers were bouncing back from one controversy — granting partnership status to a pro-life group — when another — quietly removing sex worker rights from the march's policy platform — erupted.
But the breathless media coverage of the march has largely overlooked the thousands of women who are simply participating, flying across the country with the daughters, moms, sisters, or best friends they've rallied, or renting a bus for the day — there are more than 1,200 coming to DC — with strangers from their home states. Hundreds have posted to Facebook about how this is their first time demonstrating. Thousands have said they just can't wait for Jan. 21.
The Utah group is stacked with these women, and they've got something to prove. Utah went to Trump on Election Day after a brief but convincing flirtation with Evan McMullin, a Utahn who ran for president as an independent. The group of Utah women going to the march is largely white; white women, especially those who supported Trump in red states in secret, are thought to have been the voting bloc that handed Trump his victory. And so the Utahns are going above and beyond many other states' efforts — aggressively planning, branding, coordinating outfits. Organizers say 670 Utah women are going to DC. They started their own organization, Utah Women Unite, to continue advocating for and against state and local policies after Jan. 21. Organizing is in their blood, the Utah women told me.
"We know how to dig in our heels," said Kat Kellermeyer, a 29-year-old Victoria's Secret manager. "I feel like that's a uniquely Utahn thing, because so many of us do come from that Mormon background, and Mormons are all about organizing and getting shit done."
Kellermeyer identifies as "former Mormon," though she said she hasn't taken her name off the church's official record yet: "I'll see if they're willing to kick me out if I'm active enough in the community." Kellermeyer is queer, a complicated status in the Mormon faith.
Unlike the handful of longtime activists leading Utah Women Unite, this is Kellermeyer's first time as an organizer. That's not to say she isn't aware of activism in Utah; about three years ago, when marriage equality protests and rallies began breaking out, Kellermeyer would go to the capitol and take selfies and post them on social media in support of the demonstrators. This exposure to activism incidentally brought her out of the closet.
"I remember one day, my parents were a little concerned," she said. Her parents are both "conservative LDS folks" (and proud supporters of Trump, whom Kellermeyer refers to as a "clear and present danger").
"My father messaged me being like … 'This isn't your fight. What are you doing? You don't have to be so vocal about these issues,'" Kellermeyer said. "I was like, 'It is, though! It is, though.' I just kind of came out. I unloaded." Kellermeyer now refers to this as her "very millennial way to come out" — over Facebook message.
Since then, her parents have "come a long way, but I wouldn't say we're there yet," Kellermeyer said. "It's clear they don't always understand me, but I know that they love me. That sounds like the big gay cliche, but it's getting there. It's taking a while."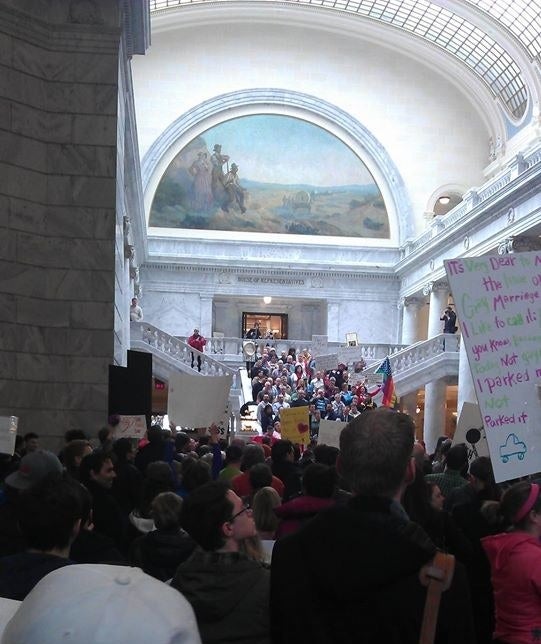 While she told her coming-out story, another one of Utah Women Unite's organizers appeared, wearing a "Wild Feminist" T-shirt and "pussyhat," a hot pink cat-ear beanie designed for marchers. "It's freezing labia outside," the woman said.
"It's freezing labia right here, girl!" Kellermeyer replied, pointing to the door cracked open near us. She pulled her hoodie around her fists and rubbed her ears, temporarily obscuring her black gauges stamped with white anchors. Eventually Kellermeyer was summoned to a small breakout meeting of Utah Women Unite organizers, who were practicing what they'll say if the media approaches them at the DC march. One question they anticipate, from Utah media at least, is why supporting LGBT people is part of their group's platform.
"At our first meeting," veteran organizer Kate Kelly informed the group, "we had a woman come in and say, 'If you take LGBTQ out of it, I'll support you and I'll bring thousands of women to your march. You have to take that out. You can let Equality Utah fight for them.'"
"Like suffragettes part two," another marcher remarked, rolling her eyes. "But with gay people."
"We made that statement so everyone knows where we stand, and we're not taking anyone out," Kelly said. "Another thing they might ask is, in our mission statement is the word 'intersectional.' I've included a definition."
The women, a group of about 10 — half of whom had never done anything like this, half of whom were seasoned protest pros — went around the circle practicing their personal stories for when reporters ask why they are marching. Some eyes watered. When it was her turn, Kellermeyer talked about her neighbor who calls her a dyke and mutters threats under his breath in passing.
Because LGBT people are not a protected class in Utah, Kellermeyer said, "Until a brick goes through my window and hits me, I can't do anything about it, and even then I can't say it's a hate crime. All I can say is it's destruction of property. There's nothing I can do to protect myself."
Trump's election made Kellermeyer an organizer. "It's not enough to be woke anymore," she said. She believes his presidency will "either turn off an entire generation, or get us to go out there and fight."
The cost for each Utahn to attend the march in DC was around $1,000, depending on when she booked her trip. Utah Women Unite has raised funds for eight people to go, including Kellermeyer, a self-described "low-income girl." When she heard that a donor had come through for her, she said she sat in her kitchen happy-weeping.
"As a young queer woman from Utah, to go there and represent and speak ... to come out and start swinging, and show that you don't have to have a background in organization, you don't have to have a social [work] degree, you don't have to have a law degree. I'm just a blue-collar retail worker."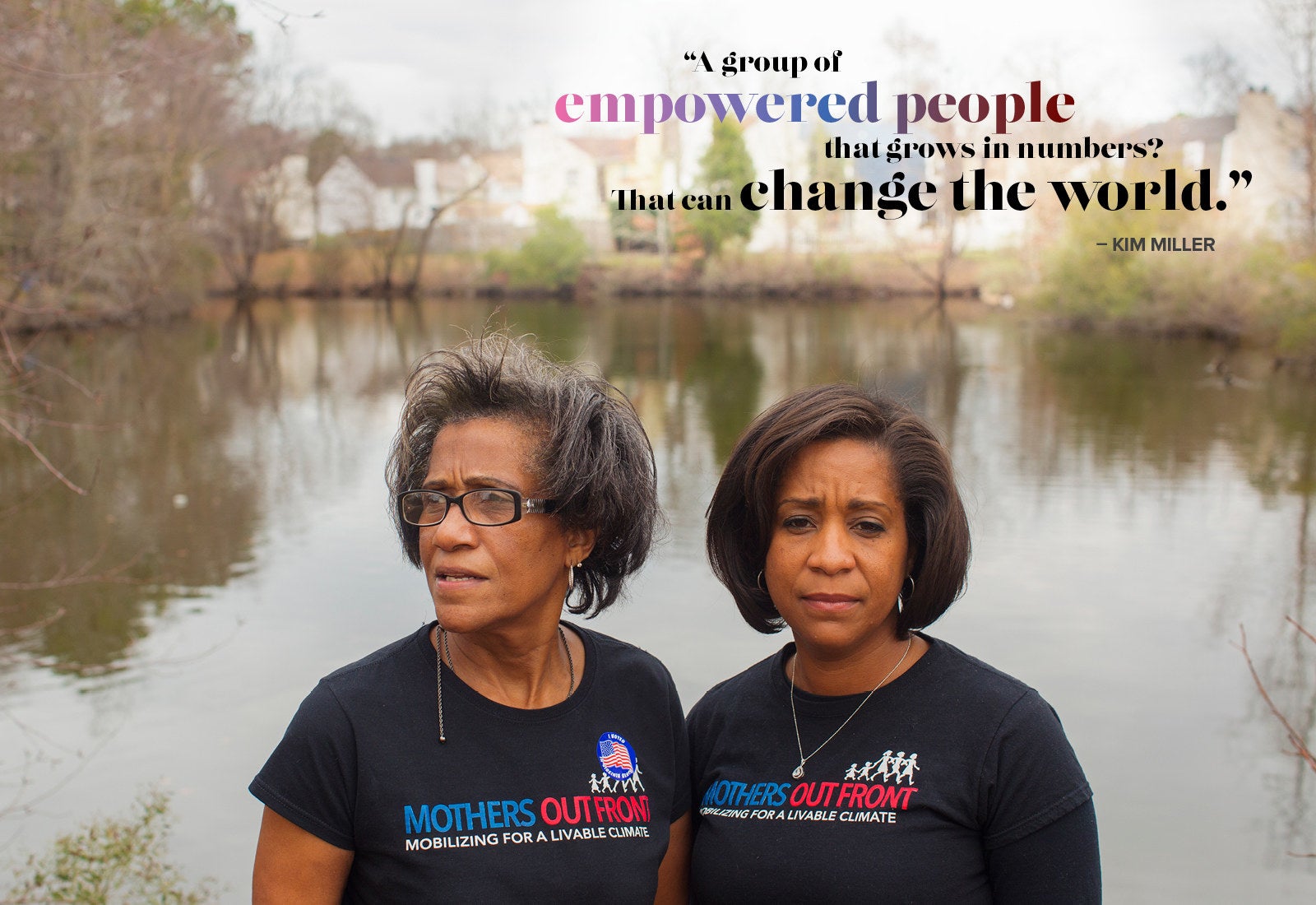 In 2011, the year Kim Miller turned 40, she decided to do one thing every month that scared her — something she wouldn't ordinarily do, she said. The swamp at Virginia's First Landing State Park was one of those things.

From the beginning, the park, where she worked as an events and volunteer coordinator, had scared her. First Landing is nearly 3,000 acres — a woodland that passes through a swamp, salt marsh, and sand dunes before emptying out onto a quiet beach. Miller considered herself "suburban," she said, "used to street lights and controlled environments" and outdoorsy only to the point of playing softball. The park in all its unruly nature was like another planet. And the swamp? "I thought it looked like something out of a scary movie," she said. The first time she went on a hike in the park's woods, she took a ranger with her, "because he had a gun."
Her fear didn't stick around long after that; eventually she would walk the trails by herself, or go camping and kayaking in the park. But five years into the job, on the occasion of turning 40, she decided to try one thing in the park she hadn't yet: March out into the swamp.
One step into the swamp, "and I'm going, 'Crap,'" Miller recalled. "I take another step and I'm like, 'This isn't so bad,' and then I take a third step into deeper waters, and there's this hole in my hip waders, so now swamp water is flooding into my hip waders. But it was OK! I survived."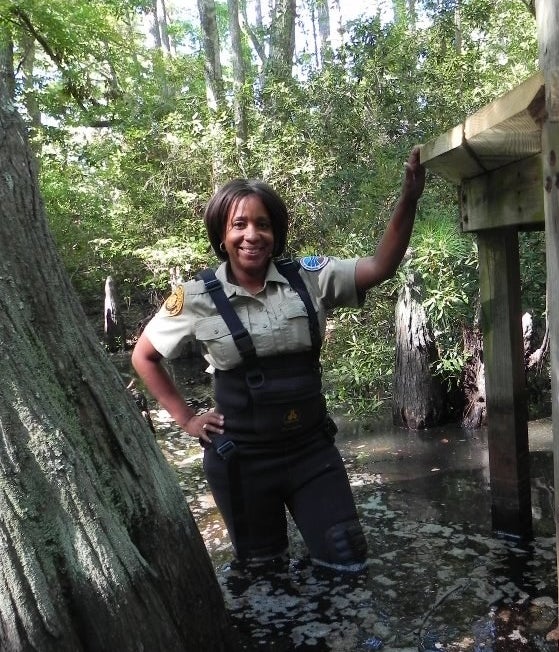 The swamp march has been on her mind as Miller, now 45, prepares for another march. This weekend, she'll load about 55 women onto a bus from Virginia Beach to DC for the Women's March on Washington. Miller and the others will be representing Mothers Out Front, a climate change advocacy group led by — you guessed it — mothers. Miller is bringing her mother, 66, and two of her daughters, ages 18 and 14. (Miller's third daughter, 25, lives in San Diego, "about as far away as she can get without leaving the country," Miller said, in her most mom-guilt voice.)
Last year, Mothers Out Front, then only based in Massachusetts and New York, expanded to Hampton Roads, the southeastern Virginia region including Norfolk, Virginia Beach, and Chesapeake. At the time, mothers there were particularly concerned about their children being able to get to school during the floods after rainstorms. Hampton Roads, Miller explained, is the second-most-populated area, behind New Orleans, susceptible to flooding. "Throw in high tide and the children are walking in knee-deep water, and that water isn't clean. By the time they get to school they're soaking wet, and a lot of parents are choosing to keep their kids at home."
To gauge interest in Hampton Roads, Mothers Out Front began holding "something like Tupperware parties, but instead of containers it was climate change," Miller said. Through her job at the park, Miller had developed a love of conservation that had become entwined with her "love for my children, wanting a livable climate for them and generations to come." She was also a lifelong Hampton Roads resident, living within walking distance of her parents and other relatives, who'd become increasingly worried about the frequency and strength of hurricanes and other local storms. The Mothers Out Front mission — saving the planet, empowering women — hooked Miller, and she signed on as paid staff.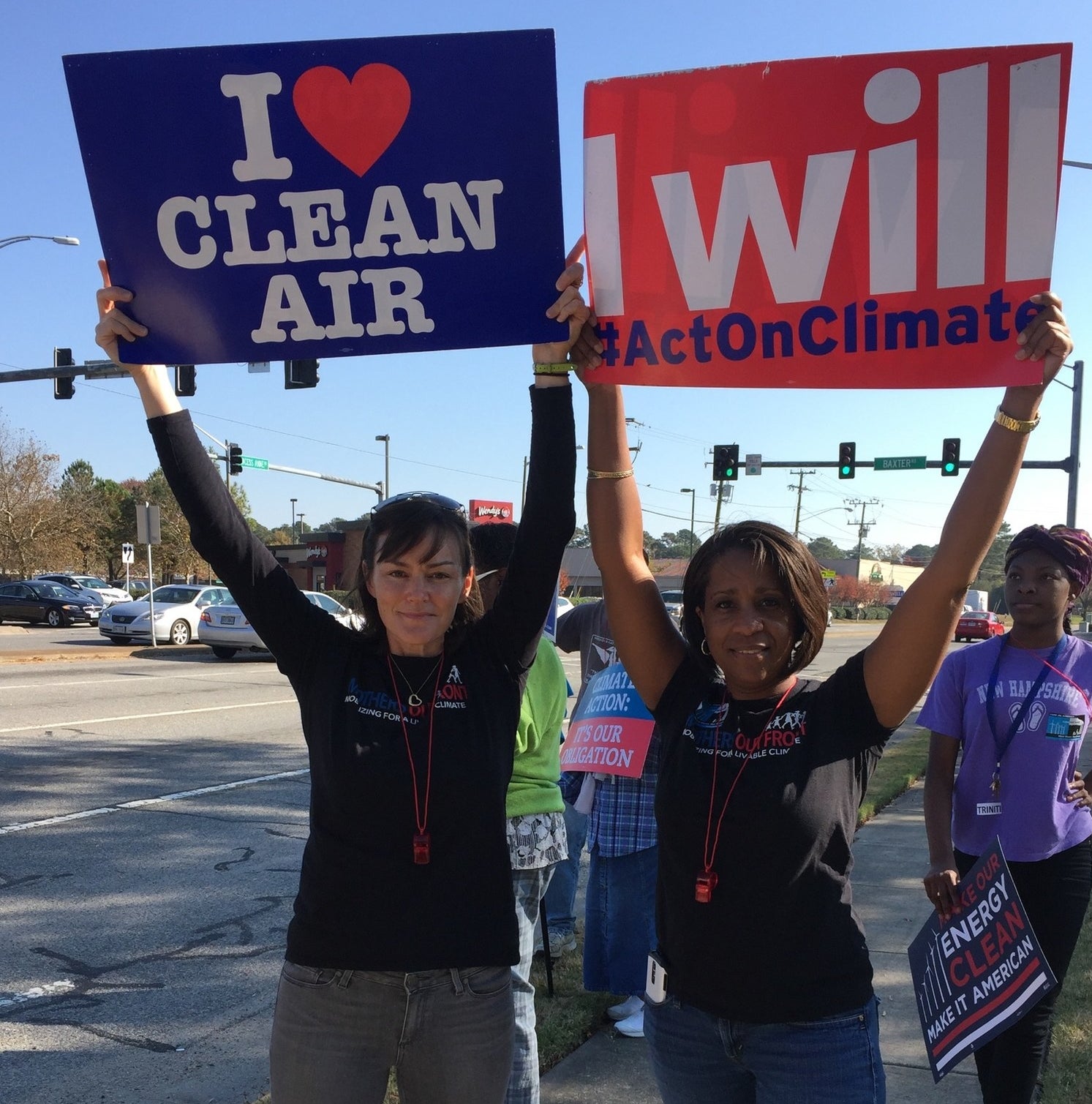 "I began to see this is really about investing in our future for our children," Miller said. "We have to be responsible for that as mothers. That's our job. We worry and we love on them, and we want the best for them, and I really think that's what my children are seeing now: Mommy's doing something."
"Can tell you a secret?" Miller asked, interrupting her train of thought. "Well, it's not a secret, but can I tell you something?"
In the mid-'90s, before her jobs at Mothers Out Front and the state park, Miller used to be an insurance underwriter. "I used to say no for a living," she said. "'Your house is old, no. Your kid had a DUI, no.'"
"Hopefully my personality comes across that that would be problematic for someone like me," Miller continued, laughing. "I felt like it was just a drag on my spirit. To be honest, I didn't like me anymore. I was judgmental, I had a very black-and-white way of thinking. It didn't feel good."
So she quit. "I didn't leave my family in a lurch" — her husband was making a decent enough amount of money, she said. "It was just important that I did something that fed my spirit as opposed to draining it."
Even as an underwriter, Miller said, she had conversations about climate change, though from a more corporate standpoint — how to remain solvent if that big storm hits. "I was aware of it but felt helpless to it. It was inevitable, what can you do? And I think as my life and career took these roller-coaster turns, I began to realize one person can't change what's going on, but a group of people — a group of empowered people, a group of empowered people that grows in number? That can change the world."
Today her work with Mothers Out Front is focused locally, like finding alternate bus routes for schoolchildren in those flooding areas, or guiding what she calls a "merry band of mothers" as they make gas companies plug leaks in their neighborhoods, or trying to persuade Virginia's fossil fuel behemoth Dominion Resources to seriously invest in renewable energy. Mothers Out Front in Hampton Roads has close to 400 email subscribers, Miller said, though the core active membership — mothers who will come to meetings or hold signs at demonstrations — is somewhere in the 20s.
Recently, as Mothers Out Front prepared for the march in DC, Miller got a Facebook message from a young woman who just moved to Hampton Roads, and who was interested in attending the march with a group.
"Her fiancé is in the military and he's deploying on the same day we're leaving for the march," Miller said. "She just moved in the area and she was really excited, but she's by herself and wouldn't know anyone, so she said, 'Hopefully someone will adopt me.'"
Miller said she responded with "Consider yourself adopted," sending the woman her phone number and email address.
"Think about the women who have never done anything like this before," Miller said. "Who gets on a bus with 50-some other women that you don't know to go to DC? I admire her courage, because I don't know how many people could do that."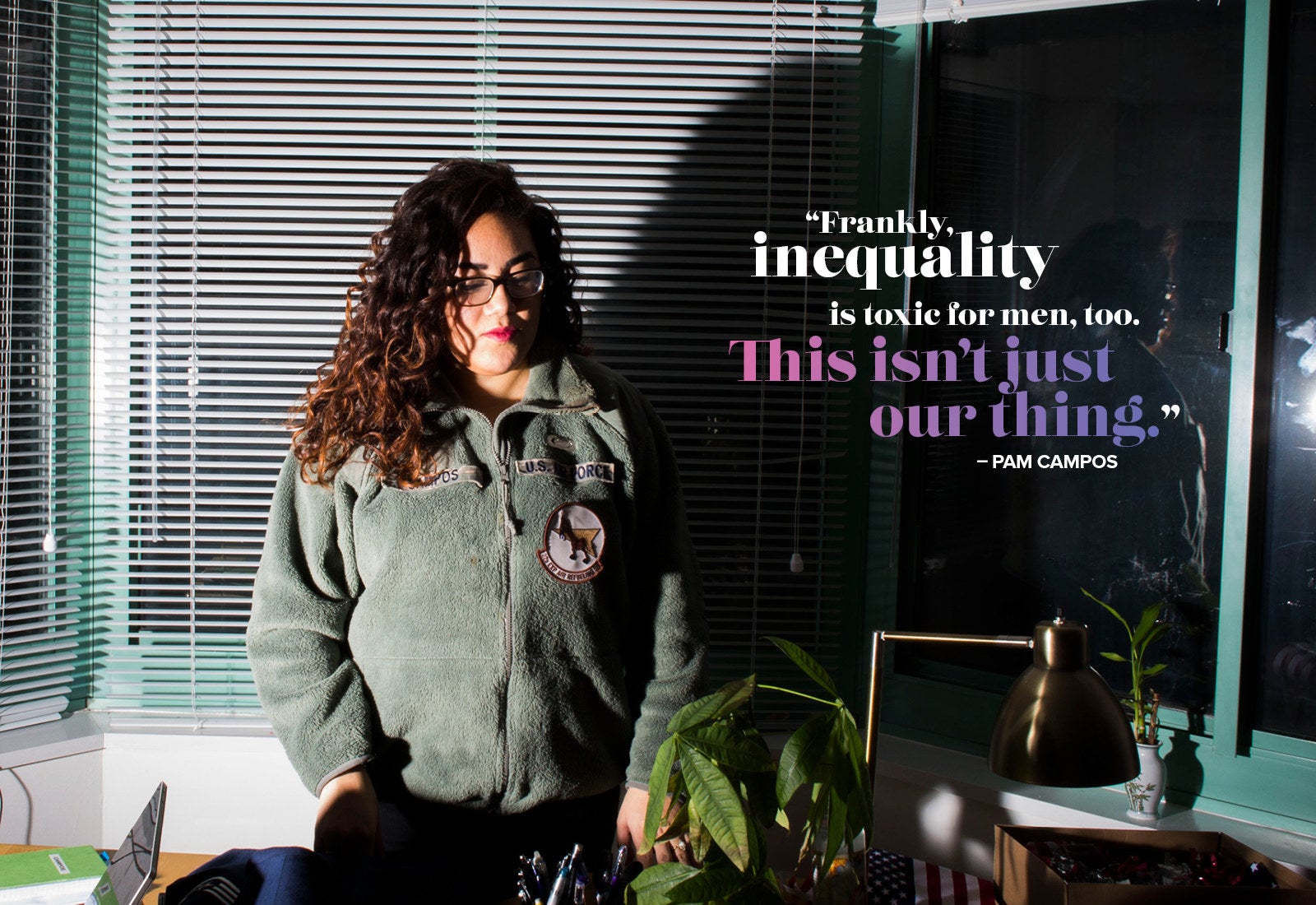 Two months before Election Day, 29-year-old Pam Campos-Palma asked Hillary Clinton a question on national television.
"How do you respond to progressives like myself who worry and have concerns that your hawkish foreign policy will continue, and what is your plan to end wasteful war campaigns, in which our peers, servicewomen and men, continue to be killed and wounded?" Campos-Palma asked from New York City, her red blazer nearly matching the hue of Clinton's pantsuit on the other half of the split screen. Clinton's somber answer — that she'd be careful, that she viewed force "as a last resort, not a first choice" — was fairly unremarkable, in line with other statements she had made before the NBC News Commander-in-Chief Forum. It was the young Campos-Palma and her question that stood out.
"People were surprised!" Campos-Palma said. "But they shouldn't be surprised that someone like myself is up there — curly-haired, Latina, and a veteran, people — because we are not front and center a lot."
That's why Campos-Palma participated, she said: She didn't want it to be "all white-dude vets asking questions." She also wanted to out herself as a progressive. People assume members of the military are conservative, she explained, and "there's been this narrative that there's a monopoly on patriotism." But that night of the forum and the next day, Campos-Palma, a Sanders supporter, was described by news outlets as an undecided voter. The truth was that she knew she'd vote for Clinton.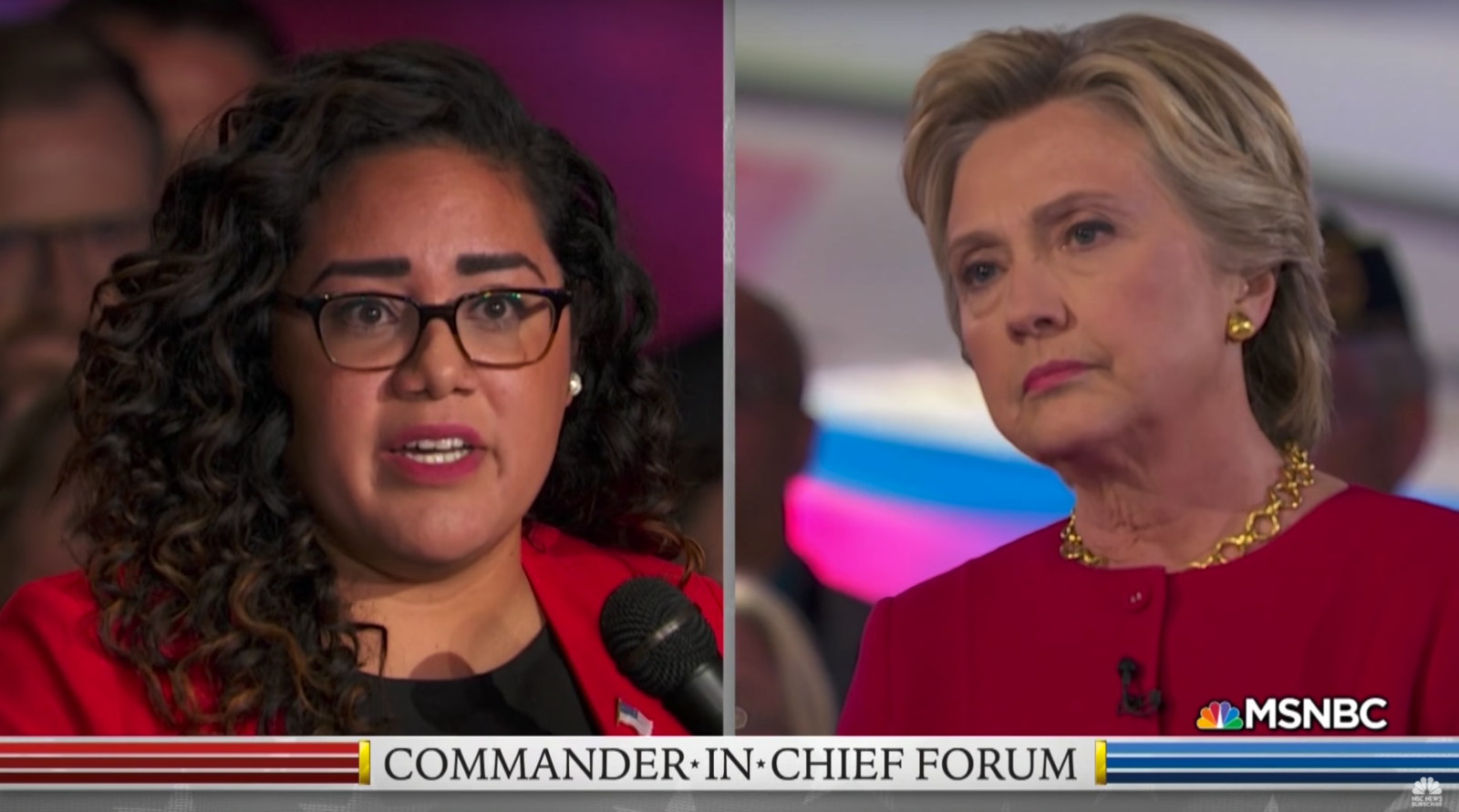 "People like myself — veterans, immigrants — the only time we get political power is during the general election. The only time anyone gives a shit about our vote is the general election. So am I just gonna be like, 'Sure, I'm in the Clinton camp, byeeeeee?'" she said. "No, I'm going to put my thoughts out there. I felt social responsibility to be a squeaky wheel."
Campos-Palma has felt that responsibility for much of the past decade. It was ignited when she enlisted in the Air Force, and it has resurfaced every time she's felt underrepresented or overlooked since then — for example, every time someone has mistakenly directed her to the military wives table at a veterans event. It's why she wanted to create a space specifically for female veterans at the DC Women's March. Over the past few weeks, Campos-Palma has commented on the Facebook page of almost every state group headed to the march, urging female veterans to get in touch so that they can attend the march together. She estimates 350 veterans and military family members will end up marching. Twenty have asked for financial aid for transportation to DC. (Campos-Palma and two others have raised more than $8,000 on GoFundMe to help send these women to DC.)
"In a time when we feel so terrified," Campos-Palma said, the march can unite people who want to get to work, even if the shape that work is not clear yet — and she wants to establish female veterans at the heart of the effort. "We've been at every point of history and we get erased."
As Jan. 21 approaches, the idea of marching alongside other female veterans feels a little surreal to Campos-Palma. "I'm gonna be with other women vets? That doesn't happen. And we're going to be so visible? That doesn't happen. I've lived in New York for two and a half years, and I only know three women veterans in this city, and it's not for lack of trying," she said. "It's that we're sometimes invisible to each other too."
Campos-Palma joined the Air Force at 19, just out of high school — the first in her family, or really anyone else she knew, to enlist in the military. In high school, she tested into a gifted children's program, which shuttled her out of her diverse Boston suburb to a more upper-class white neighborhood. "That shift kind of hurt me," she said. Once a self-described nerd who loved to read, she "ended up hating school." Her GPA plummeted, and a guidance counselor told her mother, a Honduran immigrant, that Campos-Palma wasn't doing well, wasn't interested in doing well, and would probably fail out of college, she said.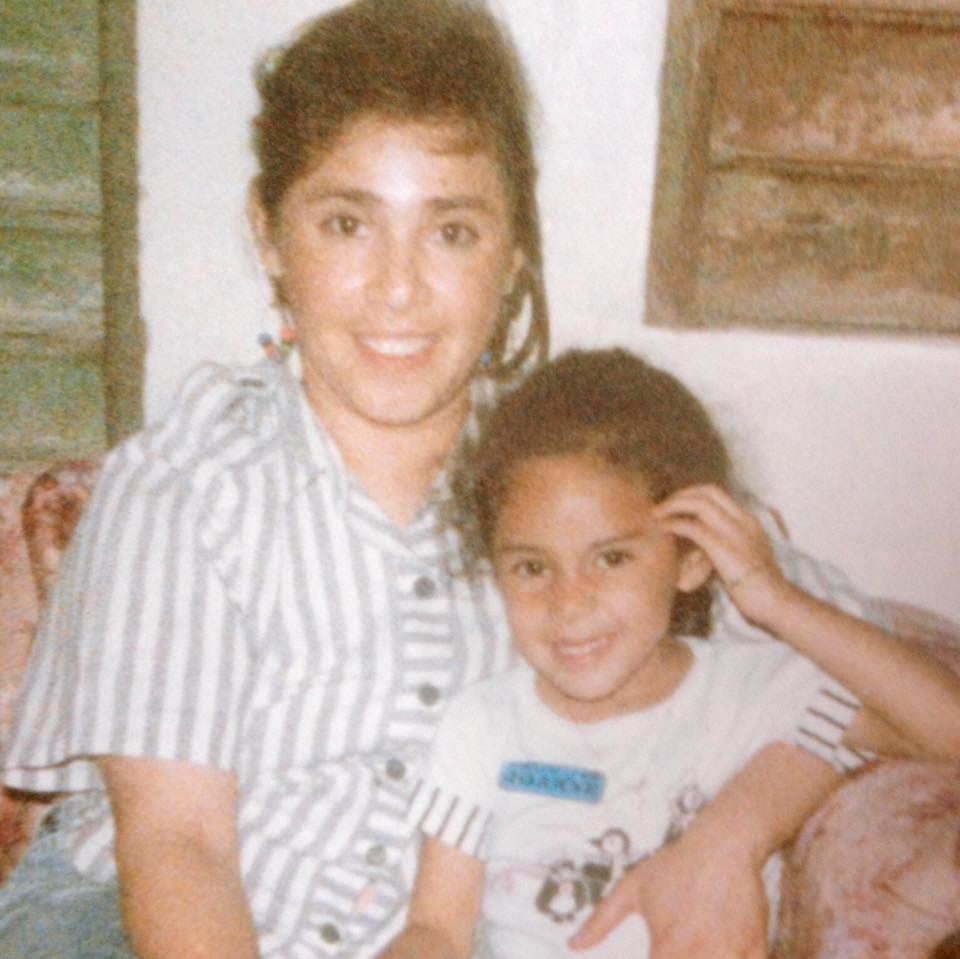 "My mom was like, 'You have to go to college, and the Air Force will get you there,'" Campos-Palma continued. "For me, when you have an immigrant parent, a single mother, that sacrifice you can't ignore ... I trusted her, and it's one of the best decisions I made. She kind of saved me in that way."
Early in her Air Force career, Campos-Palma recalled getting a "huge book of kind of vague descriptions" of jobs. She chose the job that seemed the most interesting and ambitious — long training time, high score requirements. Being an operations intelligence analyst meant working in counter–violent extremism. She was stationed in New Jersey with overseas tours to Kyrgyzstan and Germany, where she'd fly in and out of Iraq and Afghanistan. "I was like 20–21 and briefing rooms of commanders," she said.
After four years of active duty, Campos-Palma joined the reserves. She felt driven out of her job by a lack of mentorship, but she also wanted to go to college and explore having more agency and more room for advocacy. "When I left," she said, "I remember thinking I want to serve in a different way." She got a degree in political science at Oregon's Portland State University, where she did some organizing surrounding immigration and gender, then earned her master's in public administration from New York University, shuttling back all this time to her reserve unit in Washington state every two months. In November, she separated from the Air Force after 10 years. She's staying in New York City for the foreseeable future. She still gets emotional when she remembers: "I'm no longer in."
During the election, Campos-Palma got involved with Vets vs. Hate, a progressive veterans group. But after the election, she wanted to put herself out there as a leader. She introduced the group to the Women's March, encouraging them to support it. Mobilizing men is important to Campos-Palma; she mentions men a lot in conversation. There were the men who encouraged her to ask a question at the NBC News forum. There were the men she knew in the Air Force who'd been sexually assaulted.
"Women are just natural leaders who do informal work. We're matriarchs, are you fucking kidding me?" she said, her voice breaking. "I've had so many men in my military career — men who are dealing with emotional issues, marital problems, and they are not doing well at their job and I am excelling, and they have come to me secretly saying, 'Hey, can you help me?' ... Frankly, inequality is toxic for men, too. This isn't just our thing. They're suffering as well, and they're looking to us for leadership."
Naturally, a woman with serious thoughts about leadership — a woman who happens to carry the titles of first-generation American and veteran — might have serious thoughts about running for office. But when I asked Campos-Palma about her political ambitions, she demurred.
"That's an interesting question," she said, half-laughing. "I'm really passionate about women's leadership and political parity, and, um, I feel responsible too. It makes me nervous because I feel like we carry a different set of liabilities. We see it all the time with women in leadership positions.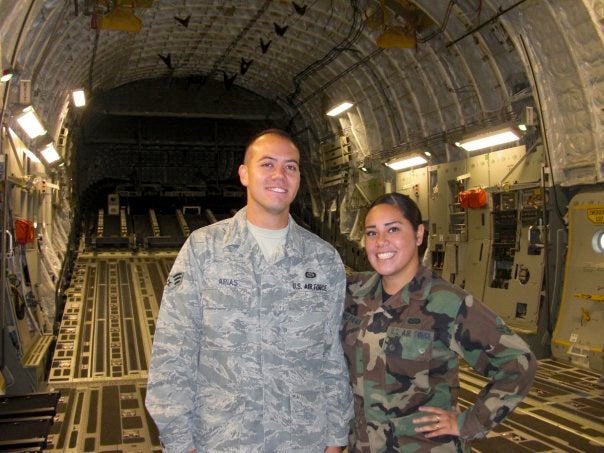 "After the election, I had six people say to me, 'Pam, I would vote for you. I would definitely vote for you.' Half of those people were conservative, and four of those people were men. And so yeah, I definitely feel like it's something — especially if I'm gonna tell other people to run for office, I would want to model that, too. But not anytime soon."
I told Campos-Palma about an American University professor who predicted after the election that Clinton's loss would discourage women from running for office "because of what they just saw."
"I felt that," Campos-Palma said. "It crushed me, too. You can't help but think this is a person who is overqualified, one of the most powerful people on the planet, and that still wasn't enough. ... Speaking for myself and the women that I know, when you're told no, you can be like, 'All right, bring it. I'm going to do it. I feel convicted to do it.' Yes, we lost the ticket at the White House, but women won on other levels. I think this is also a political moment where people who have never been politically active are starting to get plugged in."
For Campos-Palma, the DC march is like a coming-out party, bringing together women who have fought for equality in their daily lives — in all the incremental ways that women routinely do — but never publicly, as a collective group.
"We've been fighters for a long time. I think the march has been stained by people saying, 'Oh, this is just people who can't take the end results,'" Campos-Palma said. "The march isn't about 'I'm against Donald Trump.' The march is about abundance. I'm here, and we're gonna do something, and you need to pay attention to us." ●