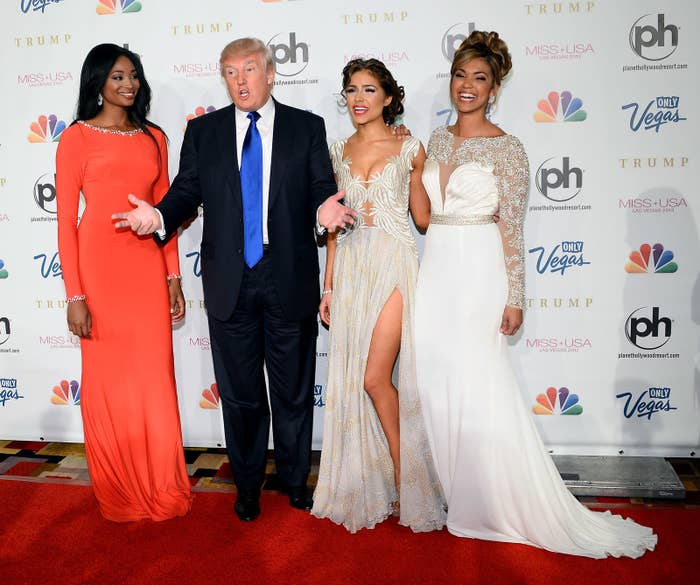 A fifth Miss Teen USA pageant contestant came forward Wednesday night to say that like four others who have spoken to BuzzFeed News, she recalled Donald Trump entering the group dressing room while teenagers were changing their clothes during the 1997 pageant.

"It was certainly the most inappropriate time to meet us all for the first time," said Victoria Hughes, the former Miss New Mexico Teen USA, in an email. "The youngest girl was 15, and I was the eldest at 19."
BuzzFeed News reported the four other contestants' accounts on Wednesday morning.
Trump owned the Miss Teen USA pageant along with Miss USA and Miss Universe from 1996 until last year. In a recording from The Howard Stern Show that was released Saturday by CNN, Trump publicly bragged about going backstage to see contestants while "everyone's getting dressed."
"No men are anywhere, and I'm allowed to go in, because I'm the owner of the pageant and therefore I'm inspecting it," Trump said in 2005. "'Is everyone OK?' You know, they're standing there with no clothes. 'Is everybody OK?' And you see these incredible-looking women, and so I sort of get away with things like that."
But he appeared to be talking about adult contestants. Until BuzzFeed News' report Wednesday morning, it had never been alleged that he did this with teenage contestants.
Hughes' comments came in a response to an email BuzzFeed News sent her on Monday seeking comment.
"We actually never once saw him during the two-week period until he came into the dressing room prior to the show," said Hughes, referring to the two weeks of rehearsals leading up to the pageant. In a subsequent email, she elaborated: "I was the eldest delegate at age 19 and was in the very back of the large dressing room. I recall chaperones saying that we had a visitor and to get covered up," she wrote. "The black curtains opened and in walks Mr. Trump smiling. He wished us all good luck, did not stay very long and left. As teenagers, it no doubt caught us off guard, as the timing of the entrance could've been better and less awkward for us all."
Another woman, former Miss Vermont Teen USA Mariah Billado, told BuzzFeed News that when Trump walked in, she recalled "putting on my dress really quick because I was like, 'Oh my god, there's a man in here.'" According to Billado, Trump said something like, "Don't worry, ladies, I've seen it all before."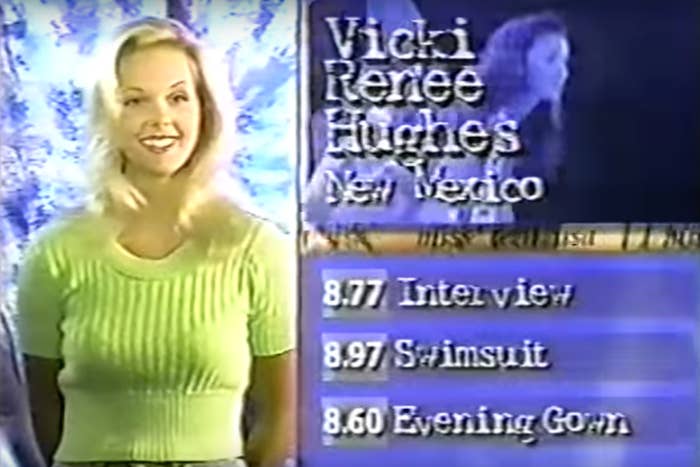 Eleven other contestants told BuzzFeed News they did not recall seeing Trump in the dressing room. Some said that it wouldn't have been possible for him to enter or for it to have escaped their notice if he did. Crystal Hughes, a former Miss Maine Teen USA, said she believed those who said they saw him were "probably lying because they are voting for Hillary Clinton."
Trump's campaign and the Trump Organization did not respond to BuzzFeed News' requests for comment on either the original allegations or Hughes' subsequent comments.
But on Wednesday, CNN's Brianna Keilar asked Trump's campaign manager Kellyanne Conway about allegations that surfaced Tuesday from Tasha Dixon, a 2001 Miss USA contestant from Arizona who also alleged Trump walked into her pageant's dressing room while women were changing. Keilar then played the comments Trump made to Howard Stern in 2005.
Regarding Dixon's remarks, Conway responded, "I can't comment on what she's saying because I'm not her and I wasn't in the pageant or any other pageant." She continued, "What she described was pretty graphic and detailed, so let's not conflate the two."
"I heard what she said and I heard what he said," Conway added, "and the fact is that all you want to do, it seems, is talk about something he said 10, 15 years ago and, yet, we never, ever want to talk, particularly CNN when we offered up these women to you." She was apparently referring to four women Trump invited to Sunday's town hall debate: three women who accused former President Bill Clinton of sexual misconduct, and one woman whose alleged rapist was represented in court by Hillary Clinton.
Also on Wednesday, women who were not associated with pageants came forward with allegations that the Republican nominee had subjected them to unwanted sexual contact.
Jessica Leeds told the New York Times that Trump groped her and reached under skirt while he was seated next to her on flight in the 1980s. "He was like an octopus," she told the paper. "His hands were everywhere." A second said Trump kissed her on the mouth while the two were waiting for an elevator in Trump Tower in 2005. A third woman told the Palm Beach Post that Trump groped her during an event at Mar-a-Lago in 2003. And Natasha Stoynoff published an article in People detailing an encounter when she was on assignment at Mar-a-Lago. Trump, she wrote, brought her into an empty room, pushed her against the wall, and began forcefully kissing her.
Trump, in a phone interview with the New York Times in response to two of the allegations, said "none of this ever took place" and shouted at the reporter, accusing her of making up allegations to hurt him. He threatened to sue the news organization, the paper reported.
Hughes, the former Miss New Mexico Teen USA, said she is voting for Hillary Clinton. In 2012, Hughes started her own pageant company. Lawyers representing the Miss Universe Organization threatened her with legal action in 2014 regarding what they saw as trademark infringement. She says she was forced as a result to use the word Universal rather than something like "Mrs. USA."
Like many other 1997 contestants, Hughes also recalled that Trump's daughter Ivanka was the co-host of that year's pageant.
As BuzzFeed News reported on Wednesday, Ivanka was allegedly made aware of her father's appearance in the girls' dressing room by at least one contestant — Billado, who said that Ivanka's response was, "Yeah, he does that."