16: Kelsey Would Rather Be Surfing
The second installment of "16," a BuzzFeed News series about ordinary people at the weirdest age. Meet Kelsey, a pro surfing enthusiast stuck in the middle of the Connecticut suburbs.
Kelsey waits for the video to buffer, bulky laptop teetering on outstretched legs.
"Basically, there are 17 of them and one wild card," she begins. "But now there are two wild cards, because Stephanie Gilmore got injured, and she's in Cuba actually. Why? I don't know. So round one is a three-woman heat; whoever wins it goes into round three, and the two who lose go into round two, which is an eliminatory round. … Whoever wins round three — which is a three-woman round again — goes on to quarterfinals automatically, and the ones who lose go on to round four. And whoever wins round four goes on to quarterfinals. And it basically just works like that. From there it's normal — whoever loses loses, and then it goes into semis, and then finals."
She angles the screen away from the late afternoon sun, which leaks into her neon-green room through her slightly less neon-green curtains. Her mom wanders in and asks what we're watching.
"Surfing," Kelsey says. And what else could it be? Almost every day this week Kelsey has woken up around 6 a.m., cracking open her laptop — her dad's laptop, really, but she uses it so often that it's basically hers — and plugging in her headphones to stream and follow Brazil's Oi Rio Pro competition live while her little sister sleeps five feet away. But 6 a.m. is nothing — she once stayed up until 3:30 a.m. to watch heats.
"Tomorrow they start quarters," Kelsey says, facing the screen again. She explains how waves are scored, which she only figured out herself about two championships ago, while the replay rolls. She's doing this for my benefit; she already saw the early morning heats — the men surfed first because the wave conditions were better. Kelsey lingers on this injustice for the length of an eyeroll, clicking through the best of the women's heats.
Kelsey prefers women's surfing to men's. She likes the competitors more. Her very favorite surfer, 21-year-old Lakey Peterson, scored a 9 that Saturday. Kelsey was happy. Lakey, ranked fourth in the world, is doing better this year. She performed so beautifully during round two that it reminded Kelsey why she loved surfing. Later in the day, over noodles at a strip mall Mongolian barbecue buffet, Kelsey tells two of her friends about her big revelation: "Oh my god," she says. "I found out Lakey's real name is Laura Louise!" She'd always thought — and told them, too — that Lakey was just "Lakey." Her friends smile indistinctly. "Oh yeah?" one says. The sport isn't big in Southington, where Kelsey was born and raised — a town right in the middle of Connecticut, 100 miles from any viable surf.
There's a song Kelsey likes to sing while driving with her mom around Southington or to neighboring Bristol, snaking through lush roads in the shadow of ESPN's ever-swelling headquarters. It's by Megan and Liz, YouTubers turned country duo that Kelsey followed through their transition with such adoration that they once gave her free tickets to a nearby show. (One of Kelsey's favorite stories to tell.) She doesn't even really like country music, she says, but she sings along as if she does: "You and me riding round in the Chevy / Two green lights and we're out of the city / It's all I've ever known, when I don't know where to go."
Southington is small by many standards — population 43,000 and change — but not Chevy-and-two-stoplights small. There are many stoplights, and streetlights with newly replaced LED bulbs, and a three-month-old IHOP. But Kelsey can still relate to this anxiety around growing out of one's hometown. Southington has been "a good place to grow up," Kelsey says, but at 16, she feels landlocked. She's just kind of sick of it, can't wait to leave it. She wants to see and do more. California — and its more-than-viable surf — is the dream.
Even though Kelsey doesn't have anyone else in her life who's into surfing, her family and friends know and can vaguely appreciate how much she loves it — how much she loves talking and tweeting and Tumblring about it, at least. As for the actual act of surfing? Sure, that too. It's harder to say. She's only ever been once.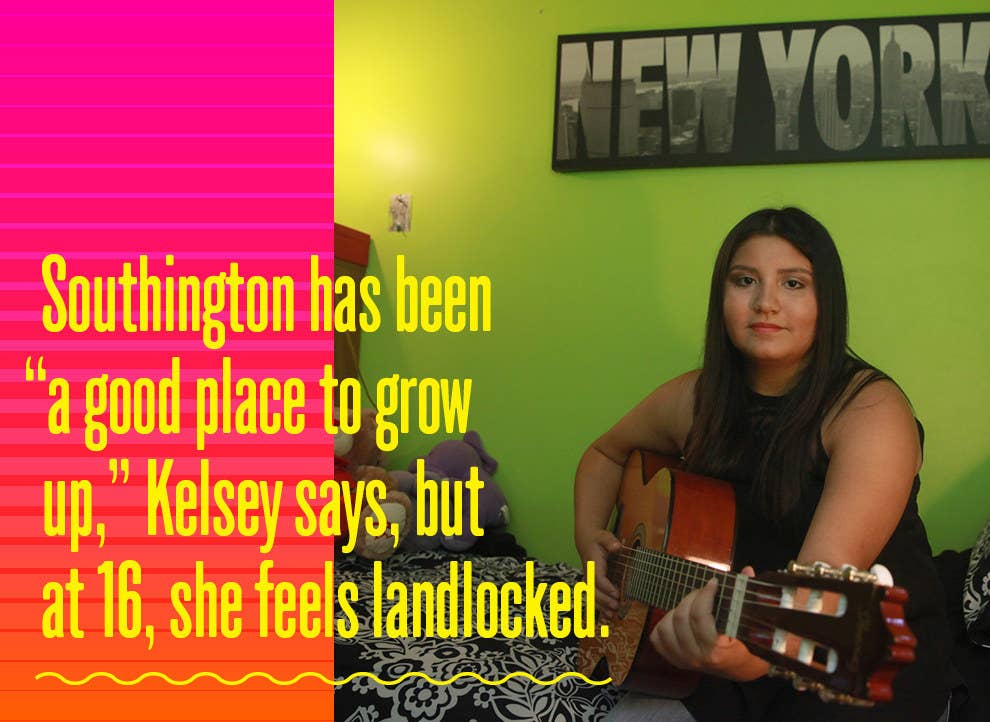 Kelsey's parents, Lena and Cesar, were born and raised in Ecuador. They were married there in 1993 and had their first daughter, Gabriela, a year later. Before their marriage, Cesar had spent two years in Southington, working at a company that manufactured gardening tools, a job he got through a relative. Not long after his return to Ecuador, Cesar's boss in Connecticut called and called again, urging him to come back. In 1995, he returned to the job in Southington and rented out a small guest house. Lena, with the baby, followed. She began learning English with the help of a neighbor and Gaby's episodes of Sesame Street. Kelsey came, then Annabel, or Anny.
Kelsey's sisters weave their way into all of her stories. In that way, she's a classic middle child, her identity reluctantly shaped by the presence of her siblings. She fumes when her mom accidentally calls her by one of her sisters' names, or when she suggests something and her parents ignore it until one of her sisters says the same thing. She remarks that her sisters are "both very pretty," as if she is not. According to Kelsey, her younger sister is more outgoing and popular and her older sister is more protective and maybe a little dramatic. She is their foil: reserved, independent.
Though she says she was "Americanized" at a young age — Southington is 95.4% white, according to the most recent census — Kelsey says she really likes that her family speaks Spanish at home and sometimes drives 20 minutes to New Britain to buy Latin American groceries, like Manzana, a soda the color of traffic cones. She likes using FaceTime on the weekends to talk to relatives in Ecuador and Spotify to listen to Spanish-language artists that she'd normally only hear on staticky radio stations. She likes taking the framed photo of Lena's side of the family from its spot in the living room — the one taken in Ecuador last summer, around the time she went surfing for the first time — and verbally tagging it:
"So that's my grandma, and then there's me, my two sisters, and then that's my cousin Xavier and his brother and his sister, and that's his sister's husband and their son, and then that's my cousin Ernesto and his brother Mateo, and then that's my cousin David and his sister and his other sister, and that's her husband and their son — and she has another daughter who's not in this picture, and she just had two newborn babies. And then we have my cousin Junior's wife, and my mom has a half brother and that's his two daughters, and then he has another younger son, and then that's my aunt Andrea's baby."
More than anything else, growing up with a sister five years older has shaped how Kelsey perceives her position in the world. "My mom will be like, 'When you're Gaby's age, you can do this,'" she says. "But then I won't ever really be Gaby's age." Gaby's age is a distant concept — a horizon line. Although, practically speaking, college is not so far away for Kelsey. She just began her senior year of high school. She's already taken her first rounds of the ACT and SAT tests. Her dream school is Loyola Marymount University in Los Angeles (proximity to the beach: two-ish miles), which she toured this summer. But her parents want her to stay close. Their little family is already marooned from their big family in Ecuador, and they don't want Kelsey to feel as alone as they once did. Any sentence she begins with "Loyola Marymount" and "L.A.," they end with the suggestion of "Emerson College" and "Boston."
While she muses on the distance between California and Connecticut — real and imagined — Kelsey is walking, shading the sun from her eyes, wearing an outfit she picked out and then nixed for an Ed Sheeran concert that weekend. There's this trail she likes near her house, a former railway turned walking path, where the sides of structures lining the trail have been covered in town-approved murals. Many of them are kind of tragic; Kelsey knows the story behind each one. There's the mural for a 7-year-old local boy who died during an asthma attack in 2014. In it, the boy is sitting in the conductor seat of a train, each car behind him filled with something he loved: Legos, beach toys, his family members. There's another mural of a giant sun surrounded by 26 monarch butterflies, one for each person killed at Sandy Hook Elementary School.
Like most Connecticut kids, Kelsey remembers that day three years ago vividly. She recalls it: Some faculty members interrupted her basketball practice, escorting the students to the cafeteria. She remembers waiting there while the adults figured out how to break the news — the quiet, sickening chaos of not knowing what was happening. Everyone just wanted to go home to their families.
Leaving the murals, Kelsey cautiously explains how last year, she struggled with sleep deprivation brought on by panic attacks. She doesn't remember when or how or why they began, but she would be lying in bed and suddenly "have this overwhelming feeling that I was going to die, like, right then." She felt paranoid. She'd try to fall asleep after staying up too late and accidentally make herself believe there was someone in her house coming to kill her. It would happen every night for a while, but she didn't tell anyone at first. She only was able to call them "panic attacks" after looking up her symptoms online. Then it happened one day at school, and she decided to tell her mom. She began experimenting with aromatherapy before bed, and the attacks gradually stopped. Kelsey says her last one was around November.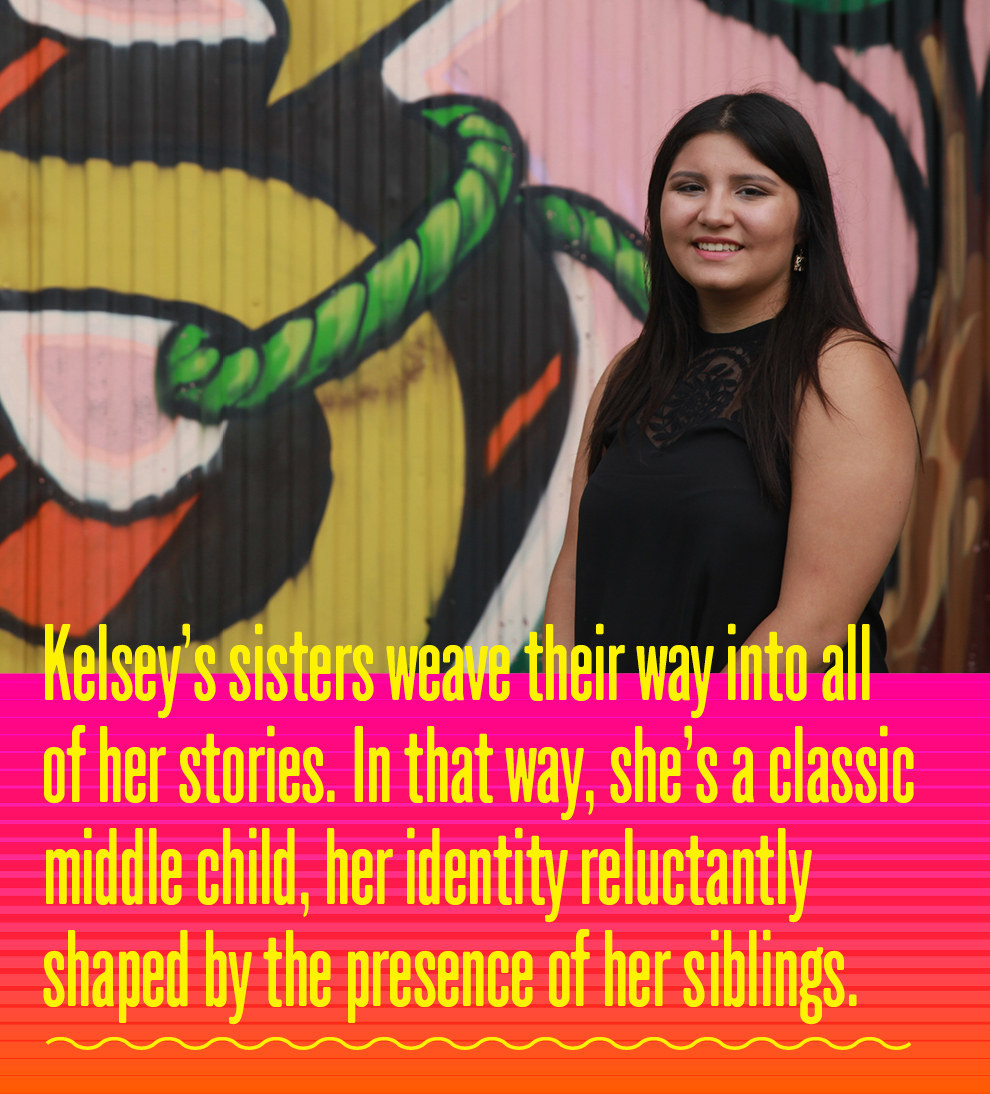 Kelsey got her first job this summer. She's a cashier at an East Coast Costco-like chain, working part-time at $9.50 an hour. The significance of this, for now, is that now she can buy her own Starbucks Frappuccinos. But most of her friends have or want jobs too. One is a receptionist at a hospital, another a camp counselor at the YMCA.
These friends are girls Kelsey has known since diapers or fourth grade, respectively. But she says that her social life is in a weird place — that she's grown apart from a lot of her friends.
"Well, they've grown apart from me," she once emailed me. "I think I went through that whole 'searching for myself' thing in middle school and now, it's just me finding people who like the person that I am … Y'know some that actually wanna hang out and not just talk to me in school.
"It's not that I don't have friends, I just don't have a solid group of them like everyone else. My older sister always suggests finding friends with the same interests as me, but that's easier said than done."
On her breaks from work, Kelsey is tweeting. When school's in, she's tweeting; she once live-tweeted a geometry quiz. She joined Twitter in 2010, then just 11 years old, to follow then-fave Ashley Tisdale. It was also through Twitter, about two years ago, that Kelsey got into competitive surfing. It was winter, Kelsey said, and she was bored, and she saw a promoted tweet for a live surfing competition. As she watched the heats and post-heat interviews, she was drawn to the surfers' personalities — their "mindset," as she says. "Everyone on tour is really chill." She liked "the way they express that the conditions of the water are out of their control." And watching the heats, discovering these personalities, learning the sometimes disembodied rules — the entire cultivation of this hobby — staved off some of the loneliness she felt.
But in person, none of this loneliness is evident. Kelsey is friendly in a blunt sort of way. ("I mean, I am a Sagittarius," she says.) She never talks just to talk — her conversations always have a purpose, even if the purpose is just to gossip. Her sense of humor is deadpan, and it gives the impression that she can see right through you, and that she has no tolerance for inauthenticity. Long silences are not uncommon.
But then there's her prolific online presence. In some form, Kelsey is always writing. English is her favorite class in school, but it's more than that. Online, she's vulnerable and expressive in a way she isn't always in person. When I asked her in person about surfing in Ecuador for the first time last summer, she kept it short: It was hard, then fun, and she wants to do it again. When I asked her about it again, later, over email, she sent back almost 1,000 words. She wrote about her fight to even make the trip to Montañita — how her family complained because there was a World Cup match on:
I don't ever ask for too much, especially if it inconveniences others, but I really, really wanted this and my mom kept telling me "I don't know" — which meant "no." ... My family members in Ecuador kept asking my parents why I wanted this so bad, and even then, I couldn't explain it. The second I started looking forward to it, I wouldn't let myself get disappointed …
And how the waves were predicted to be flat but ended up picking up; and how grateful she was for the patience of her surf instructor, Dixon:
Dixon taught me how to paddle through waves at first, and I probably swallowed about half of the ocean before learning, but I felt pure bliss. The water was so nice and warm and everything was just kinda right. The first couple of times I couldn't get up past my knees, and then when I finally did I fell off almost right away. Dixon still gave me a high-five, though, because most people couldn't even do that. My sisters and my sister's friend Tori were next to us playing in the waves, and I remember for the first time not feeling as if I was missing something, but they were. The first time I actually stood up without falling, the three of them erupted into cheers, which felt really nice …
And how her dad didn't take any good pictures or videos:
I caught up with my family and watched the rest of the game, but in reality I just wanted to do it all over again. Actually doing it that first time, I think I felt every single good emotion you can possibly think of. You just kinda really feel yourself, and there's no words I could use to do that feeling justice.
For Kelsey, that trip was when surfing became surfing. Not just something to watch or follow when she didn't want to deal with high school's musical-chairs friendships, but something that made her different — and more importantly, made her feel like she didn't need to be different. Like her favorite surfers, she could be "really chill," even when the conditions of the water were out of her control.
Now she reads Surfline and Surfer magazine with fluency, and she's part of a fantasy surfing team online. But Kelsey's primary connection to surfing is still Twitter. She treats her favorite surfers like pop stars, tweeting through a championship as if it were 12-day-long VMAs. When she tweets at Lakey, Lakey tweets back sometimes. Getting the attention of famous people on social media is a sort of pastime for Kelsey. She "freaked out" one day in class when the notification came that Sage Erickson — among the more sponsored, sexualized competitors in women's surfing — followed her back on Instagram.
This knack for collecting celebrity @s isn't limited to surfers; Khloé Kardashian once replied to a tweet from Kelsey about how she and her sister both had dreams they met her. "So let's make it come true!" Khloé replied, back when her handle still had "Odom."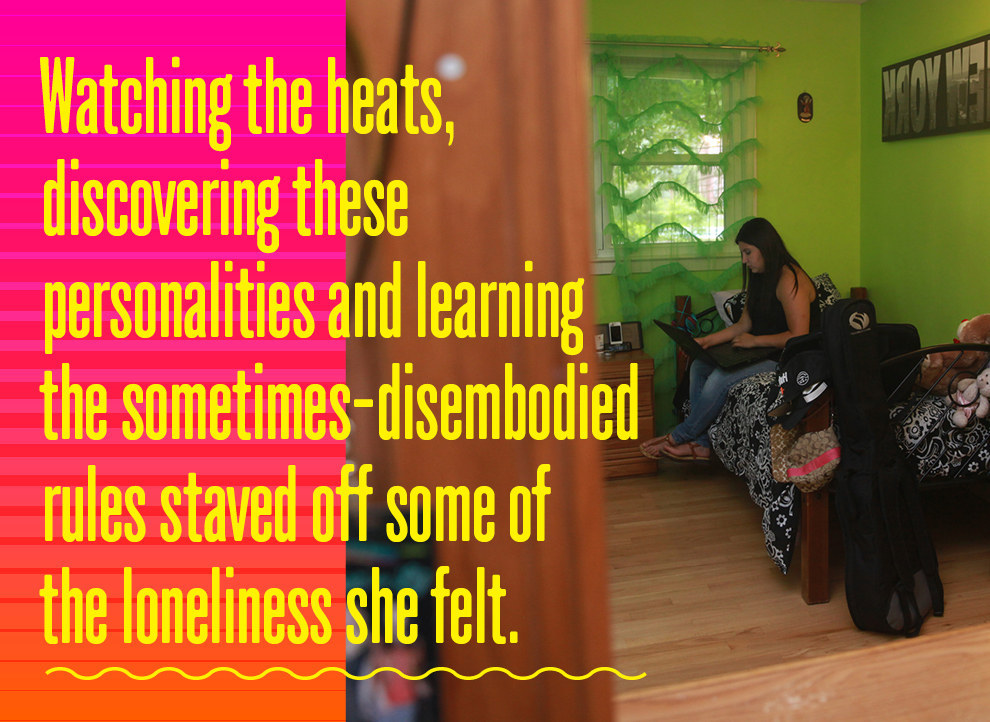 Although it's more like 90% white, Kelsey says her school, Southington High, feels more like 98% white — most of the 10 or 2% of racially diverse kids commute in from other towns, Kelsey says. She says she doesn't catch much grief for being in the minority; maybe there was some taunting in elementary school, but she quickly became used to being the only nonwhite kid in class. The only teasing she encounters now is when her friends intentionally misidentify her as Mexican to annoy her or point to a photo of a girl in a school pamphlet on Costa Rica and ask if it's her. Her only other Hispanic or Latino friend is from Chile, Kelsey says, but she's adopted.
Beyond its homogeneity, the other essential features of Southington High are, in order, as students will tell you: the statedivision–winning football team, and the drugs. The latter is "the unspoken problem that everybody knows about," one student said and others echoed. It's mostly weed, but kids "will do whatever they want to do," another student said. Kelsey says she's not interested — in either football or drugs. School is mostly a means to an end for her: a ticket out of Southington.
On the weekends, "there's just not much to do," she says, and she's not wrong. Southington is a spread-out suburb, and she doesn't have a car yet. If she does go out with friends, it's to dinner or a movie. (Tickets are $5 at the comfortingly cheesy Starplex Cinemas, where you can show up 20 minutes late to an opening-weekend showing of Pitch Perfect 2 and still find decent seats.)
But she still likes being home more than going out — playing guitar (Demi Lovato songs), watching TV shows on Netflix (Scandal or Agents of S.H.I.E.L.D.), and spending time with her family. Her dad works two jobs, but when he's home, they'll watch soccer or Ancient Aliens or play with their hyperactive dog, Chico. Her parents have a cup of coffee together every night before bed, no matter what time her dad gets home from his night job — 11 p.m., 1 a.m. The coffee is Folgers and not decaf. When she joins them on occasion, Kelsey fills half her cup with coffee and half with milk.
Next fall, when she goes to college, Kelsey wants to major in screenwriting. She decided this around seventh grade, when, amid the painful friendship-filtering of middle school, she found Ryan Murphy's Glee. After rough days, she says, she would go home and rewatch episodes and "feel OK." At the time, she also felt this growing, self-inflicted pressure to decide what she wanted to do with her life; whatever it was, it had to feel important. So she chose screenwriting, in the hopes of someday writing TV dramas — she doesn't think she's funny enough to write comedy. "For a while, Glee was my 'thing,' I guess," she says. "And I wanted to give that to someone else, the way that Glee affected me."
Incidentally, her best friend, Sam, also wants to be a screenwriter. At dinner one night this summer, Kelsey confessed to Sam that Sam's success in school makes her feel even more pressure. (Kelsey gets good grades, but Sam's are better — plus Sam does more extracurriculars.)
"When the time comes to apply to colleges, they're going to take Sam and not going to take me," Kelsey says, then turns to Sam. "Sometimes I get like really frustrated with you, but not in a bad way. It's more getting frustrated with myself."
No, no, Sam assures Kelsey. Sam's anxiety about the future is more rooted in the present. "It's difficult," she explains. She says she's expected to be responsible enough to make life-altering decisions over the next year, but also to text her mom when she gets to the restaurant, and when she leaves the restaurant, and when she gets to the movie theater.
Kelsey's take on Sam's dilemma is similar, though there's a difference in how she presents it. For her, it's not about being treated as one or the other, a child or an adult — it's about being overlooked altogether. "It's like being in the middle," she says.
The middle is where Kelsey spends all her days. Except, maybe, the time she went surfing.
If you're 15 or 16 and interested in being featured in this series, tell us about yourself here. Questions? Email 16@buzzfeed.com.