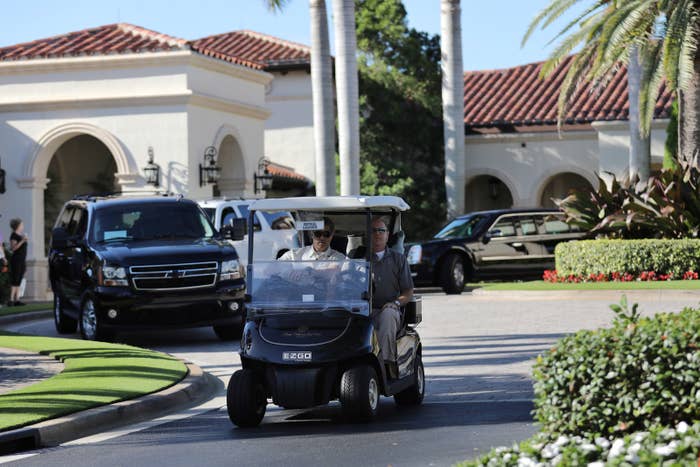 The Trump National Golf Club in Jupiter, Florida, has asked the government for permission to hire 10 temporary foreign workers as waiters, according to records posted by the Department of Labor on Friday.
In recent weeks, the department also posted records indicating that another Trump property, Mar-a-Lago, wants to hire 78 temporary foreign workers later this year, as waiters, cooks, and housekeepers.
Trump campaigned on a promise to defend US jobs and to tighten immigration policies. But since he launched his presidential campaign in June 2015, businesses owned by him or bearing his name have sought to hire more than 530 foreign guest workers, including more than 280 for Mar-a-Lago and more than 30 for the Jupiter club. He has said it is "very, very hard to get help" in Florida during the tourist season.
This request, like the others, involves the H-2 visa program, which permits employers to hire guest workers under temporary visas if no qualified US workers want the jobs.
No one from the Jupiter club or the Trump Organization immediately responded to requests for comment Friday.
The requests, which are subject to approval by the Department of Labor, would allow the club to employ the waiters from October 2018 through May 2019 for $12.68 an hour, with the possibility of additional overtime.
Since 2003, more than 100,000 foreigners have been brought in under the H-2A and H-2B programs each year. In late 2016, a special envoy from the United Nations said the federal guest worker program puts workers at risk of exploitation and even trafficking. A 2015 BuzzFeed News investigation found that H-2 workers were often exploited, and sometimes raped or beaten. BuzzFeed News also found that many Americans were denied jobs in favor of guest workers. Trump companies have not been accused of mistreating H-2 workers.