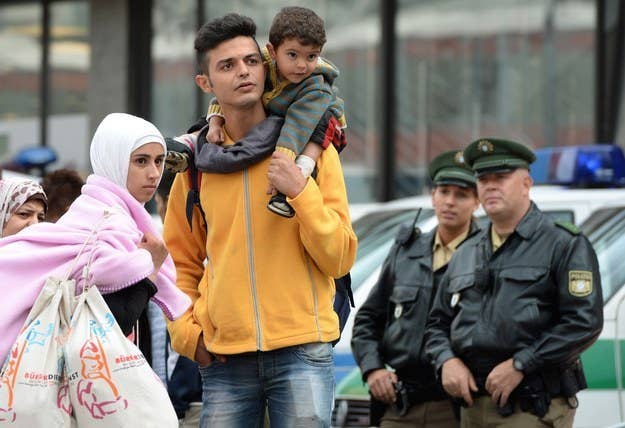 MUNICH — The first trainload of refugees and migrants who had been trapped for days at a train station in Hungary made a strikingly subdued entrance here early on Saturday afternoon, before a bevy of international journalists and local volunteers but with little other fanfare.
After perilous journeys that spanned numerous weeks, and half a dozen countries, much of it by foot and sea, those final few days of delay and detention seemed to have added a certain disillusionment to an experience that had already exhausted most of the travelers' enthusiasm about their final destination.

No one kissed the ground or sang tunes of joy. Instead, the new arrivals, like others who trickled in throughout the day, shuffled slowly out of their international rail car across the platform to a local German train awaiting them.
Two young Syrians, Khaled and Iyad, who had arrived in Germany several months earlier, before the summer rush prompted a near crisis across Europe, stood amid the crush of media at the far end of a strictly maintained police barricade, stonily watching the train doors close on the newest batch of German immigrants. They didn't expect to know anyone coming from Budapest today, they said, but had traveled to Munich central station simply out of solidarity, to witness. "These are our people," Iyad said. "We had to come."
Within a few minutes, the refugees had been whisked off to a remote train station a few stops away, where they were just as quickly off-loaded, out of sight, into a facility for processing.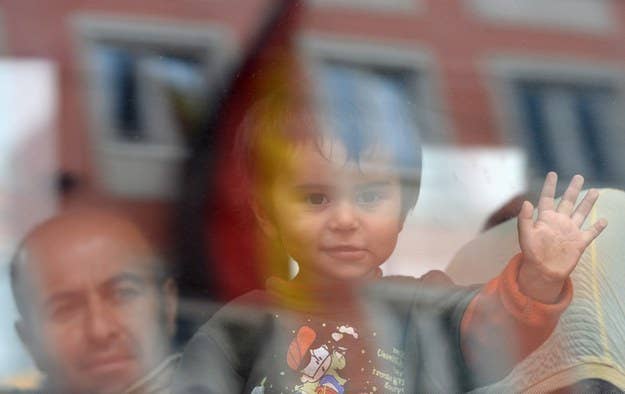 Among European countries, Germany has distinguished itself for its willingness to accept the largest proportion of refugees and asylum seekers who have been fleeing conflict zones in the Middle East, and especially from the now four-year old civil war in Syria. German officials have said they estimate as many as 500,000 asylum seekers to set foot in the country this year alone.

It's a policy that, while not without its domestic dissenters, has granted Germany a sort of vaunted status among asylum seekers, who often permit themselves to believe that refugee settlement here will come with few of the encumbrances of life in less accommodating places like Turkey and Jordan.

Throughout the day Saturday, refugees arrived steadily at the station by other means, and from other parts of Europe, appearing by the tens and dozens on trains otherwise packed with European families and holiday travelers.

Munich police, who were significantly more prepared than they had earlier in the week when an onslaught of some 2,000 refugees took them by surprise, on Saturday seemed to know precisely which trains to bother standing near as it disembarked, eyeing those who might be without official papers and steering them into a cordon at the foot of the track.
"They've been coming like this all week, bit by bit," a Munich police commander, who declined to give his name, said, as he waited for one of the trains to unload. "We have a good system, but it's getting harder and harder as more come — we don't know where to put them all."
"Will they let us leave Munich?" a young Kurdish woman asked pleadingly, early in the day, as she and her mother stood in one of the cordons at the foot of track 11. Her mother, dressed in a traditional patterned wool skirt and head-covering, muttered to herself in Kurdish as a police officer repeatedly rebuked her attempts to recline against a nearby wall. The young woman smiled as she gently steered her mother toward a pile of suitcases to sit. "She was complaining to you in Kurdish," she said with a laugh, and then asked again, "So, really, can we leave?"

The answer, like much of the future for these bedraggled newcomers, was ambiguous, adding to a evident atmosphere of anticlimax that hung over the day, accompanied by the looming dread of uncertainty — over legal status, over the prospect of finding a new job, of learning a new language, starting a new life.
For many of those pulling into Munich, those worries would hopefully be postponed even more, as they sought to continue on to farther destinations, even as officials warned it might not be possible.

"I'm going to Sweden," declared a 19 year old Syrian-Palestinian who gave his name as Homan, as a police officer looked on, frowning. Doubly stateless — he wasn't even a full Syrian citizen before the war drove him out of the Yarmouk refugee camp near Damascus, in 2013 — Homan said he had endured a year and a half of detention in a Syrian military prison, and another two years of semi-employment in rural Turkey.

Now, dressed incongruously in a red hoodie and slim, bright green jeans, Homan was determined to reconnect with his brother in Sweden, no matter how many times a European official steered him in another direction. "I don't care what anyone tells me to do — sign something, put my fingerprint — I won't do it," he said. "I've been through much worse than this already. What can Germany do to me?"