Eliot Spitzer's Voracious Appetite
Can the man who would be New York City comptroller quell his, um, impulses? NY1 reporter Josh Robin looks back on his years of covering Spitzer to find an answer.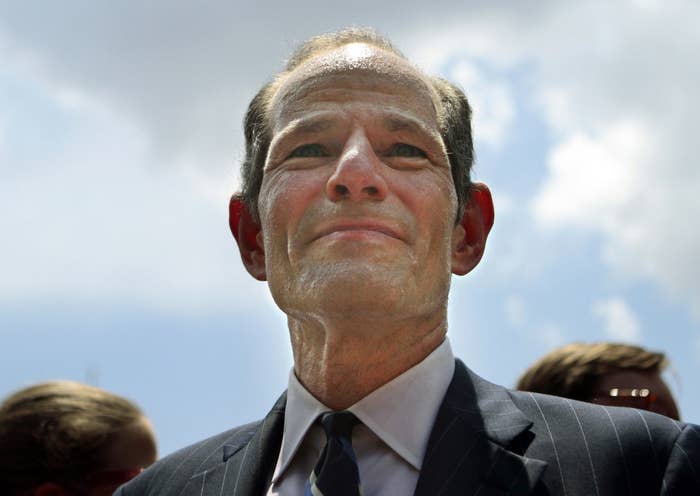 Eliot Spitzer. What's the first image that comes to mind? Maybe black socks or something icky like that. Maybe his resignation in March 2008: his oversized grimace, his sheen of sweat, his wife Silda, with her colorful scarf and ashen face.
When I think of Eliot Spitzer, who is seeking to resurrect himself with a run for New York City comptroller, I remember watching him maniacally polish off a bag of Fritos when I interviewed him back in 2007 — a snack break that encapsulates all that simultaneously maddens and frightens and inspires people about the man.
First, the Fritos. It was while I was setting up for a one-on-one interview with him. Spitzer was governor, and I covered Albany for New York's cable news channel, NY1. I don't remember what I was asking. I do know that it wasn't unusual for me to get good access to Spitzer. Unlike our current governor, Spitzer was frequently available because he liked my station and because I had covered him for more than a year, from his campaign through his transition and into his stormy governorship.
I was getting ready just outside his office door at the Capitol. He emerged, a famished look slowly disappearing as he satisfied himself with what an aide had likely fetched him from a vending machine. He was scarfing the junk food. Crunch, crunch, crunch. He couldn't have taken longer than 15 seconds with the bag.
It startled me: Spitzer, after all, is a thin man. The most I'd ever seen him ingest was coffee. I realized it was probably the only thing he would eat that day. Spitzer seemed to function off pure adrenaline and, frankly, self-confidence (or ego, to his detractors). He survived on few hours of sleep each night. By the time he would report to work in the 7 a.m. range, Spitzer would have already had his run, read every paper, and formed his agenda that he had no doubt outlined in neat paragraphs in his prodigious mind.
I know this because Spitzer would talk about his bionic talents. He may have tacked on some false modesty. (Me: "You only sleep three hours a night, right?" Him: "Oh no, three and a half.") But like an athlete running up the score against a hapless opponent, Eliot Spitzer delighted in flaunting his otherworldly abilities.
And his capabilities impressed many. He was an Übermensch — a superman. The kind of person who could survive on Fritos and coffee.
***
As everyone knows, Spitzer couldn't quell all human impulses. He says he spent the five years following his prostitution scandal recognizing his humanity and atoning. He insists he is now different: less narcissistic, more reflective. "Hubris is terminal," is what he often says.
But those who have been close to him aren't sure. There was always a fine line between Spitzer's brilliance and energy — and his mania and carelessness. They wonder if this political foray is unleashing the demons. One even told me Spitzer is like an alcoholic and this latest campaign looks like a relapse. The concern isn't that he would hire prostitutes again. It's about whether he is acting with the same recklessness he exhibited in Albany, well before we knew anything about Client No. 9.
Their concern isn't misplaced. While questions about the prostitution scandal trigger appropriate remorse and reflection, Spitzer seems unwilling to acknowledge his other faults, like his time as governor. No one thinks it was a success. No one thinks it was even a mediocre stint. After Spitzer resigned, one of his best friends even wrote a tell-all titled Journal of the Plague Year.
Spitzer became governor with a mandate for changing a dysfunctional state. He says he finally funded New York City schools, began a stem cell research fund, and invested in infrastructure. Fair enough.
But all in all, one could argue he left Albany worse than when he entered. He sacrificed political capital with clumsily picked fights (including who to appoint as state comptroller, when Alan Hevesi was driven from office). He veered from one initiative to the next. Even longtime advocates of giving drivers licenses to undocumented immigrants begged him to hold off because its planning was so haphazard. His budget surpassed inflation, just as the financial crash was about to cause tax revenues to plummet. Most importantly, even as he broke the law, he didn't keep his lieutenant governor sufficiently briefed on crucial issues facing the state. It left David Paterson struggling for months to catch up.
And yet?
"I could not be prouder of what we accomplished," Spitzer told me a few days ago.
And what about the knock that the self-proclaimed steamroller doesn't play nicely?
"I worked stupendously with others, as attorney general, as governor," he told me a couple of days later. With a straight face.
This primary will be a referendum on Spitzer, and polls now show him with a double-digit lead over his rival. One poll says that 61% of voters don't know enough about Scott Stringer to form a favorable or unfavorable opinion. Stringer's numbers may improve as his campaign continues to remind voters that Spitzer can't be trusted with leadership.
"Look at the governorship," Stringer, the Manhattan borough president, told me the other day. Speaking of Spitzer, he added: "All that promise, all blew up. Because you couldn't work with people. You didn't understand how to manage people. And now you want to take a failed administration and bring it to the City of New York?"
Stringer says he won't talk about the prostitution scandal. He doesn't need to. He can campaign on Spitzer's erraticism, not his eroticism.
While Spitzer may not be the type to broadcast all his demons, he's probably only helping his rival by refusing to recognize that he's made a number of mistakes. His path to victory probably involves channeling the same passion of his days as state attorney general, with a recognition that even he could have been smarter.
***
Since I have divulged Spitzer's eating habits, it's only fair to report that I frankly don't know much about Stringer's. His girth suggests he doesn't starve himself. His spectacles and fraying tie suggest what one imagines a comptroller should look like. Or a character out of Gogol. And yet supporting Stringer has its cachet. He carries the enthusiastic endorsement of Scarlett Johansson, whom he knows through her grandmother, and Lena Dunham, through his campaign spokeswoman.
Stringer, 53, has a job carrying considerably less power than it did a generation ago, before a U.S. Supreme Court ruling forced the city to rejigger its hierarchy. Reports issued from his office on such topics as public housing and increasing access to fresh produce are seen as thoughtful, if of limited influence. Stringer is given credit as a reformer for his time as an assemblyman, most notably for helping to ban "empty seat voting" — that is, voting when you're not really there, through surrogates.
On the campaign trail, he often talks about his father's time as a deputy in the comptroller's office in the early '70s, under Abe Beame. It may not be the best name to drop. Beame would become mayor when the city just about went bust.
When the news broke that Spitzer was entering the race, Stringer had the look of a man who had just eaten sour cream that had turned. Until late last year, he was running for mayor, but he dropped out to run in what had been an unopposed primary for comptroller. His summer plans for an easy race ruined, he now looks determined.
Expect more talk from him about Spitzer's problems with "anger management." It will remind voters of the 14 months in Albany. One problem, though, is that Spitzer isn't running for another executive position, like mayor, where he'd need to deal with a legislature. He's running for comptroller, and a key part of that job is overseeing how the city is run by auditing city agencies. You can expect Comptroller Spitzer to offer a steady diet of meaty reports faulting various government agencies. These reports could expose flaws in how taxpayer money is spent. They could serve to raise Spitzer's profile at the expense of the new mayor's, preparing him for a possible 2017 run. The two aren't mutually exclusive.
The comptroller also oversees the city's $140 billion pension fund. Previous comptrollers largely left pension fund management to professionals promising nothing but the highest return — divesting only under strong political pressure. Not so with Spitzer. He will be an activist investor, intent on using the position's control to advance his societal goals for the city, and for capitalism in general. I'm not reporting that as a good or bad thing — it's just what we can expect he'll do. But he won't be able to do it unilaterally. Pensions are governed by a board of trustees.
"Eliot's going to have to recalibrate his work style in order to get work done," a former top comptroller aide told me.
***
The day after Spitzer announced his candidacy, he was in Union Square. It was billed as a chance to get voters to sign his ballot petition, but really it was to finally make a public appearance.
Scores of us showed up. Some carried microphone flags of foreign stations. Hecklers shouted about hookers and black socks and Howard Stern. It was sweltering, and the air amid the clutch of reporters pressing into the candidate must have swelled to more than 100 degrees.
Through it, I never saw Spitzer so much as dab the sweat glistening on his head. He kept his suit blazer buttoned much of the time, and rarely shed his smile. I could see it through the cracks between shoulders and hulky television cameras.
The Union Square Greenmarket was in the park that day, and during an hour-long walk, Spitzer passed rows of tables and carts swollen with fruits and juices and vegetables. Spitzer didn't drink or eat anything.
Josh Robin is a political reporter and anchor for NY1, New York City's all-news station. You can follow him on Twitter @joshrobin.