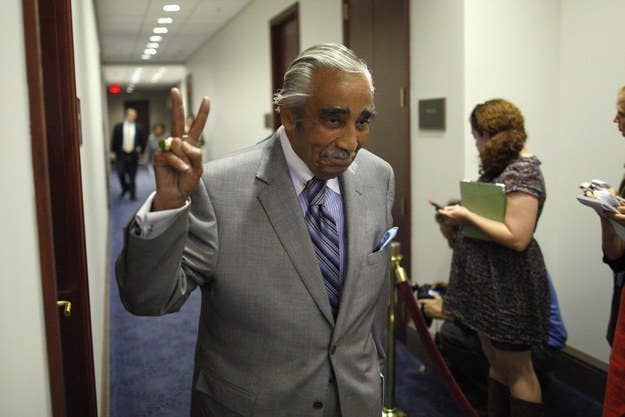 When he's in charge, Charlie Rangel charms. The Harlem Democrat, longtime dean of New York City's congressional delegation, calls order at large meetings with piercing whistles, fingers in his mouth gym teacher style. "Hey gang!" Rangel, 84, pipes in an old-time uptown accent — part Barry White, part Groucho Marx ("certain" is pronounced "SOI-tan"). His pompadour glistens.
But when Rangel is threatened, out comes his scowls — and these days you can often see those thick eyebrows narrowing. He could lose the seat he's held since John Lennon and Yoko Ono played the Apollo Theater. And it may hinge on Rangel's own derisive remarks about an opponent's ethnicity.
"Just what the heck has he done besides saying he's a Dominican?" the 22-term congressman asked at the first televised debate June 6. He was referring to his main competitor, Adriano Espaillat, a state senator from the Washington Heights section of Manhattan who would be the first from the Caribbean island in Congress if he wins the four-person race (there's no Republican running).
Referring to what he claimed was Espaillat's fixation on his own heritage, Rangel told reporters after: "It's difficult to talk about ... I mention it because — because it may be true."
Though Espaillat, who narrowly lost to Rangel two years ago, doesn't have a brilliant legislative record in nearly two decades in Albany, his is seen as above average. He sprinkles his speeches with Spanish and talks about his past as an undocumented immigrant. That kind of appeal to local nuance is what politicians do (think of Paul Ryan calling himself "a Catholic deer hunter — guilty as charged"). When Espaillat challenged Rangel unsuccessfully two years ago, he put out a flyer calling a Dominican Rangel backer a traitor, for which he now apologizes.
Rangel's objection that Espaillat hasn't done anything but talk about his Dominican roots may have been counterproductive. A congressional district once seen as the soul of black America is now 55% Latino — and the majority of Latinos in the district are Dominican in origin. (It's about a quarter African-American and 12% white).
Rangel's remark also drew rebukes from Mayor de Blasio and Rev. Al Sharpton and a smattering of unflattering headlines.
But was Rangel, a founder of the Congressional Black Caucus, callous — or cunning?
"This is a wily politician — he's got a lot of experience," says Angelo Falcón, a political scientist and co-founder of the National Institute for Latino Policy. "Anything he says is deliberate." (For the record, Falcón says he wasn't offended.)
While the total population may be solidly Latino, Latinos account for less than half of eligible voters. There is a sizable Puerto Rican community with long links to Rangel and, Falcón says, some tension with Dominican immigrants; all Puerto Ricans can vote.
For most of his 22 terms, the Congressman was the shoo-in. Now, racial trade-offs may be the most potent weapon left. He can still dance but the Rangel I've seen in recent days looks exasperated. He could well lose, forcing him to face an unfamiliar existence. Allies have deserted him. The stain of scandal lingers three-and-a-half years after he was humiliated with censure in the House of Representatives. And then there's the thing you don't talk about: Rangel is one of only two survivors of the "Gang of Four" Harlem Clubhouse he founded a half-century ago (the other is former Mayor David Dinkins).
Rangel famously says that after near-death combat in the Korean Conflict, he's never had a bad day. But the congressman isn't flashing that pearly smile as much.
"He's trying to grasp how these changes have taken place on his watch, and he's not been able to foresee it or change it or manipulate it," says Basil Smilke, a longtime Harlem Democratic consultant not working on the race. "So many things have happened by going around him, rather than going through him — and I think there's some frustration built into that."
Rangel says he was raised "on the other side of the tracks on Lenox Avenue in Harlem" by an abused mother and a deadbeat dad (of Puerto Rican heritage). In November 1950, while a member of an all-black battalion in the Korean War, he was wounded in a bloody fight with Chinese forces in the frozen hills of Kunu-ri. Wounded by shrapnel, he led several dozen comrades behind enemy lines. He was later awarded a Purple Heart and a Bronze Star.
A high school dropout at enlistment, Rangel returned and completed his GED, graduated college, went to law school, and became a federal prosecutor, then state assemblyman. In 1970 he defeated scandal-scarred Congressman Adam Clayton Powell Jr.
He helped enact several key bills, including empowerment zones, low-income housing tax credits, and Obamacare. While it's hard to unseat an incumbent Democrat in New York City, Rangel also helped maintain his seat by the largesse he delivered as a member of the Ways and Means Committee — bacon that was supposed to multiply through years as chairman.
He didn't last two terms. In December 2010, he stood in the well of the House of Representatives for censure; he was found to have failed to pay income taxes and misused his office to solicit fundraising. Best capturing his failings is this New York Post picture snapped at a resort in (ironically) the Dominican Republic; the congressman failed to pay income taxes on a villa he rented.
It's not the first time Rangel was caught in questionable behavior. Here's my small but instructive experience: In 2002, Congress met in Lower Manhattan for the first time in 212 years — to mark the anniversary of the Sept. 11, 2001, attacks. It was a solemn, patriotic day. I covered it — and saw Rangel chatting with a well-dressed passerby, who gave the congressman his card. A moment later, Rangel took a pen out of his pocket, stuck the cap between his teeth and drew a large dollar sign on the back.
The 2010 censure was fresher in voters' minds two years ago, when Espaillat first challenged Rangel. Ethics and Dominican heritage were Espaillat's twin pillars — perhaps summed up in one word: cambio, Spanish for "change."
Cambio is still an Espaillat mantra, but there are crisper policy proposals and, more practically, he's knocking on doors. (There are two other candidates — the most viable a charismatic Harlem minister, Michael Walrond, who could siphon black votes from Rangel, or steal from Espaillat voters simply looking for a change. The fourth is Yolanda Garcia, a lesser-known activist of Dominican descent who barely campaigns; she dismisses accusations she's working for Rangel to siphon votes.)
Perhaps sensing growing Dominican clout, Espaillat is now backed by a number of elected officials, some of whom backed Rangel the last time: the City Council speaker, who represents East Harlem and was born in Puerto Rico, and the Bronx Borough president.
"There is no secret, and there is no doubt, that the Dominican community continues to grow," Borough President Ruben Diaz Jr. told me. "Not just in Manhattan. Look, the Bronx — we just surpassed Washington Heights as the area where we have the largest concentration of Dominicans outside of the Dominican Republic." (He says he endorsed Espaillat because they've known each other for years). De Blasio is neutral; his predecessor, Mike Bloomberg, backed Rangel last time.
Rangel is also touting his connections and his longevity. There is a sentimental undercurrent, although one many thought they saw the last of two years ago. Rangel again pleads for one last go — a respected exit. Who knows, though, if he wouldn't run again at age 86? It's hard to imagine Rangel exiling himself from the trappings of power — the chauffeured sedan and such. Even his iPad cover is emblazoned with the House of Representatives seal.
The congressman has done much to deserve the ambivalence of voters. And Lenox Avenue isn't the same as when Charlie Rangel first started shaking hands for votes.
At the same time, how odd indeed would New York politics be without him.
It came to me as I watched him debate a second time June 11. He was wearing a red tie tucked over a collar clip, a matching handkerchief flopping from his breast pocket.
In the "lightning round section," candidates are asked to respond with a simple yes or no. Rangel seemed unable to give a definitive opinion on the question: Is Harlem still the capital of Black America?
Finally, he rendered his clear answer:
"Well in terms of history, and culture and music and jazz and churches," he said, "and in my heart — you bet your sweet life."
Josh Robin is a reporter for NY1. He can be followed at @joshrobin.