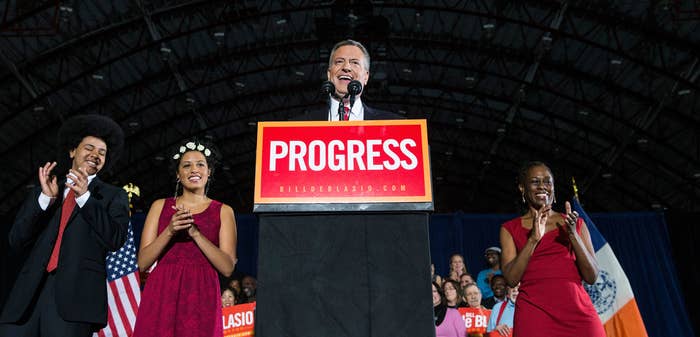 If you want to send an early Christmas card to Bill de Blasio, his Brooklyn address still works. Come 2014, who knows? We still don't know where New York's mayor-elect will live after his New Year's Day inaugural.
He could move his family into Gracie Mansion, where rent is really controlled — $0 a year in an 18th century wood-frame home on a bluff overlooking the East River on Manhattan's far Upper East Side. Or the de Blasio brood could stick with their beloved home in Park Slope — a weathered yellow row house that, with its vinyl siding and chain-link fence, is one of the more modest on his block.
De Blasio says a decision will be reached after his daughter returns from college for Thanksgiving break, and the whole family hashes it out. (De Blasio's teenage son, Dante, he of the famous hair, is said to be less than thrilled at the prospect of a long commute to his Brooklyn high school if they move to Manhattan).
This impending decision is chronic fodder for conversations, newscasts, and blog posts. That's a reflection of a number of factors: the lack of news since de Blasio was elected, the insatiable curiosity about the de Blasios, and the novelty of this choice (Mayor Bloomberg opted to live in his own 12,500-foot townhouse, off Fifth Avenue, and used Gracie for meetings and receptions). And, of course, talking about other people's real estate is one of the more cherished of New York traditions.
More substantially, the de Blasio choice also offers an early glimpse into the style and significance of his mayoralty: how he deliberates about big, public decisions; how he balances his campaign message of championing the poor with the prestige and aura that comes with being mayor of New York City; and, more tangentially, how the new mayor's wife and children have become the most public of New York's first families in anyone's memory (perhaps ever).
Some grumble this decision shouldn't be that tough, and de Blasio is showing a worrying indecisiveness that reportedly sidelined him in a previous leadership role: managing Hillary Clinton's successful campaign for Senate in 2000. I'm personally willing to give de Blasio more time on this one. Still, it is a reminder New York is nearing the end of Bloomberg's snappy decisiveness — a trait that pleased many, even those who disagreed with him, because he eagerly jettisoned the interminable process of getting things done in New York.
De Blasio promises to be more deliberative and inclusive. While choosing a home is a kitchen table decision, it also offers a good reminder that on municipal decisions, too, his wife, Chirlane McCray will shape her husband's ultimate answers. She is deeply involved in staffing his administration. The mayor-elect calls McCray "the person I depend on each and every day to think together about how we can best help the people New York City." They were recently introduced as virtual co-mayors, with de Blasio offering no correction. (Profiles of McCray can be found here and here.)
People have carped about the power of first ladies since Abigail Adams (derided as "Mrs. President" by some). Still, some say New Yorkers should be leery of this arrangement, particularly if she is key to crucial decisions, but declares herself and her records off-limits to the kind of oversight such power demands.
"He has said that she will be involved in decision making every decision," says Joyce Purnick, a longtime political reporter for New York Times and the New York Post, and a Bloomberg biographer. "So I think it's appropriate and even beyond appropriate — I think it's even journalistically necessary — that reporters cover her role in this government."
The kids, Dante (a high school junior) and Chiara (a college sophomore), are different — but not entirely. There are many reasons de Blasio won the Democratic primary, but the compelling ad starring his son was pivotal. Chiara de Blasio also shot her own TV spot. De Blasio repeatedly put them in the camera frame, and peppered interviews with their names.
He may have had two motives, not necessarily mutually exclusive: pushing America in the right direction by showcasing a biracial family; and winning votes. Regardless, Purnick says that now that their parents have made them famous, Dante and Chiara face a new reality: The press will not quit them, and will not take kindly to being told they are off-limits. In sum, they will not be given the space as Chelsea Clinton or Malia and Sasha Obama.
"He and Chirlane have made them media stars," she says. "I don't see how they can ignore these two individuals. That said, I wish that weren't true, because I don't think it's particularly relevant to government."
What will that mean? Who knows. So far, de Blasio has succeeded in getting reporters to hold off printing where Chiara de Blasio attends college. I don't think he will be as successful after this political honeymoon. Any potential teenage indiscretion will end up on Page 6. And any pushback from City Hall will probably be met with the retort that de Blasio himself pushed his kids into the public.
This is the dilemma our new mayor faces, along with unresolved labor contracts and climate change that threatens our coast. So, good thing he will have a cozy space to unwind after a long day at the office, right?
Wrong.
Just like his children are seen as political appendages, so too is de Blasio's roost, wherever it may be. Gracie Mansion, home to every mayor from La Guardia until Bloomberg, has a handful of bedrooms upstairs. They are what you'd expect: elegant, grand, maybe a bit stuffy, although modernized. In the handful of times I have been there, I also remember being struck that they are in earshot of the areas used for receptions. They are roped off — but not really removed.
You can argue that moving there seems to be more mayoral, in the titular sense. Along with the black SUVs and armed NYPD bodyguards, living there would give de Blasio the trappings of power that he may need to show he is no Park Slope pushover. The mayor, like any chief executive, needs some awe about him — maybe de Blasio a bit more, given his thin executive experience.
"It's exciting, at night, when you see this surge of black limos roaring over to Gracie Mansion," the first chairwoman of the Gracie Mansion Conservancy recently told the Times. "There's a frisson in the air. Something big is going on over there, whereas if it's just used as a meeting hall, like a hotel, it isn't the same."
On the flip side, what the 11th Street house does offer is the authenticity de Blasio seems to crave. The de Blasios are said to be ruing how their neighborhood is pricing out those of moderate means. The value of their property — they also own a nearby rental — has doubled in roughly the last decade to about a million dollars each. Maybe sticking in the "outer boroughs" will signal that de Blasio gets what it means to be aspirational, even if city policy (and limited help from Albany and Washington) isn't able to expand opportunities for the less fortunate as much as he'd like.
If de Blasio lives there, he can continue to ooze his nonchalant Brooklyn dad vibe, evinced by a recent photo that had him lugging laundry to the cleaners, or his economy flight to Puerto Rico shortly after he won election.
Among many other possessions, Bloomberg, of course, has his own aircraft. I don't know if de Blasio had the aisle on the flight to San Juan. But even before taking the oath of office, he's delivered on one campaign promise: There's nothing that says breaking from Bloomberg than wedging yourself into an economy seat, especially if you're 6'5".
CORRECTION (10:38 p.m. ET): Bloomberg announced Thursday the city has closed a projected $2 billion budget gap. An earlier version of this post made reference to the existence of a budget gap.