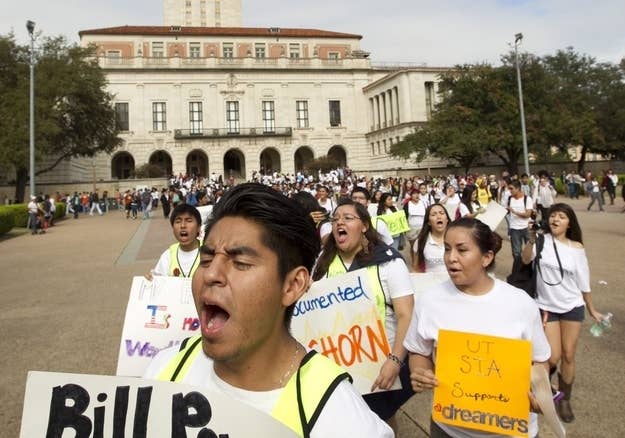 It was while I was in Washington, D.C., in fact, attending a "Concert Against Hate" celebration hosted by the Anti-Defamation League, that I first heard about "catch an illegal immigrant for a $25 gift card," an event organized by the Young Conservatives of Texas, a group at the University of Texas-Austin.
"What a hateful thing to do," Rep. John Lewis, one of the evening's honorees, told me when I described it. Although the event was canceled less than 24 hours after I first heard about it, I still could not get it out of my head on Tuesday night while visiting the John F. Kennedy Presidential Library and Museum in Boston, home to countless Irish immigrants who began arriving by the boatloads centuries ago. Irish immigrants of the past — like Latino, Asian, and other immigrants now — faced incredible discrimination upon crossing the Atlantic and landing in America. (Newspaper ads in the 1800s read "No Irish Need Apply," which was later turned into a song.) And the ill-fated event stayed with me through the 24-hour "DREAMer hackathon" hosted by FWD.us, the immigration group founded by Mark Zuckerberg, who on Wednesday night described immigration as "one of the biggest civil rights issues of our time." The hackathon featured about 20 undocumented young coders building programs in the LinkedIn headquarters in Mountain View, Calif. — where, incidentally, I grew up.
I am the founder of the media and culture campaign Define American, and quite possibly the most privileged undocumented immigrant in America. While at least 1,000 immigrants get deported every day — and most students, workers and undocumented people live in the shadows and fear for their lives — I travel around our country insisting that we look beyond the U.S.–Mexico border and the "illegal" in our minds when discussing illegal immigration.
Each day is urgent and immediate for immigration reform, which is now drawing broad mainstream support and creative effective advocacy unlike anything this movement had ever seen. "Dreamers," the undocumented youth who would benefit from the more than decade-old bill called the DREAM Act, are committing continued civil disobedience across the country. The parents of dreamers ("dreamers' moms," as many of them are called) are staging sit-ins and visiting congressional members and staffers. Long-time advocates like labor leader Eliseo Medina, now 67 years old, have vowed to go without food until Speaker John Boehner holds a vote on immigration reform. Medina has participated in "Fast for Families" action since Nov. 12, housed in a tent at the National Mall in Washington, D.C.
I grew up thinking I was "illegal" because that's how people and the media talked and still talk about us, as if we are criminals. I grew up thinking I would be caught — by the employers I lied to so I could work, and by the police officers who might stop and arrest me for driving. I grew up thinking the American flag I had been pledging allegiance to since middle school didn't belong to me.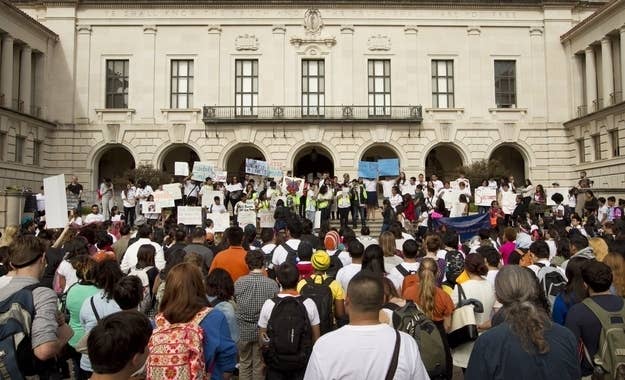 The "catch an illegal immigrant" event was deeply offensive not only to undocumented immigrants like me, but also to our American citizen relatives, allies, and supporters, because it struck the kind of ignorant, dissonant chord we fight against every day.
The group's organizers, including its leader, Lorenzo Garcia, said the purpose of the event was to "spark a campus-wide discussion about the issue of illegal immigration and how it affects our everyday lives." I wonder if, as students in Texas, the organizers knew that undocumented workers make up about 10% of the state's total workforce. Texas is home to 1.7 million undocumented immigrants, the second-largest undocumented population in the country, coming in after California. In 2010, undocumented workers in Texas paid $1.6 billion in state and local taxes. That's $117.8 million in property taxes and $1.4 billion in sales taxes, according to data from the non-partisan Institute for Taxation and Economic Policy.
The event's organizers should also know that undocumented students are their classmates, many of them members of a group called the University Leadership Initiative. At least 400 undocumented Longhorns, I've been told, attend the University of Texas-Austin. Many students at UT, like 20-year-old Josh Alvarez, who works with Campus Events and Entertainment, the largest event-planning organization on campus, have parents who are undocumented.
I met Josh and many of those other students last month, when I visited the University of Texas-Austin campus as part of Undocumented Longhorns Week — the first weeklong event of its kind in the state. I spoke to a crowd of about 400 people at a Define American event and showed select clips from Documented, a documentary film I recently completed on immigration.
So on Tuesday night, after visiting the JFK Library, I called Josh and proposed the following: If the Young Conservatives of Texas truly want to "spark a campus-wide discussion" on immigration, maybe they'll co-host a screening of Documented with the University Leadership Initiative in the next few weeks. Campus Events and Entertainment will help organize the screening, and I will pay my own way to UT to hold a real conversation.