Why Congress Will Only Get Worse From Here
The fiscal cliff was the easy part. Stuck in the middle with you.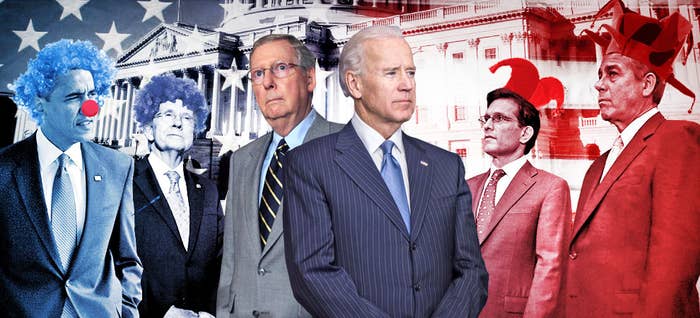 WASHINGTON — If you liked the fiscal cliff, you'll love the next three months of drama in Washington.
The six-week budget fight on Capitol Hill that came to an end late Tuesday night will pale in comparison to the crises Congress will face in the coming months, including the battle over Hurricane Sandy funding, a new debt ceiling debate, the punted sequester spending cuts and — to cap it all off — yet another government shutdown showdown.
And this time, a war-worn Congress will have to tackle these problems with key leadership figures recently exposed as utterly ineffectual, a House Republican conference in open revolt, and an increasingly restless contingent of partisans on both sides who are sick of compromising.
"We have three battles," Republican Rep. Scott Garrett said Monday, in the midst of the fiscal cliff fight. "We have the battle we're at right now where the taxes go up, the next battle is the [continuing resolution] where the government shuts down… [and] the third battle is the debt ceiling, when critics say the world economy is shaken."
"On a spectrum, the one we're in right now is the easiest one... So it does not bode well that we're in this quagmire we're in," said Garrett, a fiscal hawk, pointing to the inability of the president and his own party's leadership to work together as a primary problem. "If they stay the course in the future and the White House stays the course in the future it is going to be more difficult."
The lay of the land is grim. The first minor tremor for Congress will come January 15, when Speaker John Boehner has scheduled a vote on a $51 billion Hurricane Sandy measure that is unpaid for. That vote will be the first test of the new House Republican majority, one that will become more conservative than ever thanks to retirements and electoral losses — and one that Boehner has effectively lost control over.
Republicans have made slashing spending their primary policy goal, and while New York and New Jersey lawmakers have sworn to force the legislation through Congress, it remains to be seen whether they, and Boehner, can put together the sort of coalition of Democrats and Republicans that can pass it.
Meanwhile, Congress and the administration will be grappling with an even more profound and potentially disastrous crisis — the nation's debt limit. Although Republicans have sought to cast the issue as a demand from Obama that Congress grant him a blank check, it is far more complicated. The debt limit is in reality the government of the United States simply making good on its promise to pay back the debts Congress and two successive administrations have rung up over a dozen years.
The bill runs into the trillions, and conservatives loathe the notion of an increase without also imposing deep spending cuts. But domestic spending has been cut to the bone, Republicans refuse to agree to reductions in defense spending and, thus far, Democrats won't agree to serious reductions in entitlements.
A default on the debt would, economists have warned, send the nation and the world into economic chaos and could set off a new Great Depression.
Then, there's the sequester, a set of massive cuts to defense and domestic spending that Congress put in place during the last debt ceiling crisis in 2011. Neither party supports it, and once again, economists have predicted cataclysmic economic repercussions if its not avoided.
And at the end of March, the federal government is scheduled to run out of money; unless Congress can find a way to keep the lights on, all but the most vital parts of the government will shutdown.
All of these fights will revolve around fundamental differences between Democrats and Republicans over spending and fiscal policy at a time when neither side is even remotely interested in compromising.
"It is disturbing. It is disturbing to hear the Republicans already saying they're going to threaten the full faith and credit of the United States government in just two months," ranking House Budget member Chris Van Hollen said.
Normally, the onus to solve problems as great as these would fall to the President and Speaker. After all, Ronald Reagan and the late Speaker Tip O'Neill found common ground on a host of issues, most notably on raising taxes in the mid 1980s. And Reagan worked with Democrats to push through a massive overhaul of immigration reform.
Likewise, former President George H.W. Bush worked with Democrats on reforms to the Clean Air Act, while former President Bill Clinton worked with Republicans in the House and Senate to not only implement reforms to welfare but to ultimately balance the nation's budget.
Even former President George W. Bush was able to work with the late Sen. Ted Kennedy to enact education reforms in his first term.
But Obama is no Bill Clinton, and Boehner is certainly no O'Neill, and it's fallen to Biden and McConnell, arguably the last standard-bearers of the old school in elected Washington, to find a way forward.
It still looks like Boehner will be Speaker when all is said and done. Rep. Paul Ryan, who is probably the only member who could realistically muster enough support to actually push him out isn't interested in the job, and no other candidate that's been bandied about has the kind of profile to rally enough votes to win.
But that's where the good news ends for Boehner. His conference refuses to do his bidding, his top two lieutenants Majority Leader Eric Cantor and Majority Whip Kevin McCarthy openly defied him and voted against the Senate's fiscal cliff bill, and his bungling of the Hurricane Sandy relief bill has prompted open revolt amongst northeast Republicans — one of whom went so far Wednesday as to urge donors to steer clear of his own party.
Just how bad is it? According to Republicans, when rank-and-file members found out Tuesday night that McCarthy and Cantor were voting no on the bill — after they had pushed them to support it — lawmakers on the House floor began bluntly warning leaders that they should never count on their support again.
"There's no longer a governing majority in the House of Representatives," a Senate GOP leadership aide said.
The breakdown of the whipping process has been two years in the making, thanks to Boehner's elimination of earmarks and his unwillingness to twist arms. But with the people who's very job it is to whip members and enforce discipline brazenly going off the reservation, their credibility on tough votes will be virtually nonexistent, at least over the next few months.
Even if, as Boehner loyalists suggest, his conference is able to leave all the problems of the 112th Congress at the door of the 113th, the idea that he can quickly pivot into position to deal with a string of crises with a new crop of conservative members is, at best, unlikely.
Meanwhile, in the Senate, Majority Leader Harry Reid remains extremely popular, and powerful, with his colleagues. But he has problems of his own.
Reid is an old school appropriator and the art of dealmaking is nothing new to the Nevadan. But he has a strained relationship with McConnell and has become openly hostile to Boehner. And when the Speaker told Reid to "go fuck yourself" last week in front of witnesses — an exchange Boehner proceeded to brag about to his colleagues —he didn't just betray his own immaturity, he underscored the fact that Reid isn't inspiring much respect or fear among Republicans these days.
At the opposite end of Pennsylvania Ave, Obama finds himself in a similar situation.
The president has the bully pulpit, which is a powerful tool. But after failures on the 2011 government shutdown, the debt ceiling, a continuing resolution, payroll taxes and now the fiscal cliff, its become clear to Democrats and Republicans he's not much of a negotiator.
Part of it seems to be his fault: his penchant for lecturing the Hill instead of negotiating with its inhabitants is legendary. And his New Year's Eve speech was viewed by congressional Republicans as a tone-deaf effort to prove his relevancy at best, and a reckless attempt to throw a hand grenade into the fragile Biden-McConnell talks, at worst.
Obama and Boehner also share a common problem in that there's simply no time for either of them to try and mend fences, particularly with Republicans. If the next crisis wasn't for six months or a year, it could give both men time to rebuild their power bases and find some goodwill with lawmakers. Instead, they're left frantically scurrying from one almost-catastrophe to another, putting out fires while their partisan colleagues start new ones behind their backs.
That leaves McConnell and Biden as the last men standing.
McConnell has done an excellent job of managing his conference over the last four years, bringing moderate Republicans and conservatives together on vote after vote. And while he's not the sort who will ever become the face of the GOP, his handling of the fiscal cliff crisis was deft.
Case in point: His courting of Sen. Pat Toomey, a former head of the Club for Growth and one of the most conservative members of the Senate. According to leadership aides in both chambers, McConnell understood that getting Toomey to buy in to the fiscal cliff deal was key. Not only would he bring along conservatives in the Senate while giving the party cover with some activists, but his support would send a signal to the House Republican conference that it was okay for Republicans to back it.
According to a source familiar with the situation, McConnell made a point of keeping the Pennsylvanian in the loop, and used a number of his proposals in the final agreement. And McConnell's efforts worked: Toomey ultimately backed the bill, as did conservatives like Sen. David Vitter.
Biden, meanwhile, clearly emerged as one of the few winners of the fiscal cliff fight. At a minimum, he was key in helping bring along enough House Democrats to back the bill, even as Republicans were abandoning it in droves.
"He really sold it well," said Rep. Elijah Cummings, a Maryland Democrat following a two hour closed door meeting with Biden Monday morning.
But Biden's greatest strength may be his relationship with Obama. The two men are extremely close, and Obama implicitly trusts him to carry his standard. But at the same time congressional aides and lawmakers said he has repeatedly demonstrated an ability to bring Obama along on key deals and provide a bridge between the White House and Capitol Hill.
"People say that Biden is the McConnell-whisperer, but really he's the Obama-whisperer," a Senate Republican leadership aide said Tuesday.