Top Republican Touts Minority Outreach For 2014
Tough optics at the GOP retreat.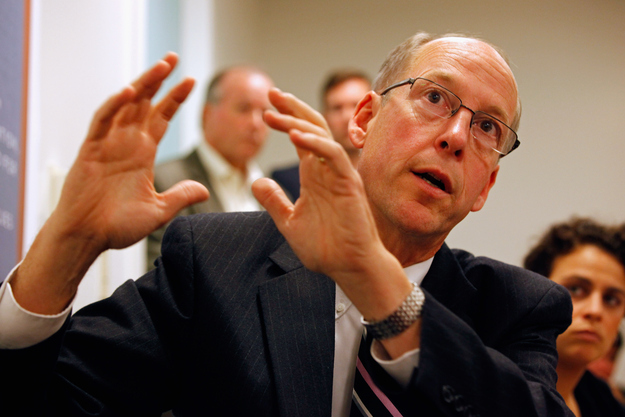 WILLIAMSBURG, Va. — Newly minted National Republican Campaign Committee Chairman Greg Walden said Thursday that better recruitment of minority and women candidates would be a major focus for the 2014 election, and that he is taking steps to broaden the GOP's reach.
Speaking to reporters during Republicans' annual retreat at the posh Kingsmill resort, the Oregon Republican said better outreach is "an important priority for me as chairman" and that he is hoping to move his party "further and deeper into minority communities."
"Obviously we have to address this. You have 50,000 young Hispanics reaching voter age every month," Walden noted.
Walden noted that he has brought Rep. Jamie Herrera Beutler into the NRCC as well "to be our vice chairman to help in that regard, to help lead that up," while Native American members like Rep. Tom Cole will work to expand the party's influence in the native community.
"We understand that Republicans have good answers, we just have bad communication in some cases … we may not understand how what we say is interpreted by others," Walden said, arguing the party can find ways to work with minority communities without abandoning its core principles.
Still, optics remain an issue for the party. On Friday, members are scheduled to participate in a panel entitled "Coalitions — Discussion on Successful Communication with Minorities and Women," which is being held in the Burwell Plantation Room at the resort. The Burwell family owned dozens of slaves at numerous plantations and farms around Virginia, according to historical records.
Correction: An earlier version of this article's headline stated that Walden's comments were made in the Burwell Planation room. It has been corrected.