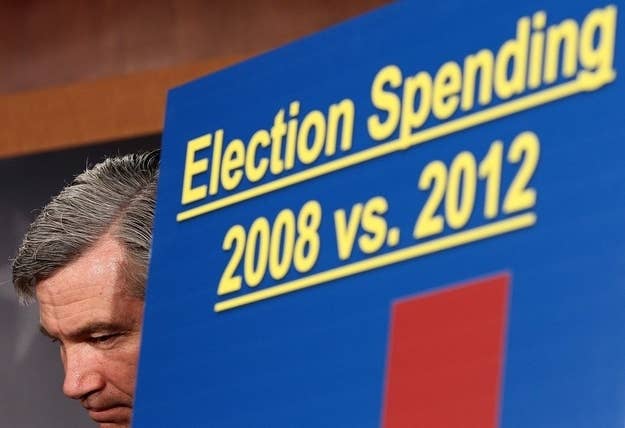 The Senate Democrat leading the push for greater transparency in campaign donations to outside organizations slipped out of a highly orchestrated floor event Monday – to attend a fundraiser for an outside organization.
Sen. Sheldon Whitehouse, the lead sponsor on the Disclose Act – which would force outside political organizations to disclose donations of more than $10,000 – briefly left a "midnight vigil" on the Senate floor to attend a fundraiser for a health care reform group.
Whitehouse and Sen. Chuck Schumer had set up a series of votes and debates on their Disclose Act — all of which were not expected to help the bill's chances of passage in the near term — in an effort to hammer Republicans over their opposition to further transparency in campaign finance laws.
Whitehouse didn't go far – the event was held at Johnny's Half Shell, a tony bar located less than a quarter mile from the Senate chamber that is a popular venue for fundraisers by politicians, lobbyists, political groups, and non-profits like the Alliance, an educational group that does not take positions on legislation, including ObamaCare, and which backs "affordable, quality health care and long-term care for all Americans."
Because of its status as a 501(c)3 nonprofit, the Alliance is not required to disclose donors. But unlike political 501(c)4 organizations, it does not appear to be covered by Whitehouse's bill, which targets SuperPACs and other outside organization engaged in direct political activity.
According to Whitehouse's office, "Whitehouse was not raising money for his campaign this evening ... He briefly stepped away from the Senate floor to drop by an event benefitting the Alliance for Health Reform, a non-profit, nonpartisan health policy organization."
"As a long-time advocate for health care reform, the Senator wanted to show his support for the group's work. He returned promptly to resume the debate on his Disclose Act, and will be on the Senate floor late into the night," the source added.
The Democratic source also stressed the organization would not be covered by Whitehouse's legislation.
"There's just no line to draw here between the event and the bill," the source argued.