Sessions' Remark Could Make House Republicans "Fair Game"
Presidential politics trickle down to Congressional races. Buchanan won't release his taxes.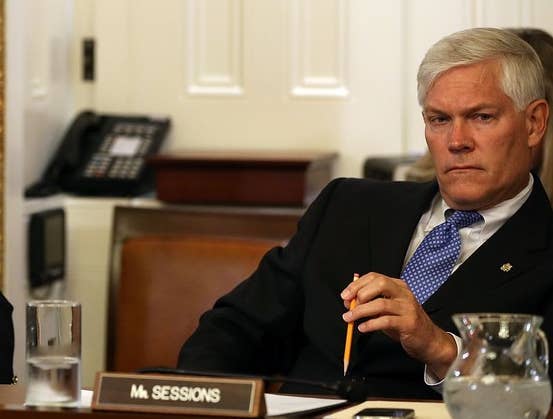 Rep. Pete Sessions, the Republican tasked with defending the GOP's majority in the House this year broke with most of his party's establishment Thursday when he called questions about Mitt Romney's finances and business record "fair game."
But his comments may also put some of his charges in a tough position, offering accidental support for demands for more financial information from House Republicans Sessions is working to keep in office."
"His personal finances, the way he does things, his record, are fair game," the Texas Republican told CNN Thursday. Sessions, who is chairman of the National Republican Congressional Campaign Committee, also told CNN that questions about Romney's personal finances are "legitimate," although he declined to specifically discuss his tax returns.
That line is a stark contrast with the official Romney position, that the candidate has done more than enough in informing voters about his finances by releasing two years of taxes and filing required disclosures. And it may play out in House races across the country, beginning with Florida Rep. Vern Buchanan's re-election fight.
Buchanan, a three term Republican, has been viewed as one of the party's rising stars, in no small part to his business acumen. Indeed, Sessions tapped Buchanan as one his top lieutenants in this year's election, tasking him with raising millions of dollars in donations for the NRCC and their candidates.
But Buchanan has found himself at the center of several investigations into his finances, including allegations of fraud and tax evasion. Although the House Ethics Committee earlier this month cleared him, the IRS and FBI are also investigating him.
Buchanan's opponent Keith Fitzgerald, has seized on the scandal and argued he should release his tax returns to the public to "prove" his innocence.
"If these accusations of tax evasion are erroneous, then Congressman Buchanan should have nothing to hide and release his tax returns immediately to restore the public trust," Fitzgerald said in a statement last month.
Buchanan has strenuously denied any wrongdoing. Although a spokesman did not return a request for comment, his attorney told the New York Times in February that the allegations are part of a political "witch hunt."
"His political enemies are growing increasingly desperate and making all these accusations against him," McGinley told the paper.
Paul Lindsey, a spokesman for the NRCC, acknowledged questions about candidates' finances may be legitimate, but dismissed it as an effort by President Barack Obama and Democrats to distract voters from the state of the economy.
"President Obama's game of distracting from his failed economic record is fair in the game of politics, but it is also a pathetic scam that is obvious to Americans who are living under the real-world consequences of his job-destroying policies," Lindsey said Friday.