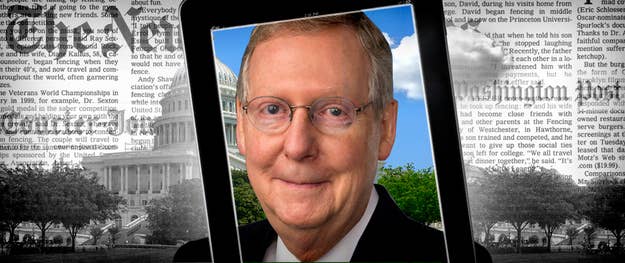 Senate Minority Leader Mitch McConnell told BuzzFeed that while many of his generation mourn the fall of newspapers, he is celebrating the rise of social media — precisely because of the havoc it has wreaked on an old media landscape that, in his view, favored the Democrats.
"Let me tell you, I think the New York Times monopoly is over," McConnell said. "Arthur Sulzberger used to have the biggest megaphone in America. And all you have to do is look at the dwindling size of newspapers, even one as big as his."
McConnell, 70, spoke to BuzzFeed in his office overlooking the National Mall; he had tweeted of his plans for the interview earlier in the day from his iPad.

"To the extent that there isn't media domination like there was in the days NBC, ABC, CBS the New York Times, the Washington Post, particularly since most people on my side of the aisle feel they had a pretty obvious bias … those days are over," he said. "I kind of like this new environment. I think its much more competitive, much more balanced."
"From a conservative point of view we have a better chance of competing in the marketplace of ideas," he said.
McConnell noted that the same disruption roiling the national media landscape has been felt in his home state of Kentucky, and particularly at the Courier-Journal, once the state's most dominant source of political news. The paper "recently hired a business type guy. With a tech background. Totally a nontraditional type of publisher," McConnell said, adding that, "the message is pretty clear. They're trying to figure out how to save the business and position it for the future."
The four-term senator, who prior to coming to Washington served as Jefferson County's top executive, has watched as technology has shaped not only how politicians communicate with the public but also its basic operations over his 28 years in office.
"Let me tell you about 1984. We called collect. We went to a pay phone, and we called collect. And in those days, you know, you could not only get your quarter or whatever it was back, you had enough time to give 'em the number. So we'd stop at a pay phone and call in collect, get the quarter back, leave 'em a number and they'd call back," McConnell recalled.
"On commercials, If you wanted to look at a rough cut, they had to overnight it you. And you'd put it in the VCR and see what you thought about it, call 'em up and say 'this part works, this part doesn't seem to work.' When they finally got the rough cut turned into a final product, they had to then overnight it to the station," McConnell said of the multiday process.
"In the 1990 reelect, we had a car phone. But it didn't work in most parts of the state and we were still using fax machines," McConnell said with a laugh. "By 1996, it was sort of the beginning of some kind of use of the internet, the car phone was working better by 1996, we were still using fax machines and the way in which you transmitted your commercials to the stations still had not really changed."
After his 1996 victory, the changes accelerated.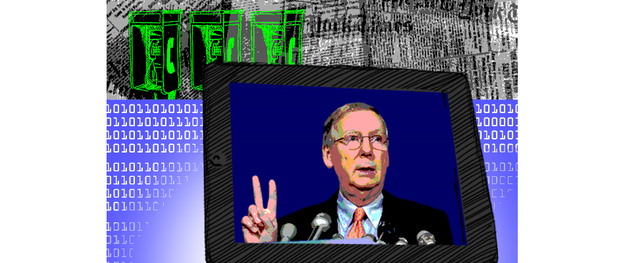 "Everything kind of swept in in the mid to late 90s. All of a sudden we were using cell phones, you had a rough cut ad you could talk about and approve in record time, emailed to the stations, change traffic twice a day," McConnell said, pointing to the ability of campaigns today to craft, edit and approve web and television ads within hours.
"You sure need to have people on the campaign team who are familiar with every potential way of reaching out and the trend lines are pretty obvious," McConnell said.
McConnell said politicians need to make "sure you're right on the cutting edge of the best way to reach your audience. And it's not as simple as it used to be … When I started my career, you had radio, TV, direct mail and telephone boiler rooms. The message varied, but the techniques were pretty much the same. That couldn't be said today."
"We have people paying attention to all these various ways to connect with people. People who are following radio talk shows, people who are concentrating on [Twitter and Facebook]," he added.
But McConnell's true passion lies on the campaign trail, where he has become one of the nation's most adept politicians — both in running his own races and handicapping the efforts of others.
As for the GOP's prospects in this year's election, McConnell put the chances that he will become Majority Leader next year at "50-50."
The Kentucky Republican argued his party is well positioned, pointing to Massachusetts, Nevada as two challenges where GOP incumbents are "in a good position to win" while rattling off a handful of states – including Montana, North Dakota, Ohio, Virginia, Florida, and even Hawaii "of all places" – as potential pickups for Republicans in the Senate.
"Somewhere in there we need to net four, and I think the only honest answer on July the 24th is 50-50. I'd say the same thing about the presidential," he said.
The normally reserved lawmaker unloaded on President Barack Obama, deriding his campaigns efforts on messaging thus far.

"His strategy can best be summed as, 'not my fault.' You know? He's got a whole series of culprits, if you will, that have gotten in his way -- the tsunami in japan, the debt crisis in Europe, rich people Wall Street. Of course there's those pesky Republicans in Congress. You know, it's always somebody else. Its kind of the dog ate my homework approach," McConnell said.
McConnell also accused Obama of going into campaign mode a year ago, saying his biggest complaint with Obama was "checking out after the Budget Control Act last year."
McConnell is now poised to play a central role — as minority or majority leader — in a crucial round of decisions looming over Washington. With the economy still sagging and Congress crippled by constant brinksmanship over the budget and debt, lawmakers will face a set of rapid choices around sharp budget cuts and tax increases during critical two month stretch after the November election.
A successful session, McConnell insisted, will require the White House to first step up.
Regardless of who wins the Senate, if Obama wins in November "he's going to have to have an epiphany. Because he's not going to own the Congress. He's going to have a Republican House, he's going to have a narrowly divided Senate one way or the other and he's going no ability to ram through this left wing stuff."
But that won't be easy. Neither Democrats nor Republicans have shown much interest in bipartisanship over the last four years, opting instead to retrench before each fight over major legislation, a process that has continued to poison the atmosphere in Washington.
Despite the looming need for bipartisanship, McConnell insisted that the failures of the Senate lie with Democrats — particularly Majority Leader Harry Reid — and not the GOP.
Reid uses Senate rules "to gridlock the place and then incredibly turn around with a straight face and try to blame it on everybody else," McConnell said.
The reality is not quite as simple as that assessment. Since Obama's 2008 election, nothing has been easy. Hoping to put moderate Democrats in a difficult position, the Republican minority under McConnell's control has repeatedly sought to force votes on so-called "message amendments" — provisions that are often unrelated to the underlying legislation and are designed to force members to take an official position on hot button issues.
Wary of the political damage those votes may cause vulnerable Democrats, Reid has repeatedly refused to hold those votes, a cycle that has virtually shutdown most legislating in the Senate and made it a graveyard for all but the most critical bills.
Although Democrats have decried the practice, McConnell makes no excuses and insists its simply part of the legislative reality.
"When we used to be in the majority here and I was the number two I used to tell our members, 'you know, the price of being in the majority is that you have to take bad votes.' The minority gets to have their votes. They're not going to be things we like, but that's how you get a bill across the floor," McConnell said.
The minority leader said he would end the practice of avoiding difficult votes if he takes control of the Senate next year.
"Just because you can't get your way on everything, doesn't mean you shouldn't do anything," McConnell said. "I would not run the Senate that way."